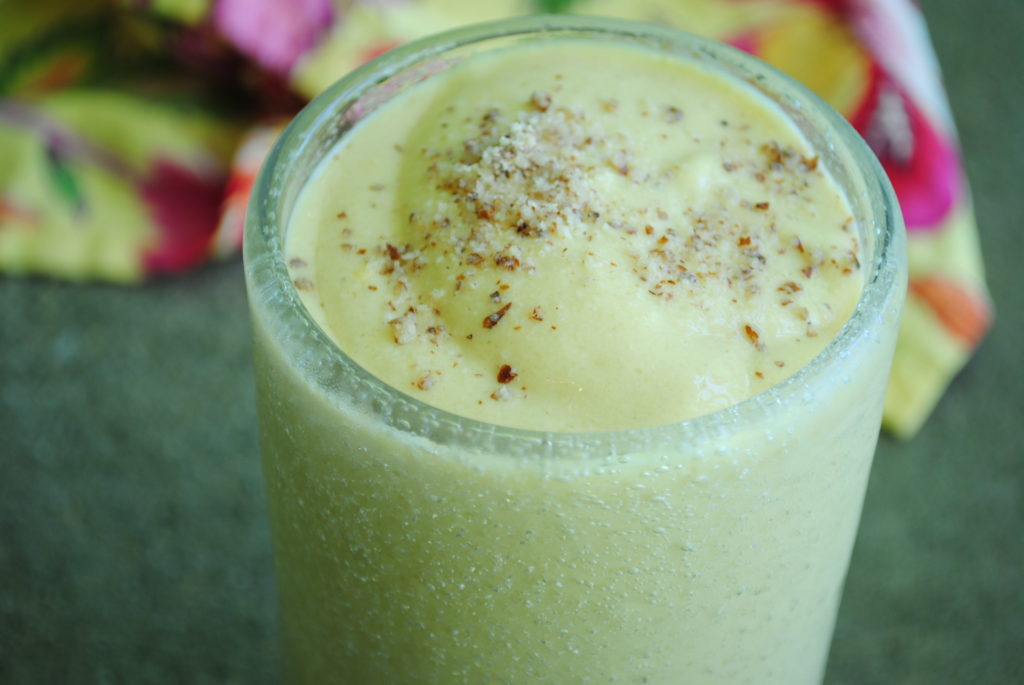 During these warm, sunny days we're definitely enjoying naturally sweet and healthy homemade smoothies. It's just the perfect thing to whip together if you're trying to feel healthy and also cool off. And it's so wonderful that there's no end to the flavor combinations and the nutritious boosts you can get by simply adding  a handful of nuts, seeds, berries – or even spinach. Today, the flavors of choice were frozen banana, frozen and fresh mango cubes, and cashews. I just love the mellow sweetness and smooth texture of this combination.
No formal recipe needed, just fill your blender jar with chunks of frozen banana and frozen mango cubes (I get mine in the freezer section at Trader Joe's). Add a handful of raw cashews, a tablespoon of protein powder and enough almond, rice or soy milk to cover 3/4 of the ingredients in the jar. Blend to the consistency you like. You may have to stop the blender and shift ingredients around with a spoon a few times. Add ice cubes if you like your smoothies extra cold. Garnish with some ground almonds if you have them – it's a really nice little touch!
I hope you're enjoying your summer days! Happy 4th!