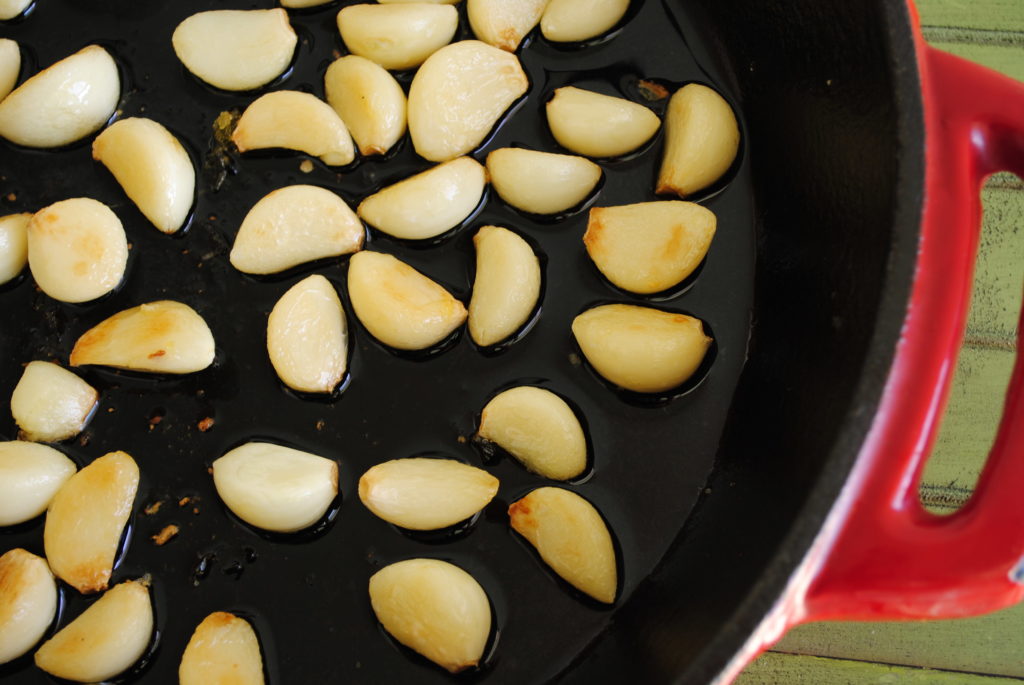 My brother Darien is an excellent cook, and I always find myself urging him to start a food blog – not just for the sake of showcasing his recipes to the world, but to make sure I get his very creative recipes. He insists he doesn't have time. Boooo!
A few weeks back, we were visiting him and his family and he made several wonderful dishes. The one that stuck out for me was the "Garlic Noodles" which were inspired by noodles he enjoyed on a recent food tour in LA.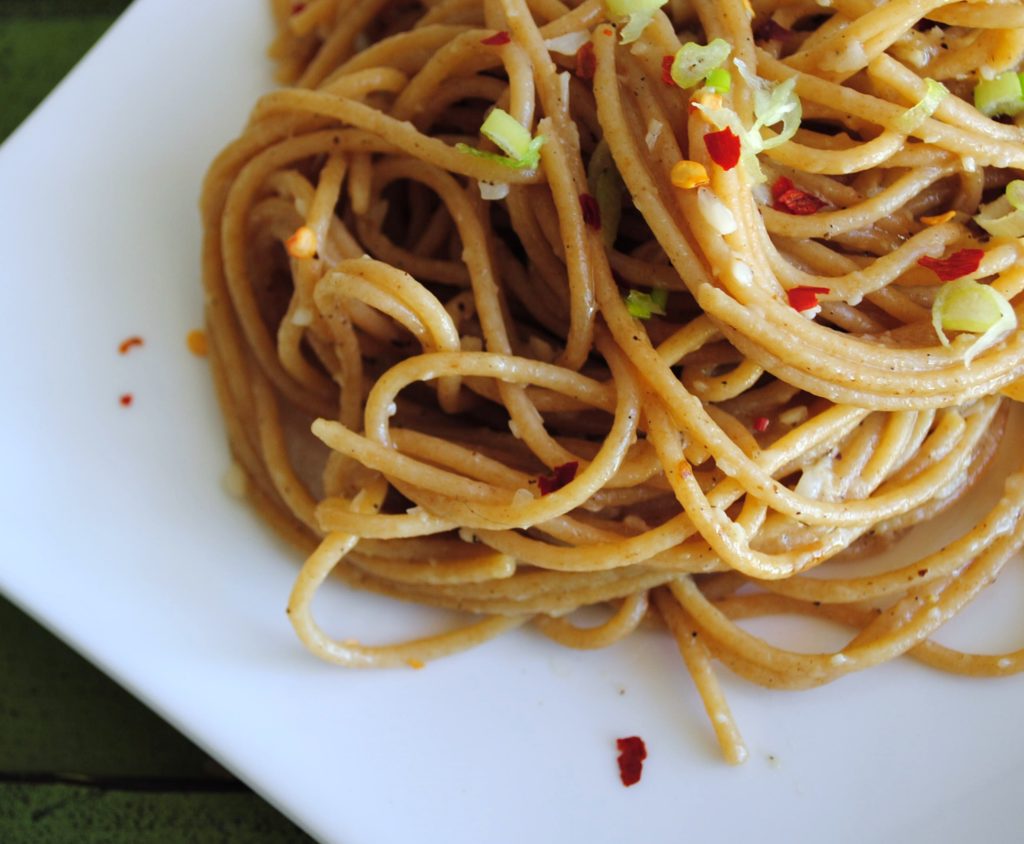 I asked him how many cloves of garlic he used and he said, "about 40." OK, I love garlic, but I have to say that I don't believe I've ever used 40 cloves in one pasta (or any type of) dish. And for the most part, I don't think you ever need that much garlic to get a nice intense garlic flavor, but his noodles were so delicious that I had to try it. I wanted to stay on the healthier side, so I tried a version with whole wheat spaghetti. But then again, I added a little extra fat and flavor with pan fried pork chops, so what am I talking about?
He shared briefly what he did, so here's my very loose interpretation of it. It was very easy, very tasty and very garlicky!

40 Clove Garlic Spaghetti
Ingredients
1 pound whole wheat spaghetti (or your favorite spaghetti)
2 pork loin blade chops
40 cloves fresh garlic, peeled
¼ cup half and half
about 4 tablespoons extra virgin olive oil
2 tablespoons butter
½ teaspoon crushed red pepper
2 green onions, chopped finely (for garnish)
kosher salt and fresh ground pepper to taste
Instructions
In a heavy skillet (preferably cast iron), saute whole garlic cloves in olive oil on low heat for about 40 minutes. It is very important to turn often so they roast evenly without burning. Cook until tender and lightly carmelized. Remove garlic, set aside and do not wash pan.
In same pan, add a little more olive oil and turn heat to medium high. When oil begins to shimmer, add the pork chops, a little salt and pepper, and brown on both sides. Once both sides are brown, simmer on a lower temperature a bit longer until cooked through. Remove chops, set aside and do not wash pan.
Cook spahgetti to al dente, but before you strain, make sure to reserve 1 cup of the water and set aside. Add 1 tablespoon of the butter to the strained spaghetti to prevent the pasta from sticking together. Set aside.
In food processor (or blender), combine garlic and half and half and process briefly until it has the consistency of hummus.
In a small pan, and on medium heat, add a little butter, the garlic mixture (you don't have to use all of it, just to taste) and ¾ cup of the water from the pasta. Heat and stir until emulsified.
Reheat the pan that you cooked the chops in with a little olive oil (make sure the meat is removed). Heat should be at medium high. Toss in the crushed red pepper for about 30 seconds, and then the pasta, and briskly toss and scrape the pan so that the pasta gets coated with the flavors from the pork and garlic. Add the remaining water from the pasta to help the process along, and then the garlic and half and half mixture. Continue to toss until evenly coated. Add salt if needed.
Add pasta to serving dish and garnish with a little chopped green onion and more crushed red pepper. You can add grated parmigiano or romano cheese if you like.