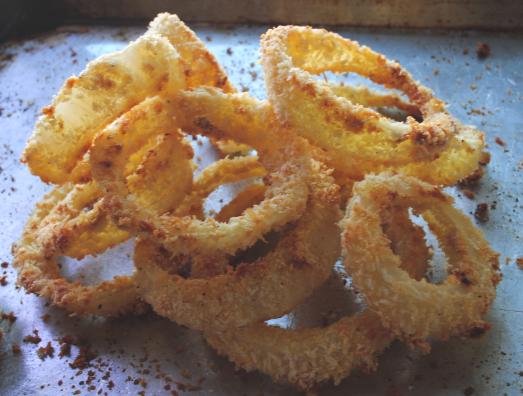 I have had a mad love affair with onion rings since childhood. I was the kid ordering the onion rings when most of my friends were getting the fries. Back in those days I never gave a single thought to how healthy they were (or anything for that matter) – and back in the day, our parents didn't seem to say too much about that either. And maybe that's because many of us were eating a lot more home-cooked meals and a lot less fast food.
That brings me to this recipe. I definitely like the idea of baking things we think only taste good fried. And I LOVE when those things actually taste good baked. These baked onion rings definitely fall into that category! Here you go…

Prep time:
Cook time:
Total time:
Ingredients
2-3 large yellow onions
1-2 cups Panko bread crumbs
1 cup flour
3 eggs
2 teaspoons milk
olive oil cooking spray
salt and pepper to taste
Instructions
Slice onions horizontally (forming cirlcles) to desired thickness.
In bowl, lightly whisk egg with milk and set aside.
In separate bowls for each, add the flour and breadcrumbs. Season both with a little salt and pepper.
Dredge onions in flour first, then egg mixture, then panko crumbs.
Wipe olive oil (with a brush or paper towel) on baking sheet. Arrange breaded onions on same sheet and spray with olive oil cooking spray.
Bake at 385 F (or a little higher) for 10 minutes. Flip and bake for another 10 minutes until golden brown.
Enjoy as is or dip in your favorite condiment!