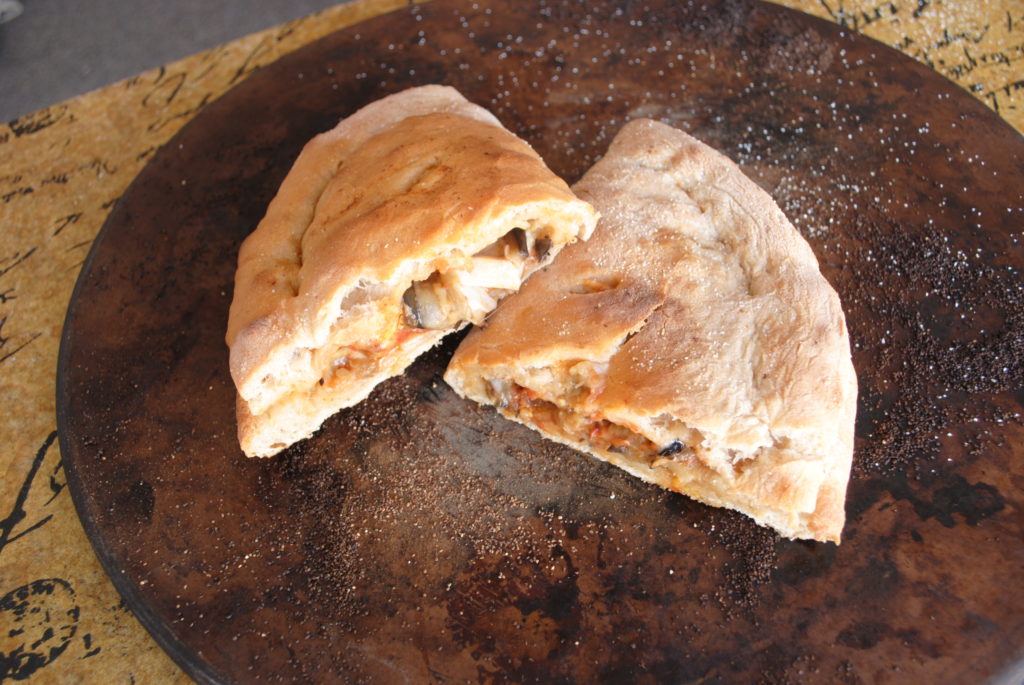 Eggplant is so lovely with its rich dark color and smooth shiny skin. But the best thing about eggplant is its earty flavor and meaty texture. It's one of those vegetables you can serve as a main dish and not feel the need to include a heavy protein.
Last week my son's girlfriend Jessica ran a 1/2 marathon and specifically requested my eggplant parmigiana that she tried about a year ago. How could I say no to her "victory dinner?" I didn't make enough for leftovers but I bought too many eggplants and ended up making another batch yesterday. While I was making that, I also whipped up some of my favorite pizza dough – not thinking I was going to use them together – but that's exactly what I did this morning. Eggplant Parmigiana Calzone…I think I like it (even though my son Jaye didn't think it sounded appealing). Oh well, you can't please everyone all the time!
The pizza dough recipe I used is adapted from Chef Chuck's Cucina blog which I've included below. The recipe for the sauce is my marinara sauce that you can find here. Of course you can use your favorite prepared dough, jarred marinara sauce, and even frozen eggplant parmigiana, but of course it's so much better when it's all fresh!
Enjoy!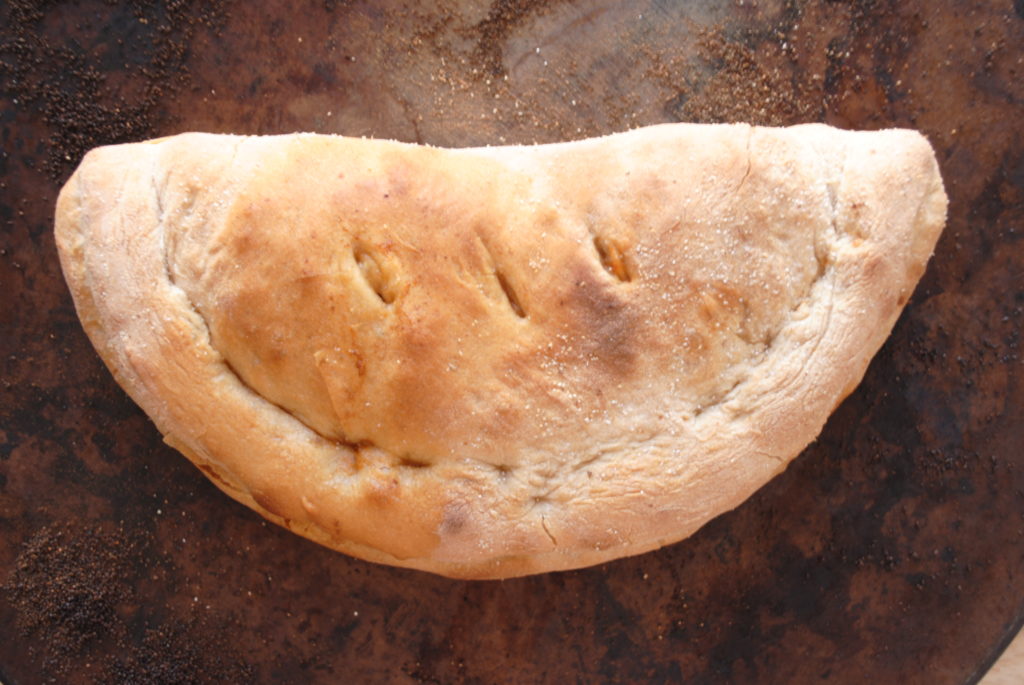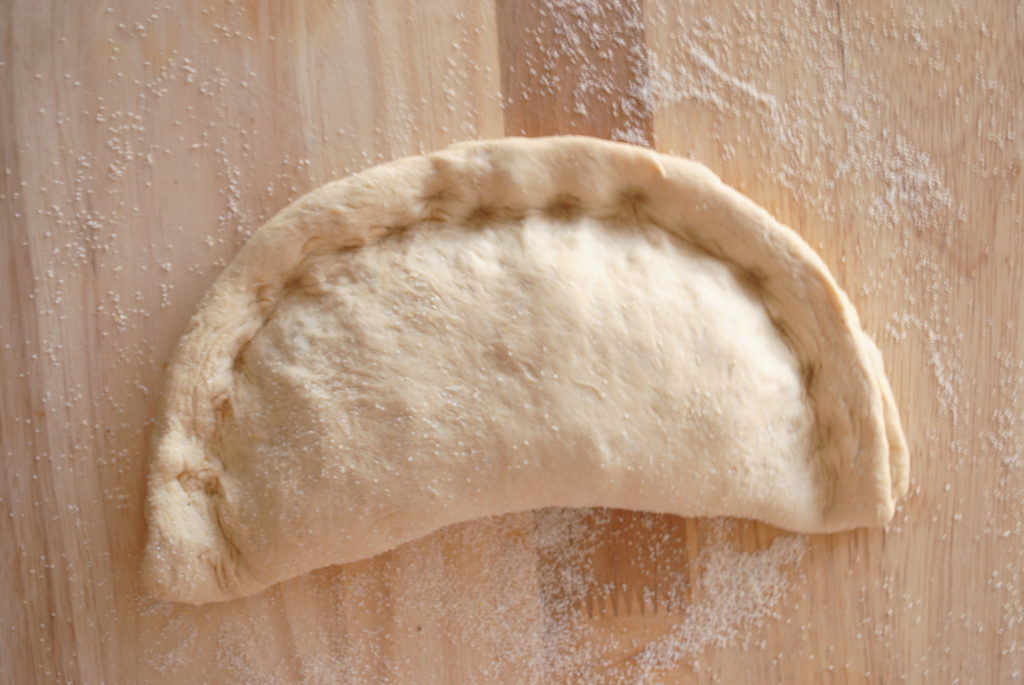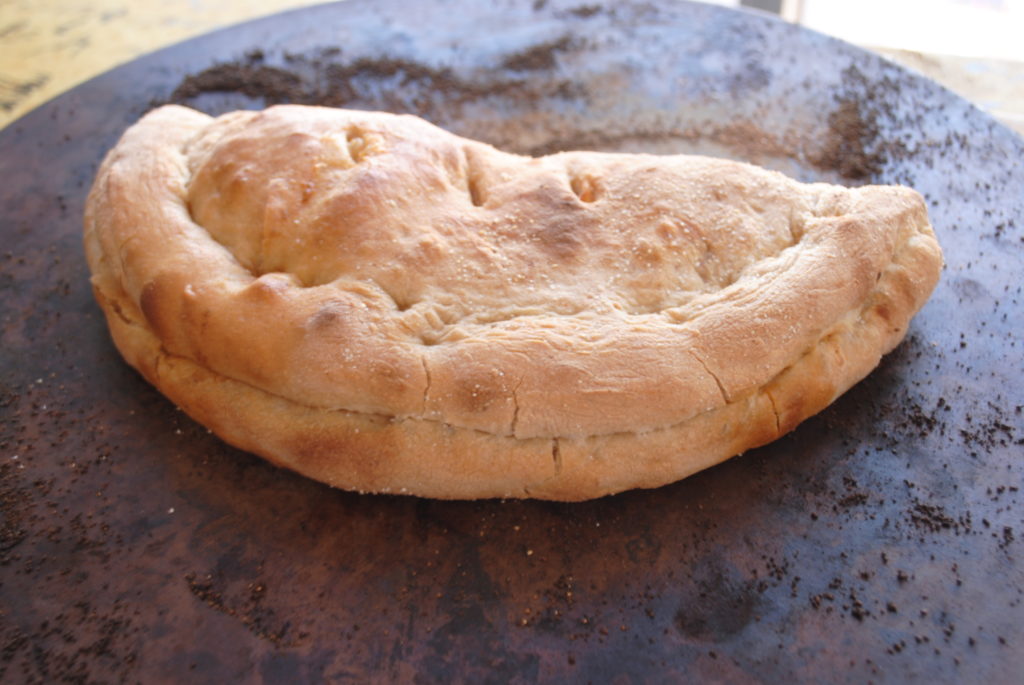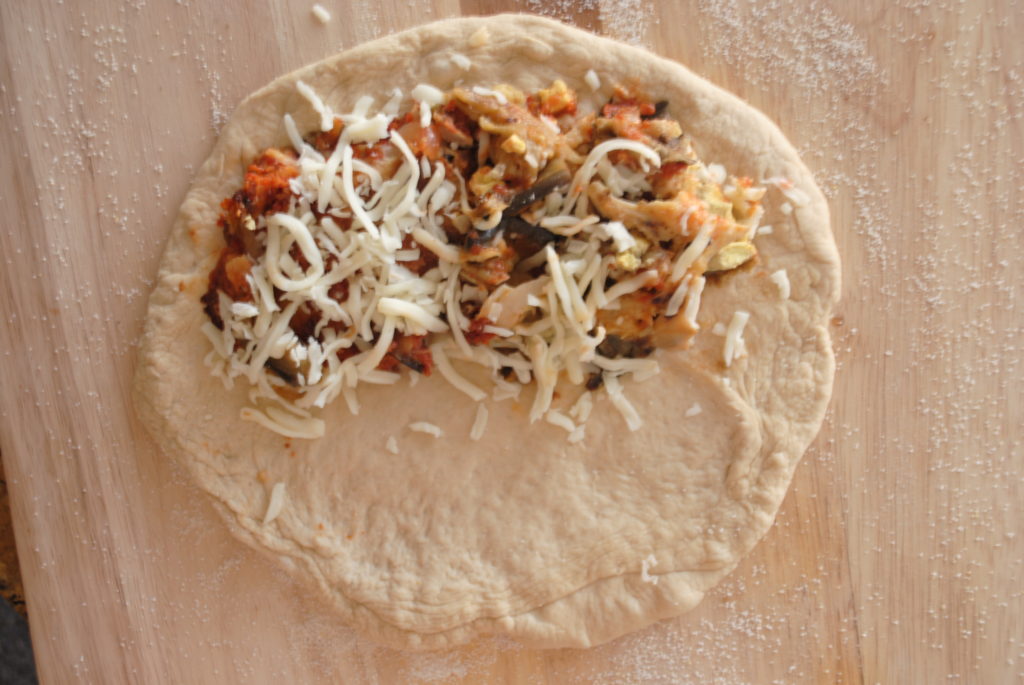 Eggplant Parmigiana Calzone
Prep time:
Cook time:
Total time:
Ingredients
2 medium eggplants
about 4 cups marinara sauce (see my recipe by typing marinara in search box)
1-2 cups flour
2-3 cups Italian style bread crumbs
½ cup olive oil
3 hard-boiled eggs, sliced (optional, but I always use them)
1 cup grated pecorina romano cheese
8 or more ounces mozarella cheese
kosher salt and freshly grated black pepper
¼ cup chopped fresh basil and parsley
For pizza dough
4½ cups all purpose flour (for this version, I used half whole wheat white flour)
2 cups warm water
1 tablespoon yeast
1 tablespoon sugar
2 tablespoons olive oil
2 tablespoons red wine vinegar
1 teaspoon kosher salt
a little cornmeal to dust on pizza peel
Instructions
For the eggplant parmigiana, in shallow bowl whisk eggs with a little water and set aside. Slice eggplant in quarter inch slices and salt each piece. Dip each slice in flour, then egg mixture, then bread crumbs. The process is easier if you line up the shallow bowls and work each piece like a mini assembly line.
Add olive oil to large fry pan (just so it covers the bottom) and heat to medium. Brown both sides of each piece of the coated eggplant (it happens fast, so don't go anywhere) then put each piece on platter lined with paper towels.
Lightly cover large, shallow casserole dish with marinara sauce and then put a layer of the eggplant. Sprinkle each piece with Pecorina cheese and then layer slices of mozarella cheese and spoon sauce over the top. Repeat this step and in the middle layer add a layer of sliced eggs.
Repeat those layers until the pan is filled halfway with all ingredients – or until you've used all the eggplant. End with a layer of sauce and then cheese. Bake in hot oven at 375 degrees F for about 45 minutes and until it's bubbling and the cheese has browned slightly. Keep covered with foil for the first 30 minutes.
Garnish with chopped fresh parsley and basil.
For the dough, add the yeast to the 2 cups of water for several minutes until in becomes foamy. Add the sugar, olive oil and vinegar.
While the yeast is dissolving in the water, add the flour and salt to food processor jar and pulse a couple times.
Add the water and yeast mixture gradually to the flour mixture and process until the dough begins to form a ball and comes away from the sides of the container. Turn out onto floured surface.
Sprinkle with flour and knead for several minutes until the dough is smooth and not sticky. Place in oiled bowl, cover with towel and let sit for two hours until it doubles in size.
After two hours, turn out onto lightly floured surface, knead a couple times and cut in thirds. Form into neat balls and use as needed. To use the next day, rub lightly with olive oil, cover with plastic and refrigerate overnight (I prefer using the next day for better flavor).
To assemble the calzone, preheat oven to 450 degrees F and place pizza stone in oven to preheat.
Stretch/roll dough out to six inch round (see photo above). Place on pizza peel sprinkled with a little cornmeal. Place some eggplant parmigiana on one half, keeping an edge clear for sealing. Fold in half, press edges together firmly (see photo) to seal. Make 1-3 little slits in top crust.
Transfer from peel to stone in oven and bake about 10 minutes until golden brown.
Cool slightly before serving.