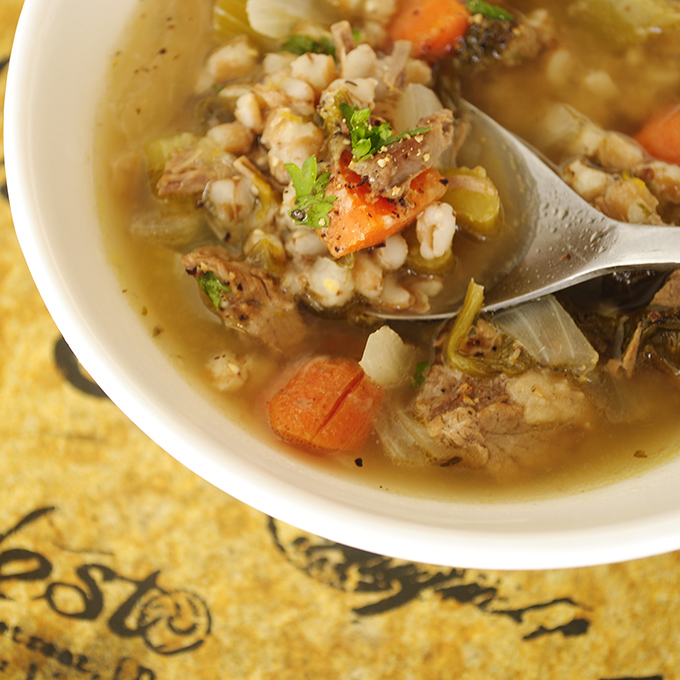 Baby, it's cold outside! And what better way to warm up than with a steeping hot bowl of vegetable beef soup with farro? Just days ago here in Northern California the weather was warm enough to wear shorts and t-shirts, but in the last few days many of us are scraping ice off our windshieds, bundling up, and trying to find ways to keep warm.
My favorite way to warm up is to eat very hot and savory soup. No matter where you are, it can warm you from your head to your tootsies. So last week I made a big pot of vegetable beef soup with farro that was pretty delicous. My mom said it was "the best soup she's ever had," and although she's always had a tendency to  be a cute, little drama queen, I think it's safe to say it was tasty.
Vegetable Beef Soup with Farro
As with most any soup, feel free to swap out or add additional ingredients. Don't worry about being so exact with ingredients – just have fun and be creative. Want potatoes in it? Add them! Don't like carrots? Don't! Just make sure you braise the beef until it is very tender. And when it comes to the farro, you can use barley, quinoa or pasta. I just prefer farro because I love it and it adds a nice chewy texture to the soup. If you're going to use farro, remember it needs to soak overnight.
Stay warm and safe this winter!
Note: If you're going to use farro, you will need to soak overnight, so just remember to do that the day before. If not, barley will work just fine.

Vegetable Beef Soup with Farro
Prep time:
Cook time:
Total time:
Ingredients
1½ pounds beef round or chuck roast, cubed
1 cup farro or barley, cooked according to directions
64 ounces beef broth
½ cup wine or beer
4 ribs celery, chopped
3 carrots, chopped
1 onion, chopped
1 tablespoon fresh parsley, chopped
kosher salt to taste
ground pepper to taste
¼ cup fresly grated parmigiano cheese
For braising
2 bay leaves
4 celery ribs with leaves in tact
½ onion, unchopped
Instructions
In heavy bottom pot, heat 2 tablespoons olive oil. Season beef with a little salt and brown ½ the beef on medium high, making sure to turn to brown all sides.
Brown the remaining beef and then return the other half to the pot. Season with pepper and with heat on high, add wine (or beer) to deglaze.
Add the bay leaves, celery ribs with leaves and unchopped onion, add enough water to generously cover beef and veggies. Cover and let simmer for at least two hours until beef is tender, making sure to skim as needed and add additional water if needed while braising. When done, remove and discard celery, bay leaves and onion.
While beef is braising, prepare veggies and cook farro according to directions. If you didn't soak overnight, you may want to use barley or pasta instead.
To the beef pot, add beef broth and remaining ingredients (except the farro). Bring to boil and simmer for 15 minutes, or until veggies are tender.
When ready to serve, add farro to serving bowl and ladle soup over the top.
Garnish with parmigiano and a little fresh parsley.