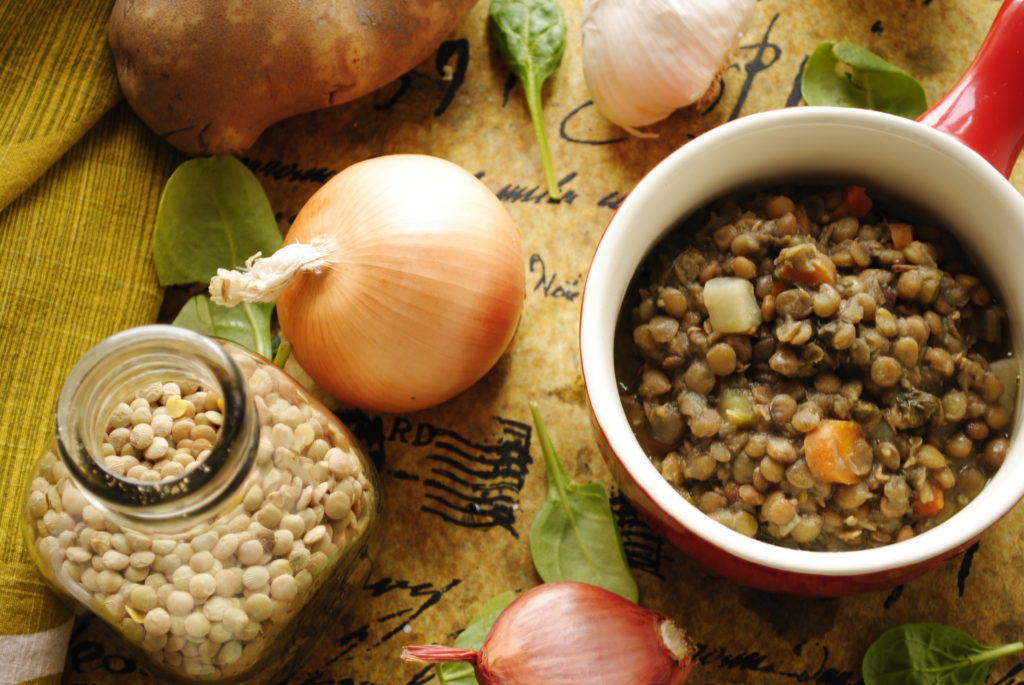 Lentil soup has always been a favorite of mine since I was a kid. My mom used to make it with Italian sausage, rice, and spinach and would always top our bowls with grated parmesan cheese. I make that version a lot, but in recent years I've made it so many variations I can't even keep up with the recipes and the ones I like best. I guess I just like them all – mostly because I just adore lentils any old way.
Yesterday at work we made Chicago-style Italian beef sandwiches made with thinly sliced beef, au jus, giardiniera (pickled Italian hot pepper and vegetable mix), grilled onions and peppers and cheese (I'm still full). My contribution to this feast was lentil soup. Here's the recipe – it's a good time of year for this stuff!

Prep time:
Cook time:
Total time:
Ingredients
3 cups dried green lentils, rinsed thoroughly (no need to soak)
2 quarts vegetable stock
1 cup white wine
3 tablespoons extra virgin olive oil
1 large russet potato, cut in small cubes
4 carrots, chopped
4 ribs celery, chopped
2 cups fresh baby spinach
1 large onion, finely chopped
1-2 shallots, diced
5 or more garlic cloves, minced or finely chopped
handful fresh parsley, finely chopped
dried or fresh thyme
3 bay leaves
1 teaspoon freshly ground black pepper
kosher salt (to taste)
optional - shredded or grated ffresh parmesan cheese
Instructions
In large heavy bottom pot, saute onions, shallots, celery and carrots in olive oil for several minutes (about 6-7) until beginning to carmelize.
Add garlic and cook for 1 minute, and then add lentils, thyme and parsley. Stir for another minute.
Add wine and once it simmers for about a minute, add vegetable stock and stir.
Loosely cover and simmer on low for about 35 minutes, adding water, more stock, or wine if soup appears to thick. Taste and add salt if needed.
Add potatoes, loosely cover and simmer on low for another 20 minutes, or until lentils and potatoes are tender.
Serve in individual bowls and top with parmesan cheese if desired.
Notes
Depending on your taste or preference, add more or less vegetable stock and water. After about 35 minutes of simmer the soup you will see how it's thickening up. Add more water, stock or even wine as needed.