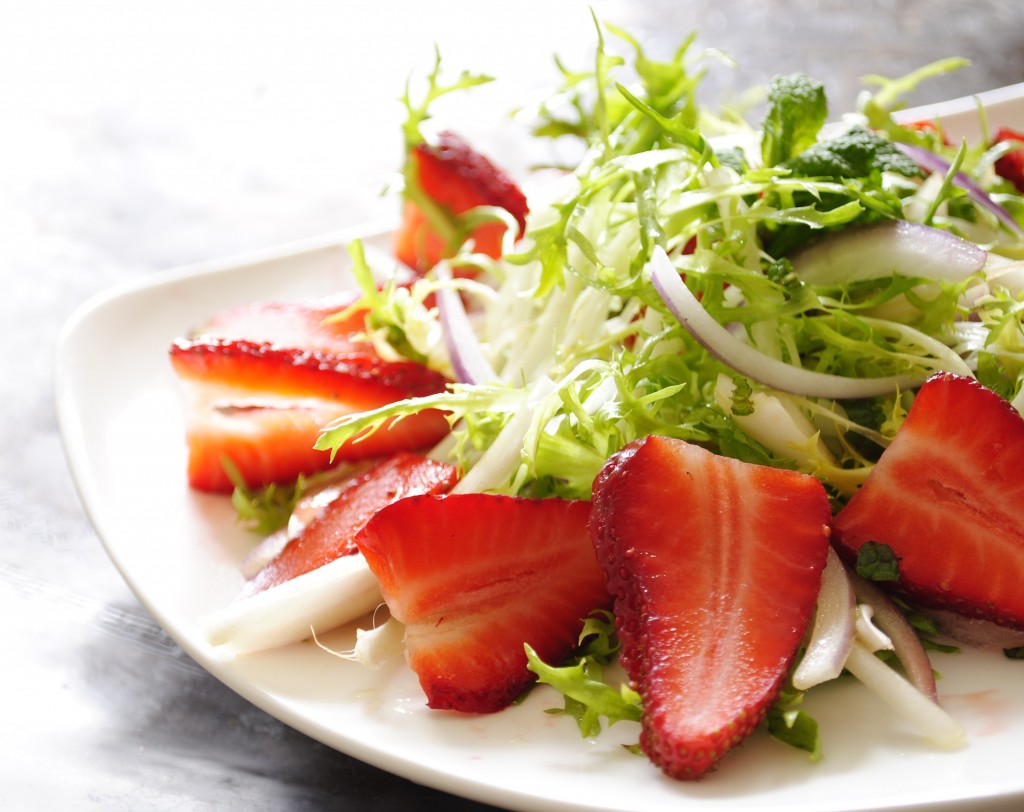 I love spring and all the things I associate it with: new growth, freshness, sunshine, warmer weather, and even renewed hope. I typically feel happy and hopeful all the time, but sometimes during the colder months, I can get to feeling a little less motivated than normal. And when I feel that way, I end up eating more comfort food (or fatty, rich food), which ends up making me feel even worse.
So when spring hits, I start to think more about cleanliness, both inside and out. I've already started a little spring cleaning at home, and now I need to get a little more serious about eating a little cleaner. And there's no better time to do that with the availability of a lot more colorful fruits and veggies. I love that California strawberries are in peak season now – they look fabulous!
One of my favorite ways to enjoy strawberries is in a salad. I like to toss them with greens like arugula, endive, sunflower sprouts and frisee. Adding strawberries to these veggies is like adding earrings to a great outfit – they just make everything pop!
The secret yumminess to this salad is the dressing which is a little savory, a little sweet and citrusy.
I wish you a happy spring – a lots of colorful eating!

Strawberry and Frisee Salad
Ingredients
1 head frisee, roughly torn
6-8 fresh strawberries, sliced
½ red onion, sliced thinly
1 cup fresh bean sprouts
4 mint leaves, finely diced
3-4 fresh Thai basil leaves, chiffonade
For the dressing
2 teaspoons olive oil
1 teaspoon tamari (or soy sauce)
1 teaspoon rice wine vinegar
1 fresh lime, juiced
2 drops fish sauce (optional)
½ teaspoon sugar (optional)
Instructions
In small jar or bowl, whisk together wet ingredients. In another bowl, toss together all vegetables. Add the dressing, toss and add to serving plates. Arrange strawberry slices as desired. Garnish with additional mint leaf or two.