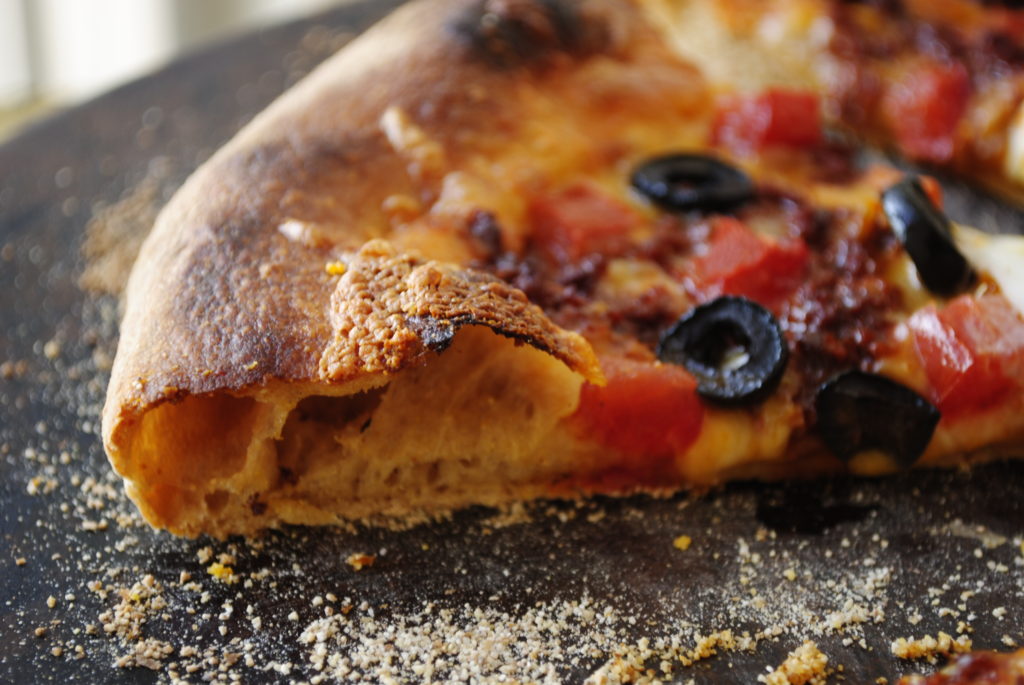 I'm not kidding when I say this could be the best thing I've ever eaten for breakfast. If I had it in a restaurant, I would be calling my brothers, kids and friends to tell them where to go get this Chorizo and Tomato Breakfast Pizza. The best part about it not being found at a restaurant, is that you don't have to go any further than your kitchen to enjoy it – which means you can eat it any time you want!
Here's why it's really, really, really good: The crust is thin, chewy and 75 percent whole wheat; the chorizo is soy-based, but you'd NEVER know it; and it's breakfast pizza with and egg planted right in the center for goodness sake! By the way, you can use regular chorizo too. I'm sure it would be just as delicious.
For the crust, I recommend following the directions really closely. It's very easy, but the kneading and rising time is important. I also think the addition of rosemary, vinegar and salt to the dough makes a big difference. If you're using whole wheat, make sure to use white whole wheat because it will make a huge difference in taste and texture than using regular whole wheat Also, if you can, use a pizza stone that is pre-heated for at least 30 minutes (at 500 degrees F) to get that wood-fired effect.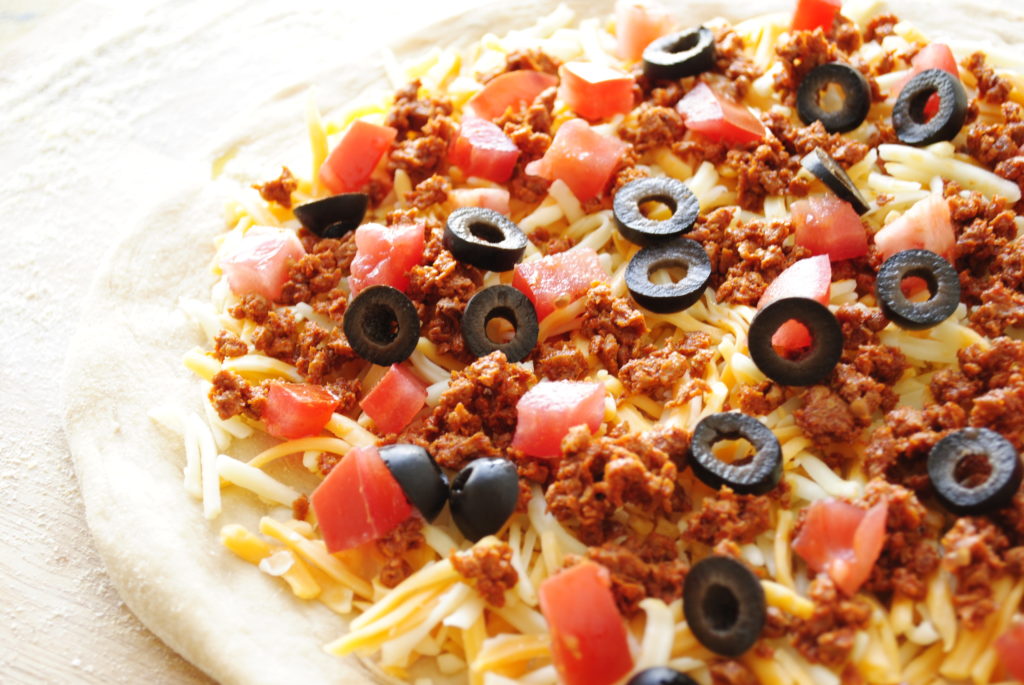 Of course if you don't like chorizo, feel free to use your favorite sausage, or  ingredients. I've experimented a lot with different combos, especially for breakfast, and this is definitely one of my favorites. If you want to try a breakfast pizza with bacon, try this one.
Regarding the egg, if you don't like runny yolks, just make sure to add your egg to the pizza for a longer cooking time (see directions). And if you don't like an egg on your pizza – don't add it! You are the queen (or king) of your pizza!
Breakfast Pizza with Chorizo and Fresh Tomatoes
Prep time:
Cook time:
Total time:
Ingredients
Adapted from Chef Chuck's Cucina recipe
3½ cups white whole wheat flour
1 cup all purpose flour
2 cups warm water
1 tablespoon yeast (I use Fleishman's rapid rise yeast)
2 teaspoons sugar
2 tablespoons cider vinegar
2 tablespoons extra virgin olive oil
1 teaspoon salt
2 teaspoons dried rosemary
1 tablespoon cornmeal (for bottom of crust)
Topping
½ to 1 cup soy chorizo (I like the Trader Joe's brand)
1 medium tomato, chopped
1 cup cheddar cheese, shredded
1 cup mozzarella cheese, shredded
½ cup black olives, sliced
1-2 raw eggs
1 teaspoon extra virgin olive oil
Instructions
Add flours, rosemary and salt to mixing bowl and whisk.
Add yeast and sugar to 2 cups warm water (not hot). Let stand until foamy and then add the olive oil, vinegar.
To stand mixing bowl, add wet ingredients to dry ingredients and mix with paddle attachment just until combined. Scrape dough off paddle and add dough hook. On medium speed, knead for about 8 minutes. The dough should look tacky while it's kneading.
For the next couple minutes, add 1 tablespoon at a time of flour while continuing to knead in mixer, until the dough starts to come away from the sides and bottom of the bowl and cling to the hook. Once you see that, knead for another minute.
Turn out onto lightyfloured surface, knead a couple more times with hands, and place in large bowl greased with olive oil. Rub a little olive oil on top of dough, lay a piece of plastic wrap on top of dough and cover bowl with towel. Let rise for about 90 minutes, until more than doubled in size.
Turn out onto lightly floured surface, knead a couple times and cut dough in half or thirds, depending on the size and quantity of the pizzas you plan to make.
Rub olive oil on inside of plastic bag. Place individual dough balls in separate bags and refrigerate until ready to use.
Note: You can use the dough right away, but it tastes better the next day. The dough can be refrigerated for 3-4 days, or frozen.
To make pizza, pre-heat pizza stone in oven at 500 degrees F for 30 minutes. For refrigerated dough, remove from refrigerator and plastic bag, and turn out onto lightly floured surface for about 15 minutes.
Stretch dough out to desired thickness and size by pulling gently, even placing on your fists. Place on a pizza peel sprinkled with cornmeal, shaping and gently pressing in the center with fingers. Make sure to leave edges a little thicker for a nice-looking crust.
Drizzle or brush top of dough with a little olive oil.
Add shredded cheese, leaving an inch at the edges for crust.
Add layer of chorizo, then tomatoes and olives.
Slide from peel onto hot pizza stone and cook at 500 degrees for about 6 minutes, until cheese begins to slightly bubble.
While pizza is cooking, add egg(s) to small bowl or cup. At the 6 minute point, carefully pour egg onto top of pizza and continue to cook for 3-4 minutes, until crust is slightly charred and egg is cooked to your preference (some like it runny, some don't). Just eyeball it and you should be fine.
Slice when hot with pizza cutter.
Enjoy!