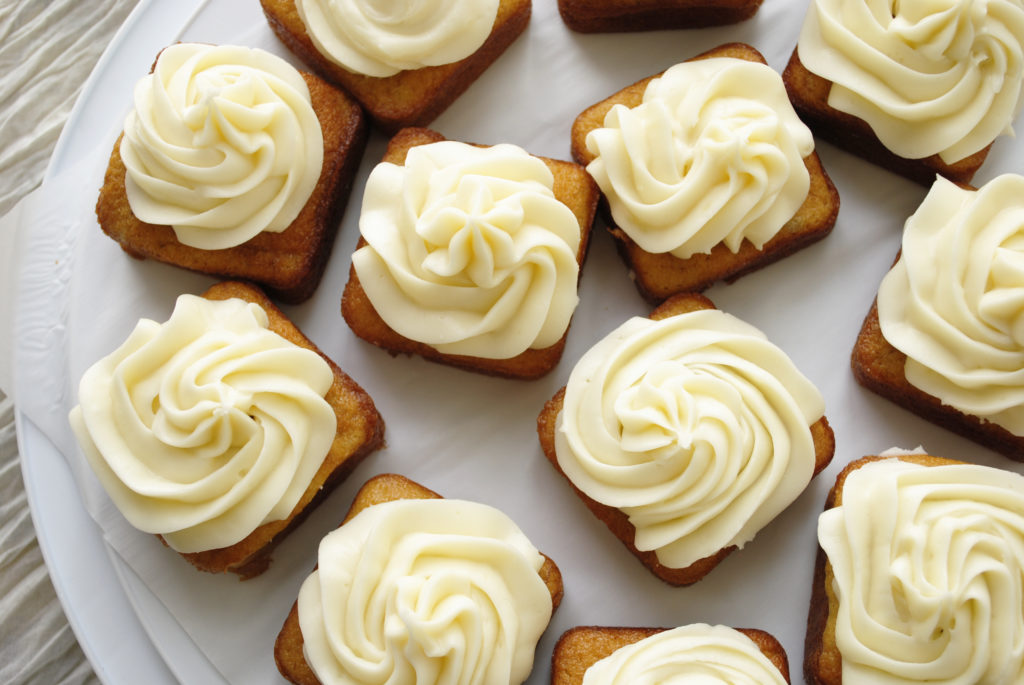 I'm not the biggest banana cake fan around, but I sure enjoyed making (and eating) these mini banana cakes with cream cheese frosting. I got the idea for these after a colleague of mine loaned me her baking pan with 12 mini squares. I probably chose banana cake because if it were mini chocolate cakes, I may have been tempted to eat the whole pan!
 I tried a simple banana cake recipe I found at My Baking Addiction. It turned out really moist and I will definitely use it again, and probably again.
Note: If you're not used to using pastry bags with different tips, I totally recommend trying them out. It can really spruce up almost any cupcake or cake!
Mini Banana Cakes with Cream Cheese Frosting
Prep time:
Cook time:
Total time:
Ingredients
2 ripe bananas, mashed
2 teaspoons lemon juice
3 cups flour
1½ teaspoons baking soda
¼ teaspoon salt
¾ cup butter, softened
2⅛ cups sugar
3 large eggs
2 teaspoons vanilla
1½ cups buttermilk (or milk with 1 tablespoon white vinegar)
Frosting
½ cup butter, softened
1 (8 ounce) package cream cheese, softened
1 teaspoon vanilla
3½ cups confectioners' sugar
Instructions
Heat oven to 375°. Grease and flour a 9 x 13 pan, a muffin tin or pan with mini squares.
Smash banana with fork and add lemon juice; set aside.
In a separate bowl whisk together flour, baking soda and salt; set aside.
In mixing bowl, or stand mixer bowl, beat butter and sugar until light and fluffy. Beat in eggs, one at a time, then stir in vanilla.
Beat in the flour mixture alternately with the buttermilk (or milk). Stir in mashed bananas.
Pour batter into pan and bake for about hour (for cake), 20-25 minutes for mini cakes - or until toothpick inserted in center comes out clean.
The original recipe calls for placing in freezer for 45 minutes, but I didn't do this step. Apparently, this step will make the cake very moist.
For the frosting, beat butter and cream cheese until smooth and creamy. Beat in vanilla.
Add confectioner's sugar and beat on low speed until combined, then on high speed until frosting is smooth.
Spread on cooled cakes, or use a pastry bag with a Wilton Star Tip (1M).