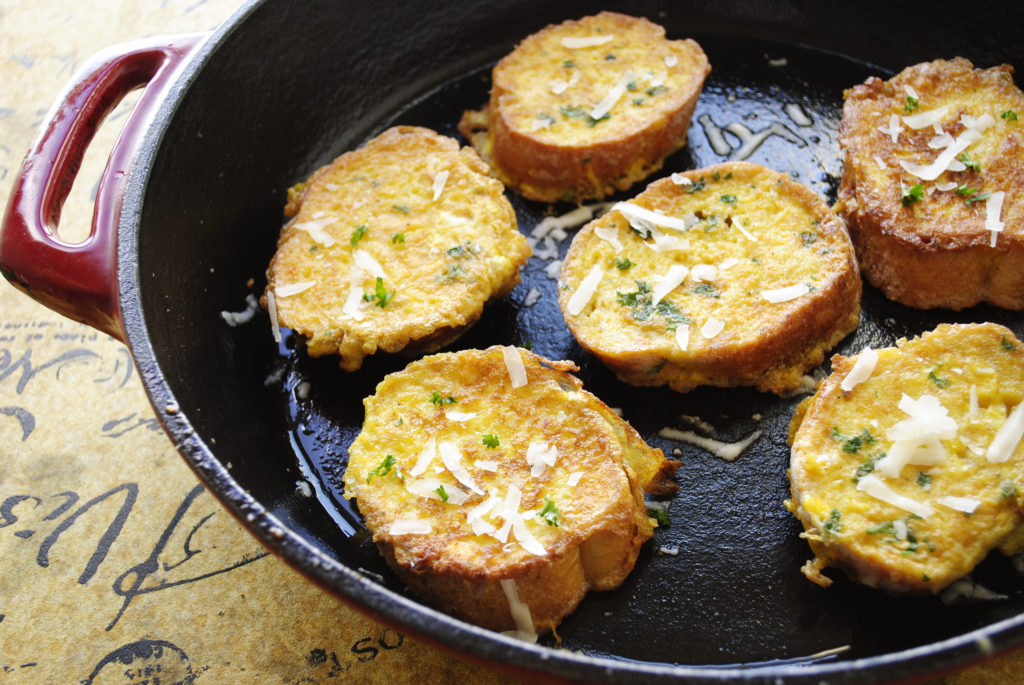 I wish everyone had an Aunty Connie in their life. My Aunty Connie was a little round and a lotta happy. Of course she comes from the Sicilian side of the family, and was one of my mom's four sisters. I don't think I ever saw her mad, but I sure remember her smiling, laughing and cooking. And boy could she cook! To this day I've never had anything that even comes close to some of the incredible dishes she would prepare. I remember her stuffed lobster (or lobstah, as she would pronounce it in her wonderful Boston accent), stuffed clams, pesto and potato pasta, aglio and olio pasta, and the list goes on.
One of the dishes very close to my heart was probably the simplest thing she ever made – her Sicilian version of French Toast. Like I said, it's so simple, but the way she made it savory, using thick slices of Italian or French bread and extra virgin olive oil made all the difference in the world!
She'd slather the bread in beaten eggs with a little salt and fresh parsley and cook 'em up in a fry pan with a little extra virgin olive oil until slightly browned. And then she'd sprinkle the toast with fresh parmigiano cheese. Simple, right? Yep, simple, but so very soulful.
There's never been a  time that I've made Sicilian toast that I haven't thought about my wonderful Aunty Connie. I miss her so much, but when I fill my own home with the aromas I recall from her house, I feel really warm inside. Maybe you have grandmas or aunties like mine, and if so, I hope they create wonderful memories (food or otherwise) that will last a lifetime.
Traditional French toast, the kind made with sandwich bread and soaked with maple syrup is good, don't get me wrong. But you just might want to try on the Sicilian style for size. You might just be glad you did!