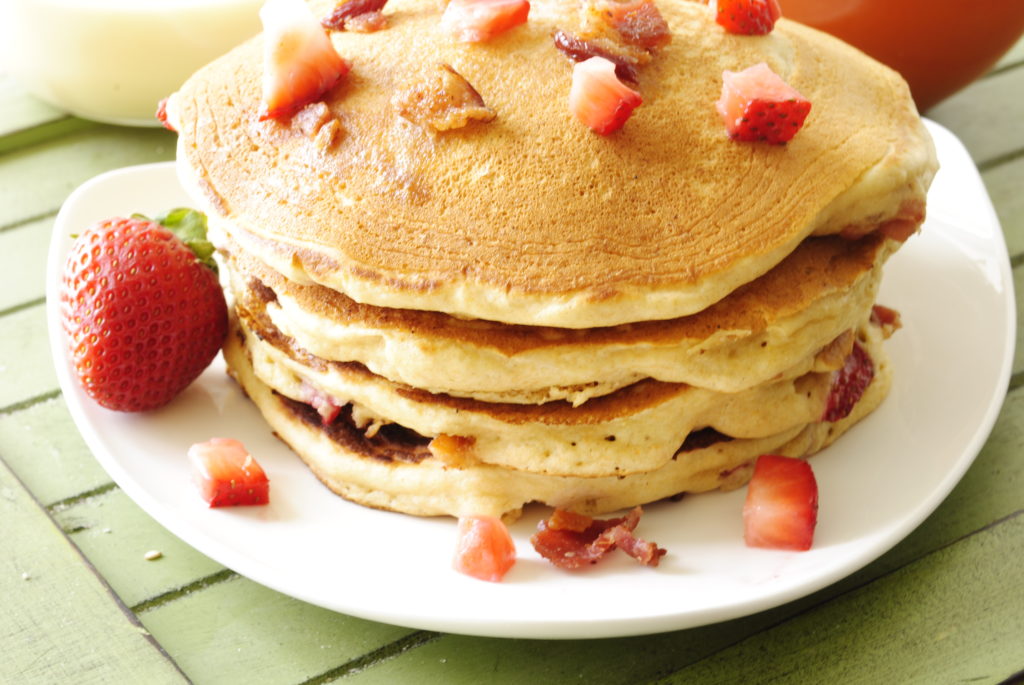 Warning: if you love sweet and savory combos, don't make too many pancakes because you will be at risk of eating way too many (like I did).
Last weekend I whipped up a couple pancakes for my favorite 5-year-old twins. Little Jaye, son of my big Jaye, sweetly muttered that, "Nina (that's my name for Grandma) makes the best pancakes." It so warmed my heart, not because I think my pancakes are great, or felt complimented – it was because I was so glad that I created something that could one day turn into a warm memory for them. I believe some of the best memories we have in life, are made at grandma's homes across the plantet. And I'll bet many of them have food in them. : )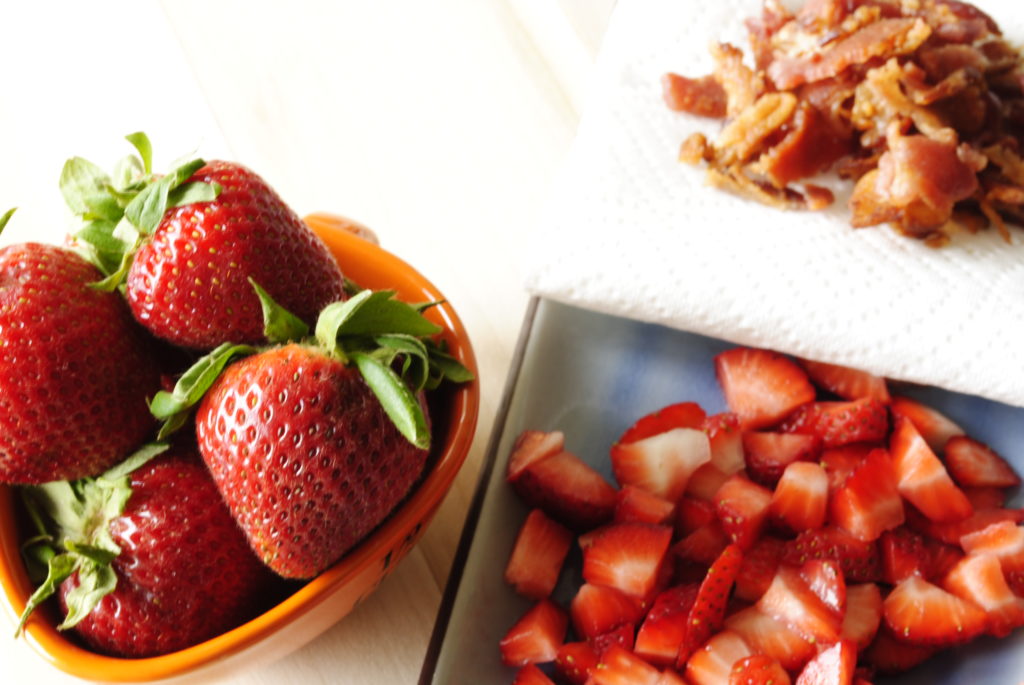 With no pancake recipe on my blog, it was time to really figure out a pancake recipe that I could share since I never measure anything when it comes to pancake batter. I actually googled around a bit to find a base recipe (out of total laziness) and stumbled across one that uses half whole wheat flour on Something Edible. – so that's the one I started with.
Of course I couldn't just leave the recipe as is, so  I started by dicing up the wonderful Calfornia strawberries I brought back from my day trip down to Santa Maria late last week. Oh my goodness, were these berries delicious!  For even more fun,  I thought I'd make sweet and savory pancakes by also  adding bacon. Trust me, the combination was really, really, REALLY good.
I'm not a huge pancake fan, but now that I've made these, I think I just might become one. Have a wonderful, long weekend!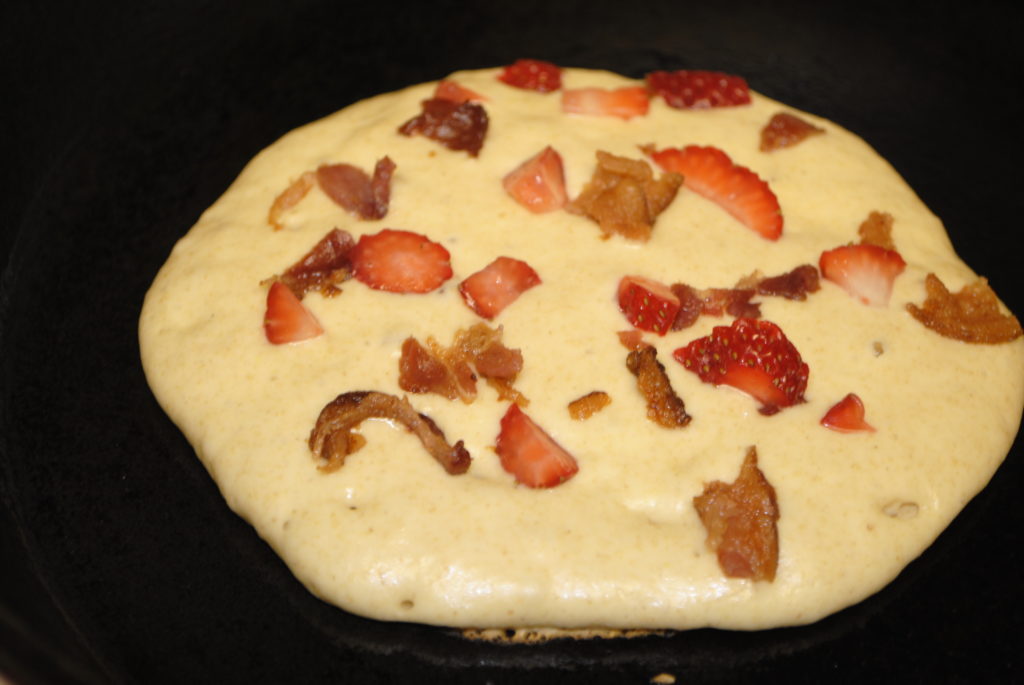 Bacon and Strawberry Pancakes
Prep time:
Cook time:
Total time:
Ingredients
6-8 strawberries, diced finely
6 slices bacon, cooked and cut in small pieces
1 cup white whole wheat flour
1 cup all purpose flour
2 teaspoons baking powder
1 teaspoon baking soda
½ teaspoon salt
1½ cups buttermilk (or milk with 1 tablespoon white or cider vinegar)
2 eggs
2 tablespoons butter, melted
2 tablespoons agave syrup or honey (I used and agave syrup)
Instructions
Heat pan or griddle on medium low. I prefer using a cast iron pan for pancakes.
While pan is heating, sift all dry ingredients into mixing bowl and whisk a couple times.
In large mixing bowl, whisk together eggs, butter and agave syrup (or honey). Add one cup of the buttermilk to the egg mixture and whisk about a minute until frothy.
While coninuing to whisk, add the flour mixture and mix until just blended. Let rest a minute or two. The batter should be on thick side. Add a more buttermilk a little at a time until it's the consistency you like. It's fine if it's a bit thick, because after you ladle the batter in the pan, you can use a spoon to spread evenly. If you want a thinner batter, add a little more milk and stir. Just make sure you don't over work the batter or your pancakes won't be tender.
With paper towel, spread thin layer of oil in bottom of pan. Test temperature by sprinkling a couple drops of water in pan - if they "dance" it's ready.
Make a test pancake first. Adjust heat as necessary.
Ladle batter into center of pan and spread evenly with back of spoon. Drop several pieces of strawberries and bacon evenly on wet pancake (see image).
When you see a bubble pop in the center of the pancake, it's time to flip. Cook anohter minute or so until the botton the second side is golden brown.