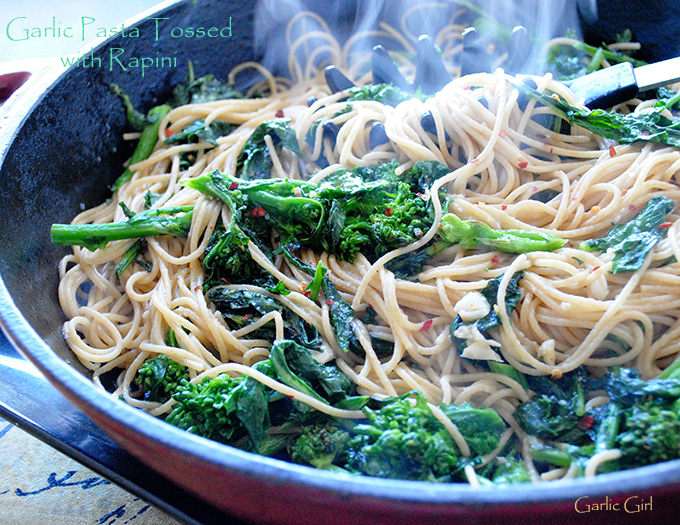 When it comes to fast food, most people probably don't think of whole wheat pasta tossed with garlic and rapini. But I do! One of my favorite under thirty-minute-meals is a quick and healthy pasta dish with veggies, lots of fresh garlic, and additions of anything from cherry tomatoes, olives and fresh basil, to roasted pine nuts, capers or anchovies. And I'm not sure what my Sicilian mother would think of this, but I'll even toss in baked tofu for a little added protein!
In the time it takes to make a burger, you could be serving up an elegant and healthy pasta dish with fresh herbs and your favorite flavors.
So whether it's penne pasta and spinach, or linguini and mustard greens – just get the pasta in the pot and get tossing your "fast food!"

Pasta with Rapini and Garlic
Prep time:
Cook time:
Total time:
Ingredients
½ lb whole wheat spaghetti (or favorite pasta)
1 tablespoon extra virgin olive oil
5 cloves fresh garlic, chopped, sliced or crushed
1 bunch fresh rapini (or favorite greens), cleaned and roughly chopped
1 teaspoon crushed red pepper
1 tablespoon, grated Parmigiano or Romano cheese (I prefer Pecorino Romano)
kosher salt to taste
Instructions
In large pot, boil spaghetti according to package directions.
While pasta is cooking, in cast iron (or heavy skillet) pan, heat olive oil on medium and add garlic for about 30 seconds.
Toss in rapini and cook for about 4-5 minutes, or until slightly tender. If pasta sticks to pan, add about ¼ cup of pasta liquid and continue to toss. You can also use wine.
When pasta is ready, transfer directly from pot to pan with rapini using tongs; toss until combined. Add a little more olive oil if necessary. Add kosher salt and crushed red pepper to taste.
Transfer to serving platter and toss with more Parmigiano cheese.
Serve immediately!