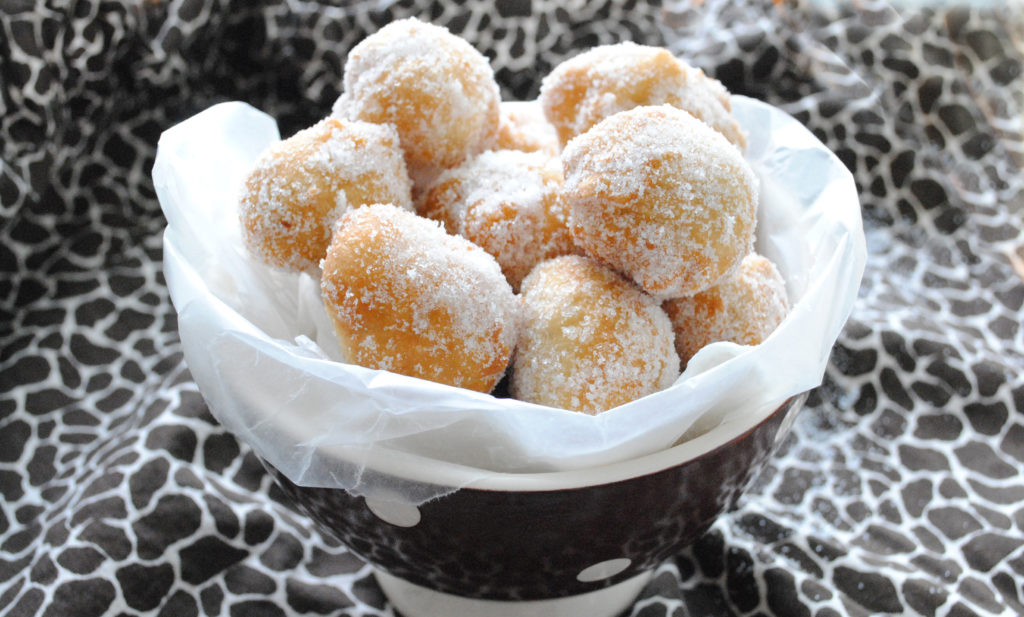 That's right. Fried Dough. And don't worry, I'm not going to sit here and pretend this is the healthiest thing, because we all know it's not.
However, experts do remind us – and I totally believe it – that it's ok to indulge in the not-so-good stuff if you eat healthy most of the time, right? So since we're going to eat sweets sometimes, they might as well be really, really, really good when we do! This fried dough definitely fits into that category. It's one of my childhood favorites that my Siciliain Aunty Connie used to make.
She'd just fry up leftover pizza dough and roll the pieces in sugar. Simple and  a little naughty – but really good. By the way, some call this treat Sfingi or Zeppole, and depending on who you talk to, there are differences. But to make things simple, I won't go into all of that, I'll just stick to "fried dough" since that's the common thread behind these types of desserts. I go in to a bit more detail regarding Sfingi in this post, if you're interested.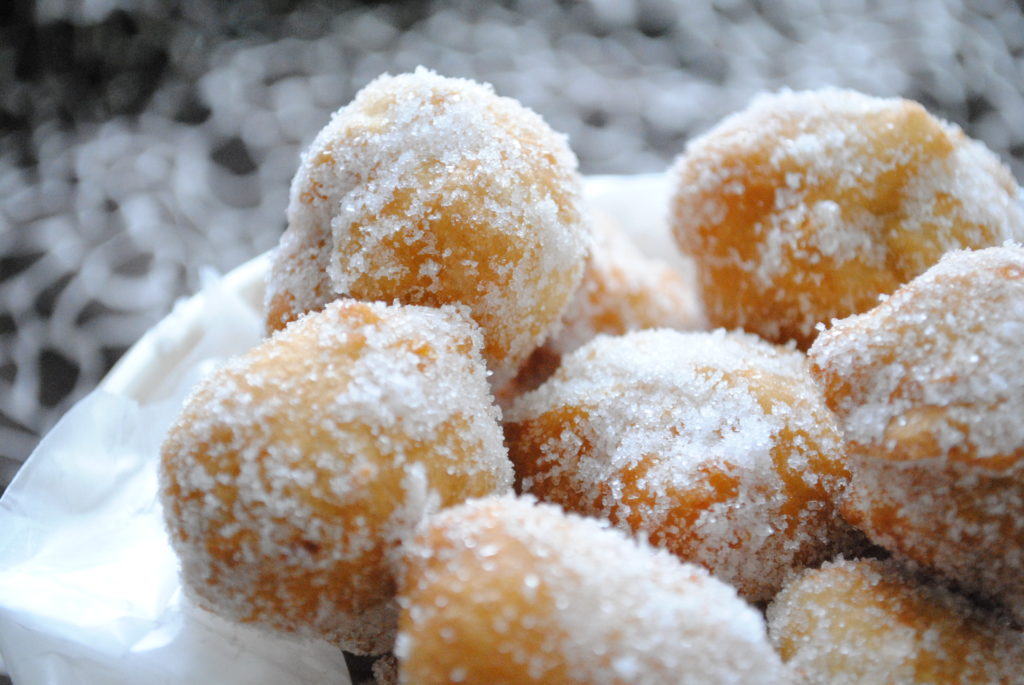 You can use your favorite pizza dough recipe, but I'm including the one below I used for this version because the dough had a really nice taste. Warning: there is extra rising time for this recipe which is what makes the flavor extra yummy!
Of course you can buy pre-made dough – but I think the fun part is making the dough. If you're going to make it, I'd definitely recommend using most of it for pizza and setting a little aside for the fried dough dessert. This recipe makes enough for 4 small pizzas. You can freeze the dough if you're not going to use it right away.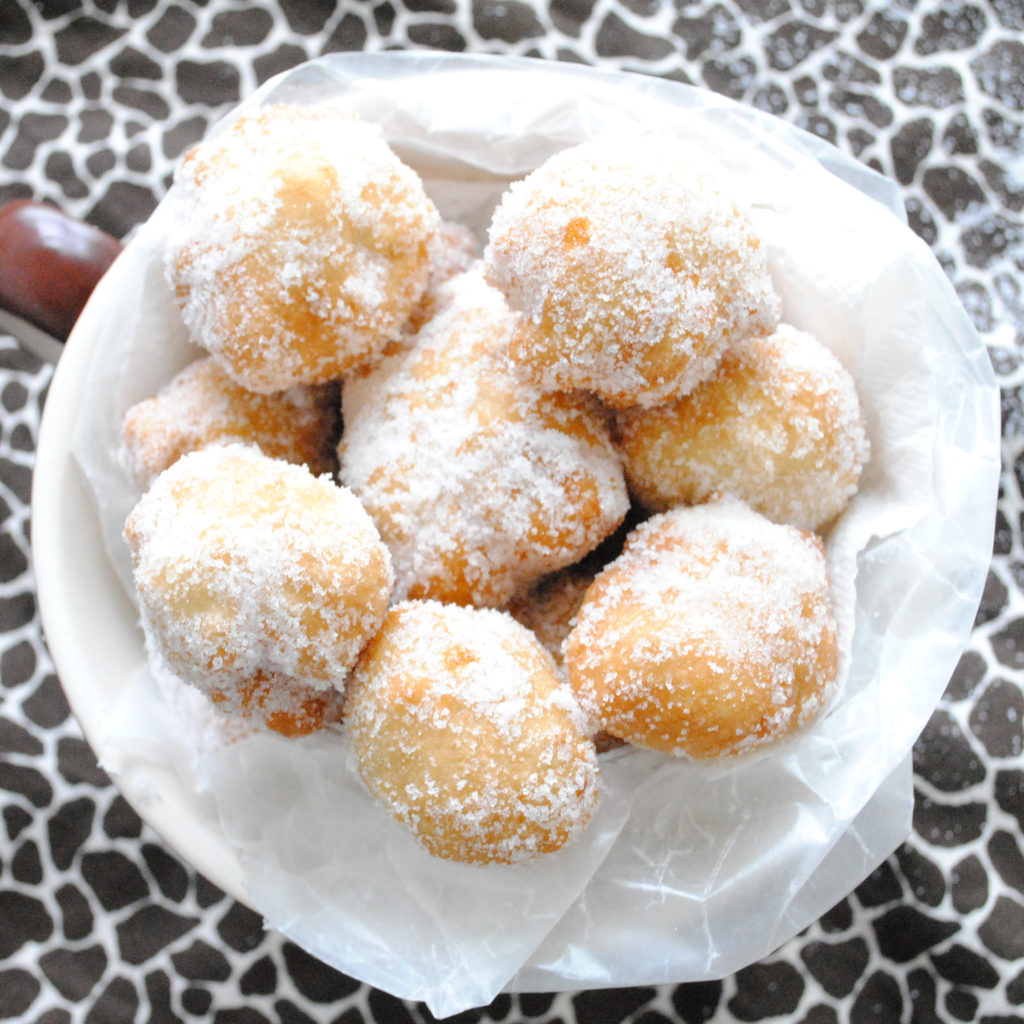 Sicilian Fried Dough
Prep time:
Cook time:
Total time:
Ingredients
5-6 cups unbleached all-purpose flour
1¾ cups water
2 teaspoons olive oil
1 teaspoon salt
1 tablespoon sugar
2¼ teaspoons (or 1 packet) Active Dry Yeast
*optional - 2 teaspoons vinegar
Instructions
Add yeast to 1¾ cups luke warm water (make sure it's not hot); stir in sugar and olive oil and let sit for about five minutes until foamy.
In bowl of stand mixer, combine all ingredients (start with 5 cups of flour). Using dough hook, mix on medium speed for about 4 minutes, or until flour gathers to form a coarse ball. Let dough rest for a few minutes; mix again for an additional few minutes, or until the dough clears the sides of the bowl and sticks just a little to the bottom. If dough appears too sticky, add more flour by the tablespoon. Note: I added about 3 additional tablespoons of flour.
To test, gently stretch a small piece of dough until translucent in center. If not, process a little more.
Transfer dough to a floured counter, dust the top with flour to absorb the surface moisture, then fold dough into ball. Place in a bowl that has been brushed with olive oil, cover with plastic wrap, and then cover the top of bowl with a towel.
Let sit at room temperature for 90 minutes.Dough should double in size.
Punch dough down, knead a couple times and form into ball.
Return to bowl, cover and refrigerate for 2 - 12 hours.
Remove from refrigerator 2 hours before using.
Transfer dough to floured counter and divide dough into 4- 6 equal pieces; form into balls. Rub each ball with olive oil.
Cover with plastic wrap and let rise for another 2 hours before making pizza or fried dough.
Note: I cheated and made a pizza with one of the dough balls without that last rise, and the taste and texture was very good.
Place balls you will not use into ziplock plastic bags and either refrigerate (if you will use within 3 days) or freeze for up to 3 months.
For frying, heat vegetable oil to 360 degrees in small cast iron (or heavy) sauce pan. I don't use a thermometer, I just heat on medium and test by dropping a piece of dough in the oil. Be careful!
Drop small pieces of dough (about 4-5) in oil and fry for a couple minutes, turning for even browning, and until golden brown.
Remove with slotted spoon and add to paper towels. Roll in sugar. Alternatively, let cool and sprinkle with powdered sugar.
Enjoy!