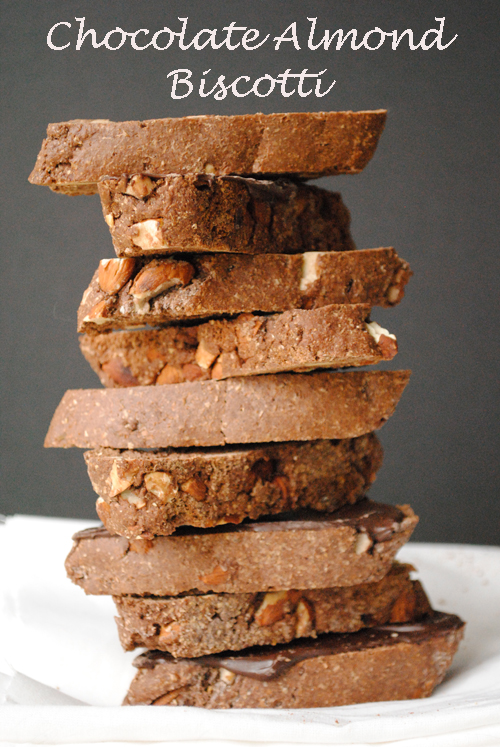 If I could make and eat homemade biscotti everyday, I would. I just love them and all their dunkableness. How do you like that word? Dunk-a-ble-ness, it's a good thing.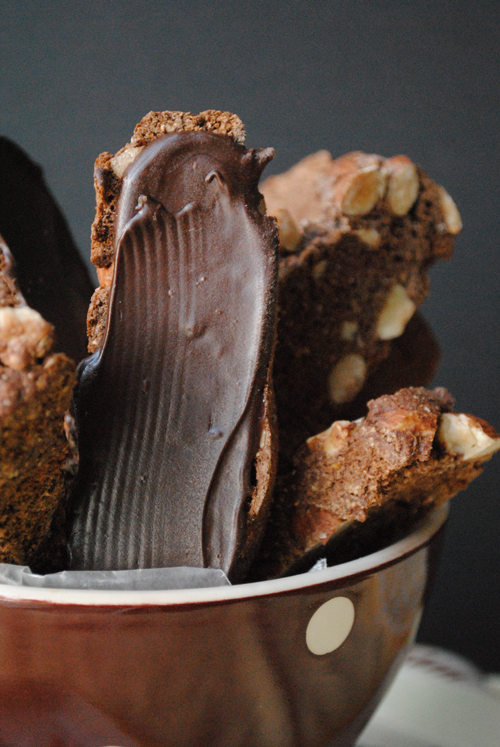 Since I'm going through a phase of eating healthier, I made these chocolate biscotti with 100 percent whole wheat flour. Since I like biscotti with no butter (Italian style) I thought there was a chance they'd  be too crunchy, but they turned out great.
If you've not made biscotti before, don't worry – they are totally easy!

Whole Wheat Chocolate Almond Biscotti
Prep time:
Cook time:
Total time:
Ingredients
1¾ cup whole wheat flour (I prefer white whole wheat)
3 tablespoons high quality cocoa powder
1 teaspoon baking powder
¼ teaspoon salt
I teaspoon anise seeds
½ cup sugar
2 eggs
1 teaspoon vanilla
1 cup toasted almonds (roughly chopped)
optional - 1 cup dark chocolate chips for dipping
Instructions
Heat oven to 350 degrees F.
Note: If you have raw almonds, lightly toast on medium heat in pan for about 5 minutes until they become aromatic. Once cool, chop roughly.
Combine all dry ingredients (except sugar and almonds) in bowl and whisk a few times to blend.
With electric mixer, beat eggs with sugar for a few minutes until mixture has a pale yellow color.
Slowly add dry ingredients and mix on low for about 30 seconds until just blended. Stir in almonds.
Turn out onto dry surface and knead a couple times. If dough is too dry or crumbly, dampen hands with water while shaping until it holds shape. Shape into rectangular log, about 10-12 inches long and about one inch high.
Bake for 25 minutes and then remove from oven. Let cool about five minutes and then slice with serrated knife in 1 inch diagonal pieces.
Return biscotti slices (on baking sheet) to oven and reduce heat to 325. Bake for 10 minutes, flip biscotti and bake for another 10 minutes.
If dipping in chocolate, melt chocolate chips (or chocolate Wilton candy melts) in microwave. Dip (or spread) one side in chocolate and let dry chocolate side up.
Enjoy!