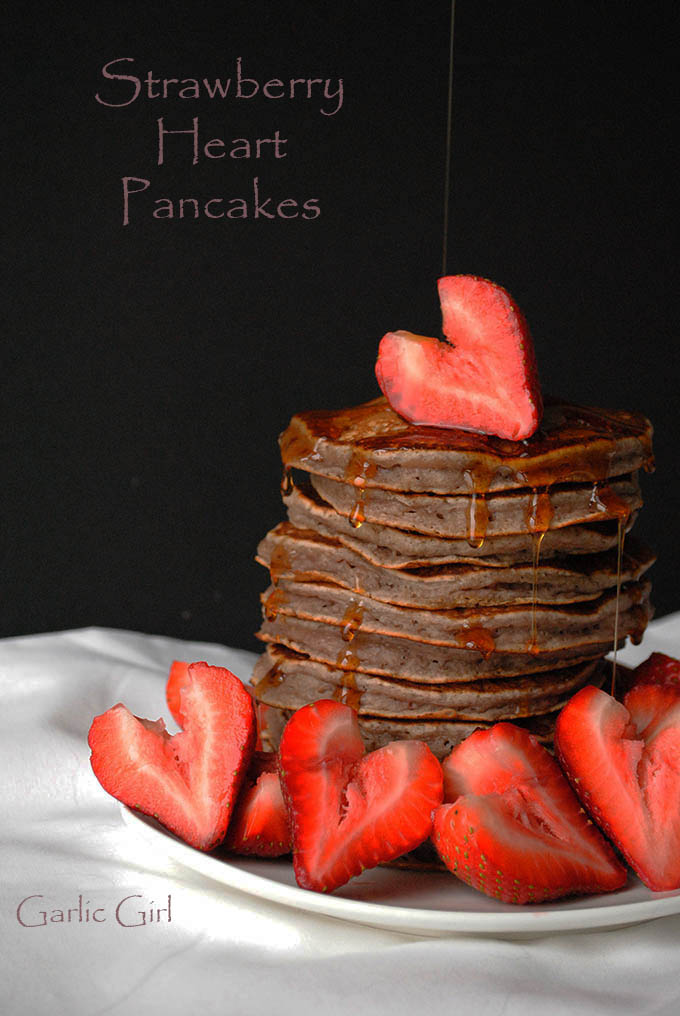 You'd never guess it's February by looking at the strawberries I served with these pancakes – but then again California strawberries are harvested every day of the year (a little fun fact).  I seriously had to take a moment to be thankful for farmers when I bought these, because without them it wouldn't be possible to eat fresh, healthy food every day of the year.
I'm not a huge Valentine's Day person, but sometimes I get into it. If I make anything special for Valentine's Day, it's going to be these pancakes again, because they are very easy, very pretty, and very tasty! If you don't want to serve with strawberries, just serve plain or with your favorite fruit, jam or syrup.
A little about the pancakes – these babies are on the fluffy side and have a nice texture. I'm always experimenting with pancake recipe variations and really like this one. My grandbabies love them too. For the strawberry hearts, see the mini tutorial below!
Note: If you can't find dried strawberries, just simmer sliced strawberries with a little sugar and water until they are as sweet and soft as you like, and then puree. You can add to the batter when it's time to mix together the wet and dry ingredients.
Enjoy!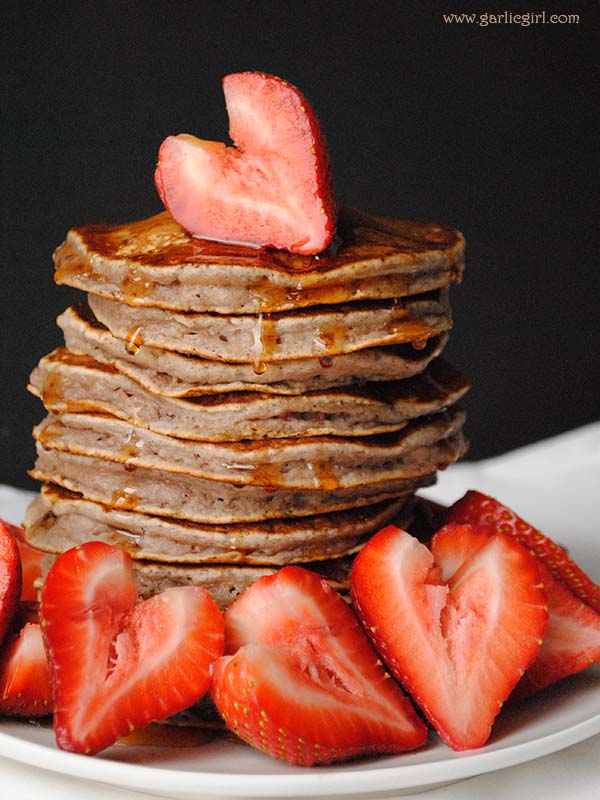 Strawberry Valentine Pancakes
Prep time:
Cook time:
Total time:
Ingredients
8-10 large strawberries
1¼ cups flour
optional 3 tablespoons strawberry powder, or ¼ cup strawberry puree
¼ cup powdered sugar (or 2 tablespoons granulated sugar)
½ teaspoon baking soda
2 teaspoons baking powder
¼ teaspoon salt
1 cup milk
4 tablespoons butter, melted and cooled
1 egg
1 tablespoon white vinegar
1 teaspoon vanilla extract
Optional: maple syrup and extra butter for topping
Instructions
In small mixing bowl, add milk and white vinegar; set aside for a few minutes.
In another bowl, whisk together all dry ingredients.
To milk mixture, add cooled and melted butter, vanilla, egg and beat with whisk until blended.
Add to dry mixture and whisk about a minute until fully combined. Batter should be on thick side. If it doesn't appear pourable, add more milk, one tablespoon at a time until the consistency is right.
Important: Let mixture sit for about 10 minutes before using.
Grease cast iron, or heavy-bottom pan, with vegetable oil (I use a paper towel to spread). Heat pan to medium.
When ready (water droplets should "dance" when hot enough), pour batter with ice cream scoop or large spoon. If thick, spread a bit with the round side of the spoon or scoop.
When golden brown on bottom and when tiny bubbles pop in the center, flip. Cook for another minute. Repeat with remaining batter.
To serve with heart strawberries, see the image below.
Top with maple syrup, butter - or whatever you love with pancakes!