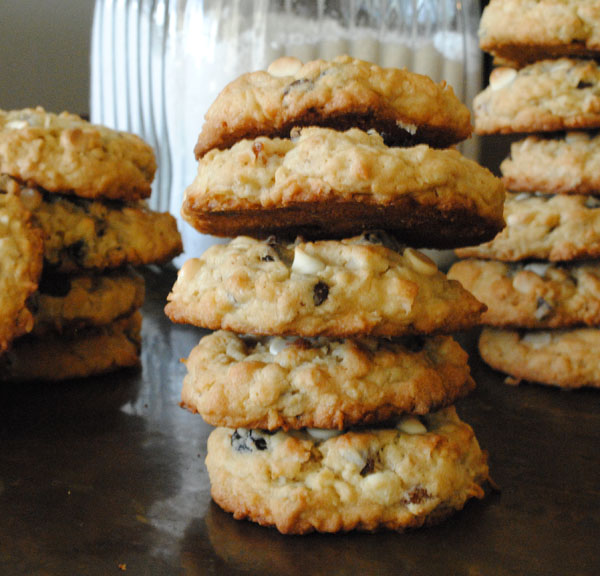 Somebody stop me. I haven't been able to stop myself from making and eating cookies for three consecutive weeks. It's bad this time. My freezer is no longer stacked with pork chops, chicken and frozen berries. It's piled with plastic freezer bags stuffed with an assortment of homemade cookies.By the way, have you ever frozen homemade cookies? It's so great to just grab one or two frozen cookies at a time, put them in the microwave for about 15 seconds, and gobble up what tastes like cookies fresh out of the oven. And basically, that's what they are!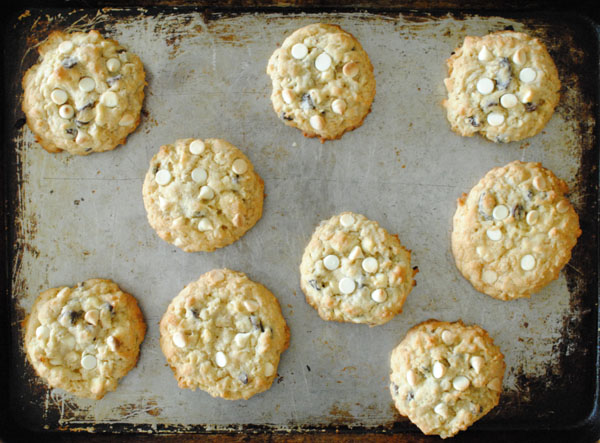 Anyway, I'm excited about this cookie recipe because it creates cookies that look and  taste like they are from a bakery. I recommend making them BIG. They are thick, chewy, chunky, sweet, and taste like there's a little bit of a party going on inside your mouth. And don't forget to make them your own by swapping out ingredients. If you don't like dark chocolate, add caramel chips. Or if you're not a fan of coconut – just leave it out. You are the ruler of your cookies!
I think you'll love these cookies. Hopefully you don't love them so much you have to go on some weird cookie-making marathon like I did. But if you do, just go with it. It'll be ok.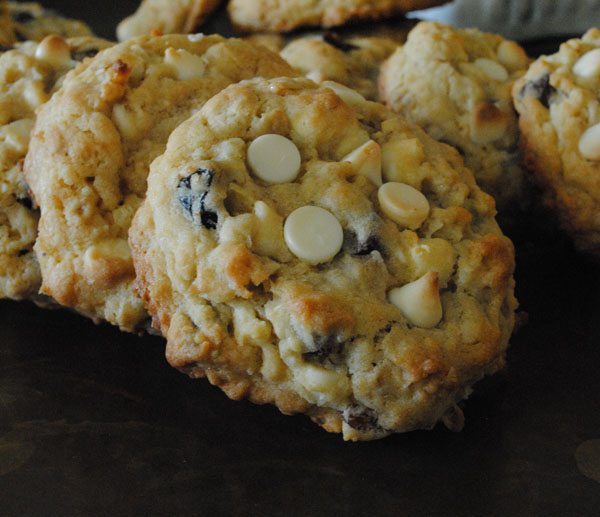 Prep time:
Cook time:
Total time:
Ingredients
1¼ cups all purpose flour
1 cup white whole wheat flour
¾ teaspoon baking soda
¾ teaspoon cream of tartar
½ teaspoon salt
1 cup packed brown sugar
½ - 1 cup granualted sugar (adjust to preferred sweetness)
2 sticks butter, room temperature
2 eggs
2 teaspoons vanilla extract
1 cup rolled oats
½ cup coconut
½ cup chocolate chips
½ cup white chocolate chips
½ cup raisins
Instructions
Heat oven to 350 degrees F.
In mixing bowl, whisk together white whole wheat flour and all purpose flour, baking soda, cream of tartar, salt; set aside.
In bowl of stand mixer, cream together brown and granulated sugars with butter until pale yellow and creamy, about 3 to 4 minutes.
Add eggs, one at a time until blended. Add vanilla extract and beat for another 10 seconds.
On low speed, slowly blend in flour mixture until combined. Stir in oats, coconut, white and dark chocolate, raisins until blended.
With ice cream scooper (or similar) drop golf-ball size clumps of dough on baking sheet, two inches apart (about 6 cookies per baking sheet). Lightly flatten tops with back of spoon.
Optional: Push a few extra white chocolate chips into the tops and sides.
Bake for about 12-13 minutes, or until light golden brown. Increase heat to 375 for next batch if oven is not hot enough.
Enjoy!