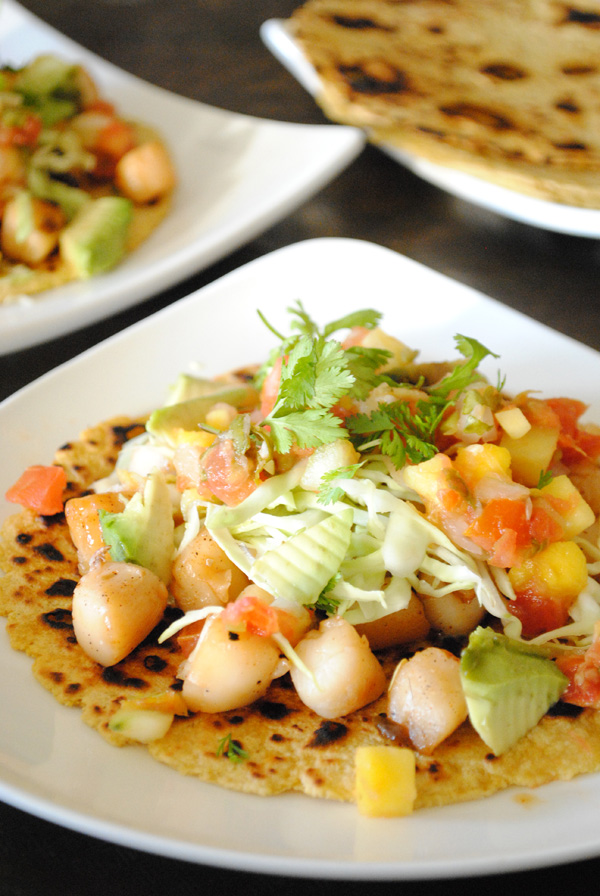 I think I spent about ten years of my mommy cooking years making tacos exactly the same way, every time. It would go something like this: chopped chicken or beef, shredded lettuce, cheese and salsa. While my kids always enjoyed the same old, same old, I wish I had used a little more of my creative juices in the taco department because when you think about it, the possibilities are endless!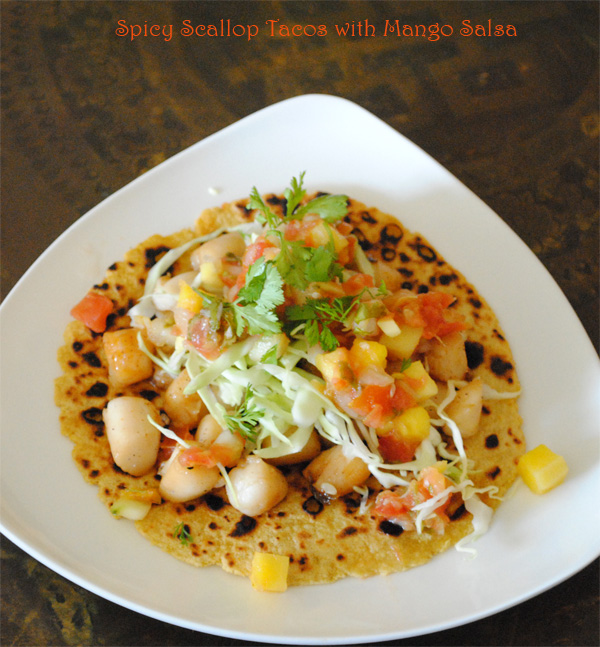 Which brings me to this simple scallop taco that I created for the McCormick Taco Night Challenge. While I was compensated by McCormick, all opinions are totally mine.
So not only do I get to participate in a food challenge to create a simple but delish taco recipe, but YOU get to hear how to win a bunch of spices by entering the McCormic Pinterest challenge. Before you read how to do that below, check out my little recipe for Spicy Scallop Tacos with Mango Salsa using some of the spices McCormick sent me. My new favorites: Sicilian Sea Salt, Diced Jalapeno Peppers, and Ancho Chile Pepper.
Spicy Scallop Tacos with Mango Salsa
Prep time:
Cook time:
Total time:
Ingredients
1 pound Bay Scallops (small scallops)
1 cup prepared or fresh mango salsa
6 corn tortillas (I prefer La Tortilla Factory "Hand Made Style")
1-2 fresh avocados, chopped
2 cups fresh cabbage, shredded
1-2 tablespoons extra virgin olive oil
3 cloves fresh garlic, finely chopped
Juice of 1-2 limes
McCormick Sicilian Sea Salt, to taste
1 teaspoon McCormick Diced Jalapeno Peppers
½ teaspoon McCormick Ancho Chile Pepper
Mango Salsa
1 mango, chopped
¼ cup onions, chopped
juice of 1 lime
¼ cup tomatoes, chopped
1 teaspoon sugar (optional)
1 persian cucumber, chopped
½ teaspoon Sicilian Sea Salt
Instructions
In medium saucepan, saute scallops in olive oil for a few minutes. Add a pinch or two of Sicilian sea salt, garlic, dried jalapeno peppers, ancho chile pepper; cook for another couple minutes until no longer translucent. Add the juice of one lime; cover and set aside.
For fresh Mango Salsa, add all ingredients in small bowl, stir to blend, cover and refrigerate until ready to use.
Heat heavy-bottom pan (preferably cast iron) to medium high. Once all ingredients are ready, heat tortillas in pan for about 30-45 seconds on each side.
Assemble:
Place tortilla on plate. Layer with scallops first, then cabbage, avocado, and salsa. Garnish with a sprig of fresh cilantro.
OK, here's the fun part. Just follow the simple instructions below. Be sure to follow
McCormick on Pinterest
, and the Taco Night board.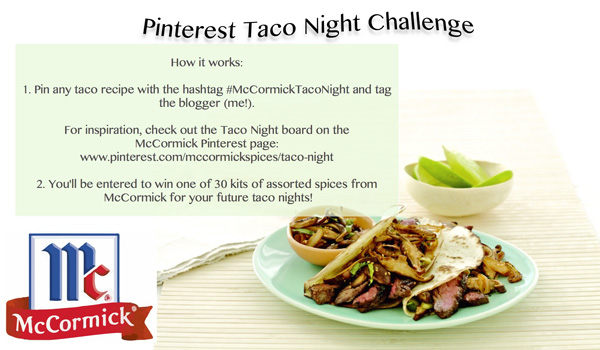 If you have any questions, please feel free to ask away in the comment section. Good luck, and happy taco making!