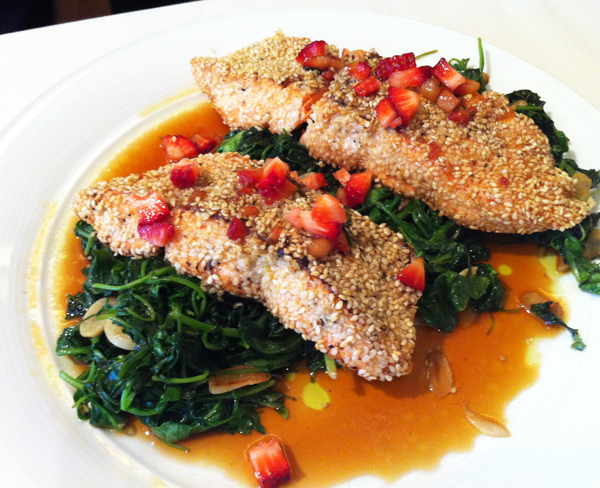 Sometimes my day job can be a ton of fun! It certainly has felt that way for the last few days during a blogger event at the Carmel Valley Ranch. Picture a group of a dozen fabulous and creative food bloggers enjoying a rustic resort tucked away in one of the most picturesque places in Northern California. Add lots of laughter, mingling and eating, a strawberry farm tour, and then a fun cooking challenge in a dream kitchen full of every fresh ingredient and herb you could think of! Yes, work can be fun sometimes!
Although I wasn't eligible to officially enter a dish in our Chopped-style strawberry cooking competition, I couldn't resist playing with the all the ingredients and pretending I was part of the challenge. What? Don't *all* adults still play pretend? Right, that's what I thought. For my my pretend entry, I made that sesame crusted salmon dish pictured above, which ended up being a dish I would definitely make again. In fact I'm craving it already!
Before I share the recipe for my Sesame Crusted Salmon over Garlic Sautéed Arugula with Savory Strawberry Sauce, I want to share a few photos of some of the fabulous food bloggers who were there! If you are not yet familiar with these ladies' blogs, you are totally missing out!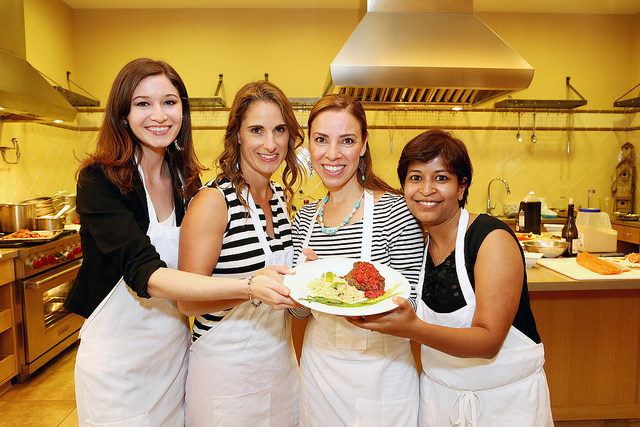 From left to right is Kristianne from My San Francisco Kitchen, Mitzi Dulan, The Nutrition Expert, Yvette from Muy Bueno Cookbook; and Kankana from Playful Cooking.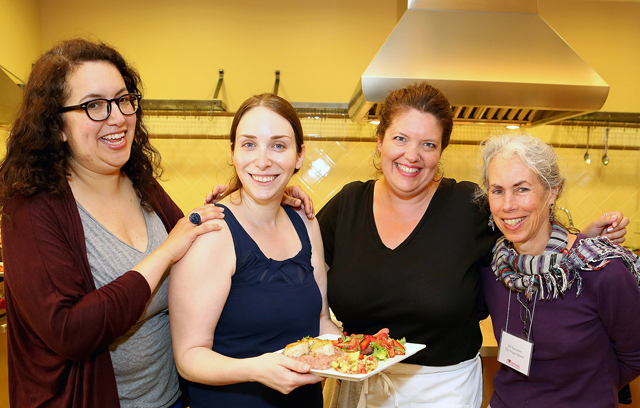 Above is Claudya from Unknown Mami; Jennifer from Savory Simple; Nicole from Pinch My Salt; and Jill from the Veggie Queen.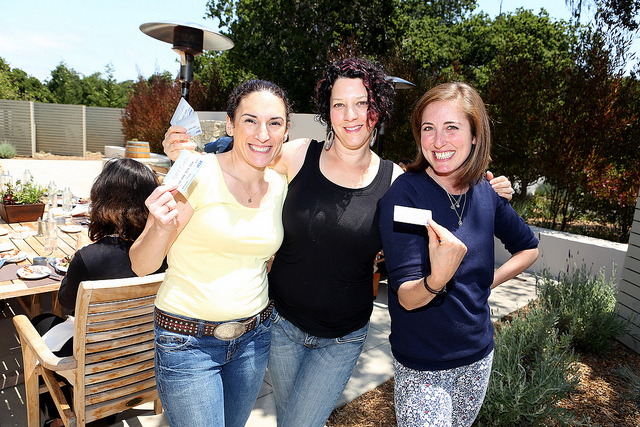 And the winners of the challenge! Laura from Super Glue Mom; Jennifer from Playful Pantry; and Jessica from Sodium Girl.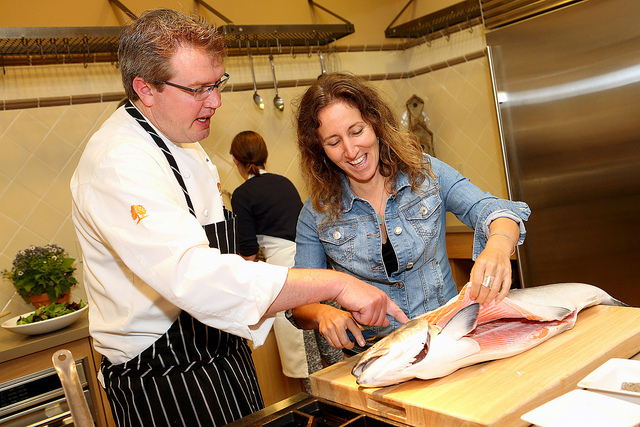 Oh, and I was so excited to get a quick lesson from Executive Chef Tim Wood from Carmel Valley Ranch on how to fillet a large salmon. It was easier than I thought!

Sesame Crusted Salmon over Garlic Sautéed Arugula with Savory Strawberry Sauce
Prep time:
Cook time:
Total time:
Ingredients
2 fresh salmon fillets
6 cups fresh arugula (it cooks down a lot!)
1 cup sesame seeds
5 garlic cloves, peeled and sliced
6 strawberries, hulled and chopped
2 tablespoons olive oil
3 tablespoons rice wine vinegar
1 tablespoon soy sauce
¼ cup white wine
½ teaspoon sesame oil
kosher salt, to taste
freshly ground black pepper, to taste
2 strawberries, sliced (for garnish)
Instructions
Lightly coat salmon with a little olive oil and sprinkle both sides lightly with kosher salt. Press both filets into shallow bowl filled with sesame seeds until well coated all around.
Heat olive oil to medium in heavy bottom fry pan; add fillets. Let cook on one side for about 10 minutes until sesame seeds are golden brown and fish is turning pink on the bottom half; carelfully flip and cook for another 10 minutes until done.
While the fish is cooking, in another pan, saute sliced garlic in olive oil for about one minute; add half the arugula and stir until there's room in the pan for the rest. Season with a little kosher salt, and sauté until tender, about 10 minutes. Set aside.
In small sauce pan, heat rice wine vinegar to a slow simmer. Add soy sauce and sesame oil and bring to simmer again. Add wine, bring to simmer and add chopped strawberries strawberries. Cook down on medium low for about 10 minutes.
To serve, arrange fillets on bed of arugula. Drizzle sauce over the top and garnish with sliced strawberries.