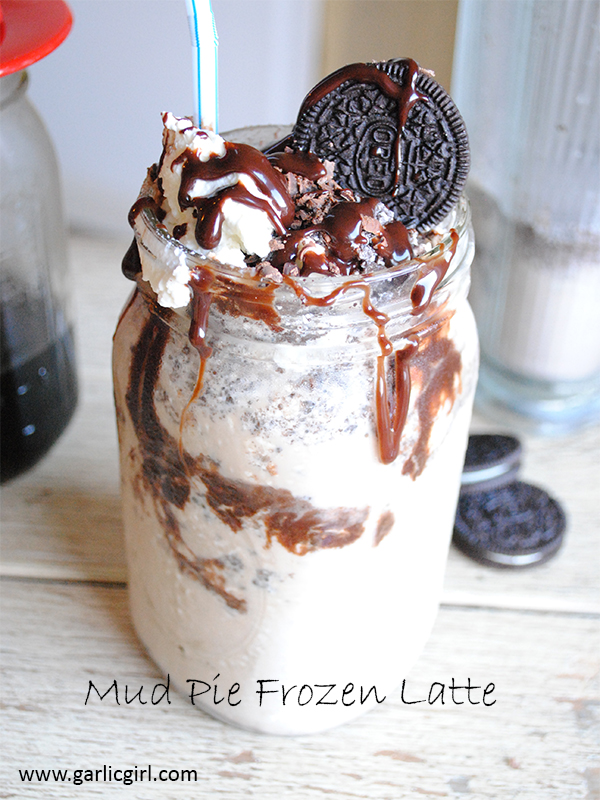 I didn't know there was a drink called Mud Pie Latte until I made one. Now there's at least one drink called Mud Pie Frozen Latte. And trust me, it's good.
Since I was a kid, I've always adored combinations of chocolate, coffee and whipped cream. Throw some oreos in the mix, and that's dessert nirvana for me. So I decided, while it's still summertime, to create a latte that can either be an extra special morning treat, or a fabulous summer night dessert. Either one works!
What I love most about this latte is that while it looks really decadent, it's actually not that bad. And you can make it a little "skinnier" by using less (or no) sugar, and low fat milk instead of half and half.
On a general basis, I like my drinks to be on the healthy side, but I absolutely love to indulge every now and then, and this is the way I like to do it. Hope you enjoy it too!
After checking out the recipe, be sure to check out the giveaway sponsored by Seattle's Best!
Prep time:
Cook time:
Total time:
Ingredients
2 cups brewed coffee, cooled (I used Seattle's Best)
2 cups or about 15 ice cubes
2-4 teaspoons half n half
1 cup freshly whipped cream
2-3 Oreo Cookies
1 tablespoon chocolate syrup
chocolate shavings, optional
sugar to taste
Instructions
Before starting, make sure all ingredients are prepared and ready to use.
Add coffee, sugar, half and half and ice to blender jar. Note: add more or less sugar and half and half as preferred.
Blend until combined. Add Oreos and blend briefly until combined and mixture is slushy.
To assemble one latte, spoon ¼ of ice mixture in to glass or mason jar. Drizzle in 1 teaspoon of the chocolate syrup, and spoon in a tablespoon of whipped cream.
Add another ¼ of iced coffee mixture on top until glass in nearly full. Spoon more whipped cream and drizzle with chocolate. Garnish with chocolate shavings and an Oreo.

Seattle's Best #HotIced Giveaway
The good folks at Seattle's Best sent me the following to inspire a yummy coffee post. Hopefully you benefit from that inspiration (I know I did). They are giving away the same gift packet they sent me to one lucky coffee lover.
The Hot Iced gift-set includes:
One-month supply of Seattle's Best Coffee® (4 bags!)
Seattle's Best Coffee Tumbler for your iced and frozen coffee drinks
Seattle's Best Coffee Hot Travel Mug to enjoy our brewed coffee on-the-go
Melitta coffee brewer and recipe for a totally new way to make a single cup of coffee
Simple Iced Coffee recipe featuring our go-to cold brew method
Coffee scoop to measure the perfect amount of coffee
To get a coupon for $1.00 off Seattle's Best coffee, visit their Facebook page.
Enter giveaway through Rafflecopter or just leave a comment in my comment section about your favorite way to enjoy coffee!