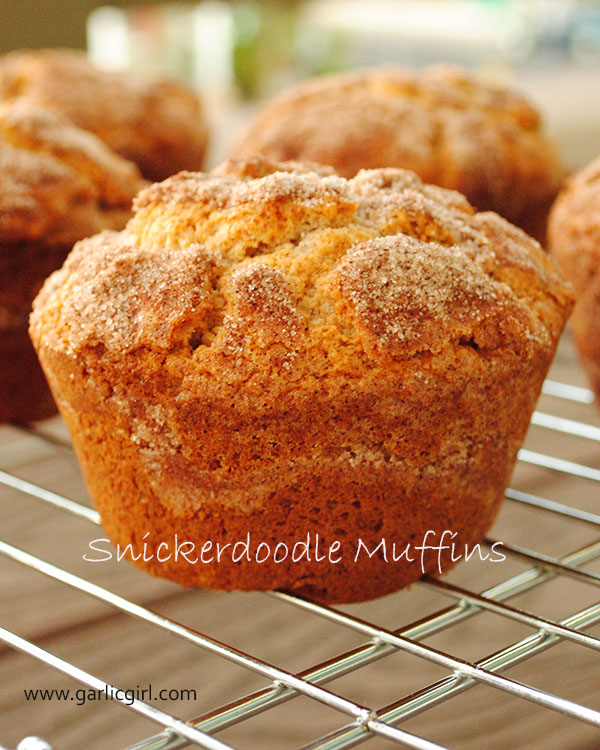 It frustrates me to no end that I can't dedicate more time to my blog. Don't get me wrong, I'm so grateful for a wonderful job and various other interests that take my time, but I kind of get this empty feeling when days and even weeks go by without sharing a favorite recipe.
I didn't have time to bake this morning before work, but these snickerdoodle muffins had to happen…TODAY. The minute I woke up, I popped out of bed and within minutes my little muffins were rising and filling my cozy little apartment with the warm aromas of butter and cinnamon.
There were a couple recipes I had glanced at, and ended up adapting a version I came across from Brown Eyed Baker. I was blown away at the results, even though I thought I made too many changes. The texture on the top was slightly crunchy, but on the inside it was  tender and cakey. Just perfect and perfectly sweet!

Outstanding Snickerdoodle Muffins
Prep time:
Cook time:
Total time:
Ingredients
2¼ cups all purpose flour
1 teaspoon baking powder
¾ teaspoon baking soda
2 heaping teaspoons cinnamon
2 sticks butter
1 cup sugar
2 eggs
1 teaspoon vanilla extract
½ cup sour cream
¼ cup milk
For Topping
¼ cup sugar
1 tablespoon cinnamon (or less, depending on taste)
Instructions
Heat oven to 375 degrees F. Grease large muffin tin (6 muffins)
In bowl, mix together flour, baking soda, baking powder and cinnamon.
In another bowl (preferrably stand mixer bowl) beat together with paddle attachment the sugar and butter until pale and fluffy, about 4-5 minutes. Beat in eggs, one at a time, and then the vanilla extract.
Add half the flour mixture to the butter mixture and beat until combined. Add sour cream and the milk; continue to beat until combined. The last addition should be the remaining flour. Beat until combined. The batter should be on the thick side.
In small bowl combine ¼ cup cup sugar with cinnamon and blend.
Spoon batter into muffin tin to ¾ of the way full; top with cinnamon and sugar (about a teaspoon).
Bake for 25 minutes, but check at 20 minutes.