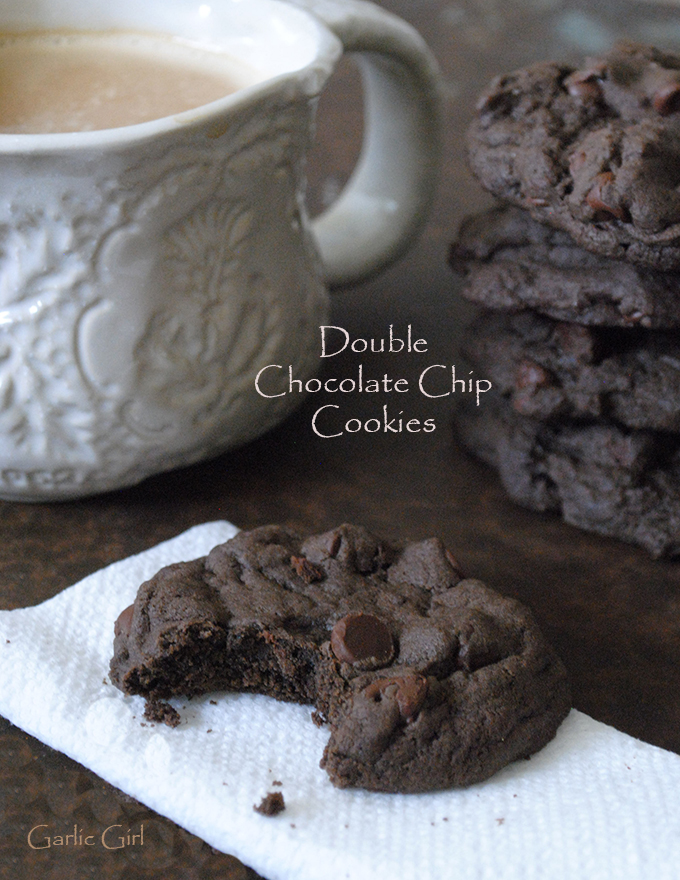 I wanted chocolate, and I wanted it now. This is the cookie that happened when I felt like that the other night.
Trust me, this is not just a chocolate cookie. When you take a bite, you have to go "mmmmmm mmmmmm." I brought some to work the next day so I wouldn't eat the entire batch in a day-and-a-half. Everyone raved, so I had to share.
That's it. Hope you enjoy as much as I do.
Decadent Chocolate Chocolate Chip Cookies
Decadent Chocolate Chocolate Chip Cookies
Prep time:
Cook time:
Total time:
Ingredients
2 cups all purpose flour
½ cup whole wheat flour
1 teaspoon baking soda
½ teaspoon baking powder
¼ teaspoon salt
3 heaping tablespoons high quality dark cocoa powder
2 sticks butter, room temperature
1½ cups packed brown sugar
2 eggs
1 teaspoon vanilla extract
1 cup semi-sweet chocolate chips
Instructions
Heat over to 375 degrees F.
In mixing bowl, whisk together flours, baking soda, baking powder, salt, cocoa powder.
In separate bowl, or stand mixer bowl, beat butter with paddle attachment for about 4 minutes until creamy and pale yellow.
Add sugar and beat for another minute.
Add eggs, one at a time and beat after each addition. Add vanilla extract.
On low speed, slowly add flour mixture until fully incorporated. Lastly, blend in the chocolate chips.
Drop about a tablespoon of dough onto cookie sheet. Do this for each cookie and arrange about 2 inches apart.
Bake for 10 minutes.