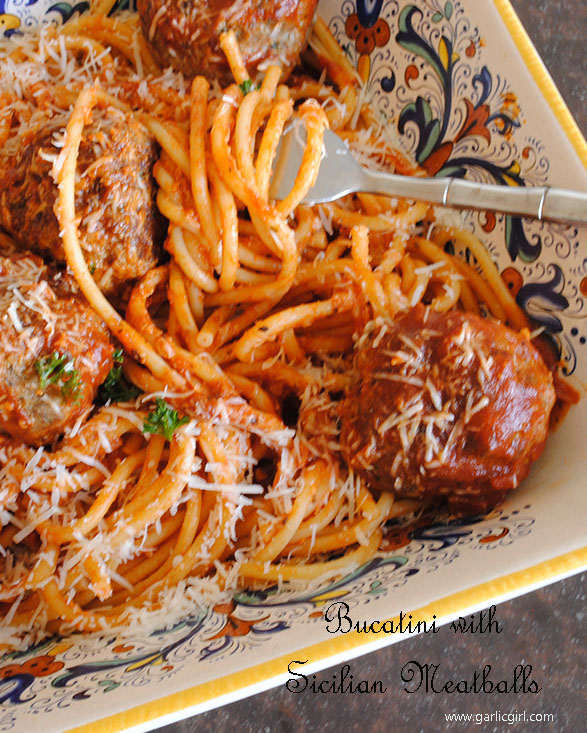 My mother used to make spaghetti and meatballs almost every Sunday as we were growing up. It really wasn't Sunday morning if my brothers and I didn't wake to the comforting aroma of onions and garlic, mix with basil and tomatoes wafting into our bedrooms from the kitchen. This was a familiar tradition in my Sicilian mom's family, but after she married my Jewish dad, I know she made it weekly for him because he could never ever got enough of it. I remember she used to tell him he could only have "two forkfuls" of the spaghetti to make sure he stuck the old Atkins diet that was so popular in the 70s. I'm so glad he didn't listen. Who wants to limit their favorite foods to just two forkfuls? Not me!
I made this pasta for my son and daughter-in-law who just had their second child. Sounds weird (and wonderful) to say, but I now have FOUR grandchildren. How is this possible when it doesn't seem that long ago that I had my kids? Well it's true, and little Bradley is a healthy and gorgeous baby and I couldn't be happier that I get to see them more often now that I live in Santa Cruz.
I'm glad January is here and that the holidays are over. I love all the festivities and family time, but I also really love when things get back to normal. And I love new beginnings, and the new year reminds of the excitement of life – and all the wonderful things that can happen. This past year was a really difficult one for me for a few reasons, including getting through the first year of my life without my mom who died at the end of 2013. That, combined with other family issues, really had an impact on how I was feeling.
But as a believer in the Almighty God, I am never discouraged about the future. I know that all of us will experience hard times because that is just part of life. In the bible (John 16:33), Jesus said, "I have told you these things, so that in me you may have peace. In this world you will have trouble." The words that follow are probably the most powerful words for me from scripture. He then goes on to say, "But take heart, I have overcome the world."
Wow. Those words are so comforting to me, and because I believe that with my whole heart and mind, I am strengthened in all I think about and do.
This year, I hope to spend a lot of quality time with my friends and family – even it if means just doing simple things like having a cup of coffee with a friend, or preparing and delivering a dinner for someone – especially my kids who no longer live with me. I remember how hard it was to work, cook dinner, and do all the millions of other things you need to do when the kids are little.
I think I might have to bring back the Sunday tradition of spaghetti and meatballs – maybe you want to join me. There's no doubt, someone will be glad you did!
Enjoy!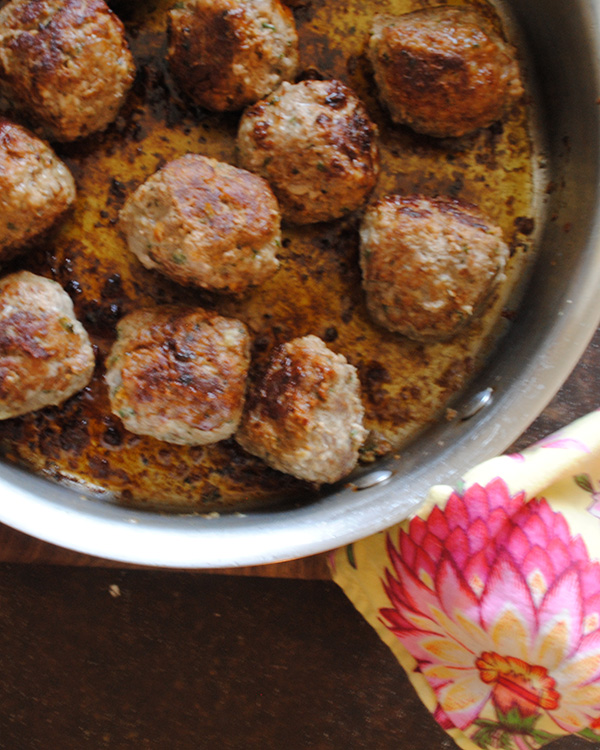 Bucatini with Sicilian Meatballs
Prep time:
Cook time:
Total time:
Ingredients
1 pound Bucatini pasta (spaghetti with holes in center)
For simple tomato sauce
2 cans tomato paste
2 tablespoons extra virgin olive oil
½ medium to large onion, finely diced
3-4 garlic cloves, crushed or finely chopped
salt, pepper to taste
2 teaspoons dried or fresh basil
2 teaspoons parsley
½ teaspoon oregano
¼ cup red or white wine
2 teaspoons heavy cream or half and half
Meatballs
¾ pound ground beef
¾ pound ground pork
1 cup bread crumbs
I medium onion, minced
3 cloves fresh garlic, smashed and minced
½ teaspoon oregano
½ teaspoon rosemary
1-2 tablespoons fresh parsley, finely chopped
2 fresh basil leaves, finely chopped (or teaspoon dried basil)
¼ cup red or white wine
2 eggs, slighty beaten
kosher salt and freshly ground pepper to tasted
a couple splashes olive oil
Instructions
For the meatballs, combine all ingredients in mixing bowl and with your hands blend together for a couple minutes.
To form the meatballs, grab a handful of the mixture and toss loosely to form a ball.
Heat olive oil in large, heavy-bottomed pan to medium low. Don't let it get too hot.
Add meatballs to the pan without crowding. The surface will start to brown quickly - just monitor and turn frequently so they brown evenly. I just use my hands with a spatula to turn. Monitor closely tp prevent burning.
Once the meatballs have a carmelized surface that is as even as possible, add a little water to the pan and cover to make sure that the meatballs are cooked all the way through. Sometimes I like to splash in a little wine in the pan. Simmer covered for 5- 10 minutes until done in the center.
For the tomato sauce, saute onions with olive oil in a small sauce pan for several minutes until tender.
Add the garlic, stir and cook another minute without browning garlic. Add the basil, parsley and oregano, salt and pepper. Saute another minute or so.
Stir in the tomato paste and cook for a couple minutes. Add 1½ cups of water to the sauce.
Once simmering, add more herbs and salt to taste if needed, the sugar and wine; stir.
Simmer loosely covered on low for about 30 minutes. After 15 minutes (of the 30), stir in heavy cream,
For the pasta, cook to al dente (and according to package directions).
While the pasta is cooking, prepare a large serving dish by spreading about ½ cup of sauce on the bottom. When the pasta is ready, take directly from water without rinsing and toss in the serving bowl. Make sure all the pasta is tossed with the sauce to prevent from sticking together. Add more sauce and toss lightly.
Garnish with grated Romano or Parmigiano cheese, fresh parsley and crushed red pepper.
Add meatballs to your spaghetti sauce, or you can leave them as is. I like to decorate the family style pasta dish by putting the sauce-dipped meatballs all around the edges of the bowl.
Makes about 20 meatballs, depending on their size.