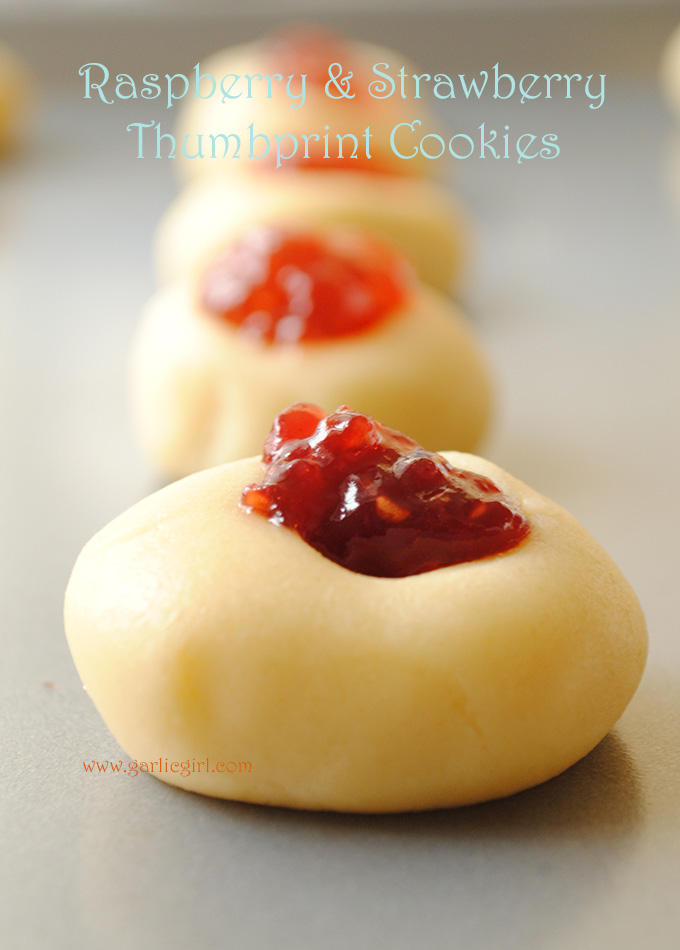 I think I made these no-chill thumbprint cookies a thousand times over the holidays. Well, it seemed like it anyway. They are way too good to not enjoy over and over, and over again. Do you want to know how I know they are exceptionally good? My brother Darien asked for the recipe.
You see, Darien and his wife Asunta are among the best cooks I know. They are my family members who pose the biggest threats to me losing our holiday bake offs. I've lost these competitive family bake-offs to both of them more than I am willing to admit.
This past Christmas, our usual bake-off was less formal this year in that we weren't really talking about it and building it up as usual. Instead, we simply all brought desserts to my brother Ross' house in Santa Rosa. Because I was so busy, I ended up just keeping it simple and made these Strawberry and Raspberry Thumbprint Cookies. They aren't typical thumbprints, they are more like what my friend Stan calls Kolaches. They are similar to thumbprints, but are less delicate. Both types of cookies are wonderful, but I always seem to side with a cookie that you can really take a bite out of!
There are recipes I've requested from both my brother and his wife Asunta, but oddly enough, they can be a bit secretive with a few of their favorite recipes. That's right – secretive. I always try to get to the bottom of this, especially as a food blogger who sort of lives for  sharing my best recipes with the world. I have to admit that it's amusing to me, but could be frustrating when you really do want the recipe. It's the opposite for me. I can't wait to share recipes that turn out great, so that others can enjoy too. It's the next best thing to inviting someone over and sharing something I've cooked. And for me, that's just love.
So when Darien asked for this recipe, I said, "No." It makes me laugh just thinking about how emphatic I was, especially because I didn't actually meant it. He asked twice, and then I knew: these cookies must be as good as I thought!
So anyway, here's the recipe. My trick for these cookies is to add plenty of flour – more than what most cookie recipes call for. And my other trick is to add the second egg after adding some of the flour to the cookie dough first. As most cookie bakers know, a majority of cookie recipes call for adding the eggs after the butter and before the flour. I notice I like the texture better doing it this way.
So here's my very own recipe just for you. Just do me one favor: If someone asks for the recipe, by all means – give it to them! 🙂
Enjoy!

Strawberry and Raspberry Thumbprint Cookies
Prep time:
Cook time:
Total time:
Ingredients
3¼ cups all purpose flour
1 teaspoon baking powder
pinch of salt
¾ teaspoon cream of tartar
2 sticks (1 cup) butter
1¼ cups granulated sugar
2 eggs
1 teaspoon vanilla extract
¼ cup strawberry jam
¼ cup raspberry jam
½ cup powdered sugar for garnish
Instructions
Heat oven to 375.
In mixing bowl, whisk together all dry ingredients with the exception of the sugars; set aside.
In bowl of stand mixer, beat the butter for about three minutes until pale and creamy. Add granulated (not powdered) sugar and continue to beat for another two minutes, making sure to scrape down sides.
Add one egg and beat until combined. Add vanilla.
On slow speed, add half the flour mixture and beat until just combined. Add the second egg and the remainder of the flour. Mix on low speed until the dry flour is incorporated.
With hands, knead the dough so that it's all pressed together like a pizza dough ball.
With clean and slightly damp hands, roll about two tablespoons of dough into round balls and place about 2 inches apart on baking sheet. No need to use parchment paper, but it doesn't hurt.
With thumb or finger, make depression at top center about halfway to the bottom.
Spoon a mixture of strawberry and raspberry jam in each depression. Alternatively, add strawberry or raspberry jam to each cookie.
Turn oven heat down to 350 degrees and bake for about 11 minutes, or until the bottom part of the cookies are light golden brown.
Optional: Let cool completely; sprinkle with powdered sugar.