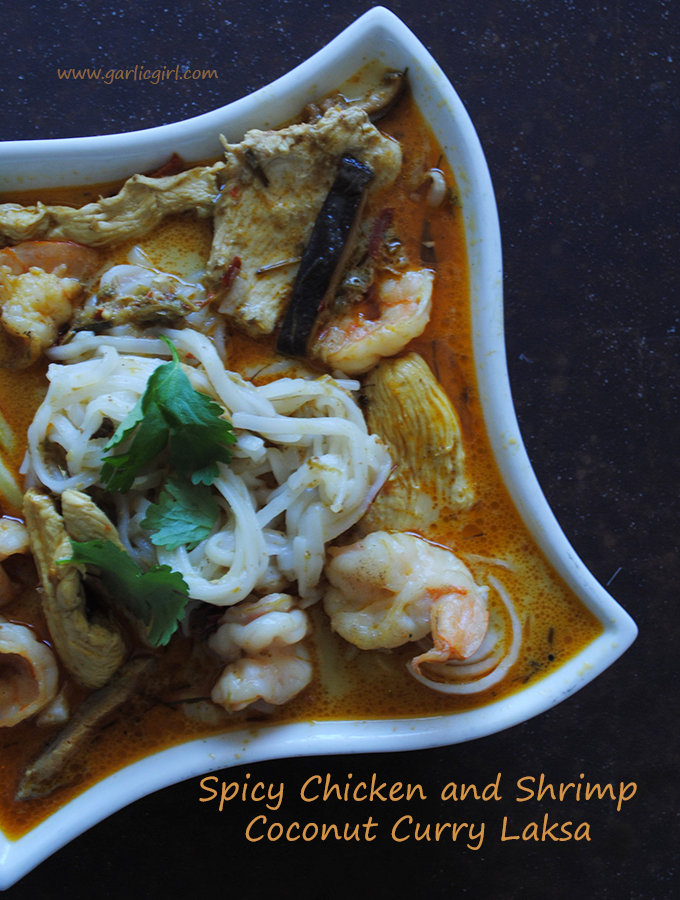 If I had to choose one kind of dish to enjoy every day, it would  definitely be a spicy noodle soup. Living in the California Bay Area, it's easy to find some of the best restaurants for soups like pho and ramen, but not as easy to find laksa.
With dishes I'm not as familiar with, it's definitely not as natural to me as making spaghetti and meatballs, but that's what makes it fun to take the time to research and challenge myself to recreate.
For this version of laksa, I used a recipe I found on Ichigo Shortcake for the basic method and was really happy with the results. I loved the simplicity of the preparation, and more importantly, that she made her own laksa paste. The fresh herb paste is really the key to the whole dish, and the best part is that you can freeze what you don't use to make again without starting from scratch. A simple google search will pull up good info and recipes about the countless variations of laksa paste and this delicious dish. Some of the ingredients are hard to find, especially if you don't live close to Asian markets, but the good news is that you can substitute ingredients. I used a few substitutes in this dish and it worked out just fine. Just make sure you don't replace the coconut milk with anything else and try to use as many of the fresh herbs for the laksa paste.
Making this dish was a nice little escape for me since my life has not been especially easy lately – in fact there have been days in the last few months that have been downright heartbreaking. Cooking in general makes me feel happy, and this little laksa adventure, and other cooking and baking adventures, have served as therapy sessions.
Along with cooking and doing other things I love, I've also been praying for God to help me let go of my ideas of how *I think* things should go in my life. Sometimes I forget that God truly does use and strenghen us through our biggest struggles and we can't really control the "valleys," particularly when it involves other's choices. This is especially an important point to remember when I think of my kid's lives. As a parent, I always wish I could just fix their problems, but then I remember my young adult days and wonder what would have happened to me if my parents (or anyone) "fixed" my problems. I probably would have been a pretty messed up person in life if I didn't grow and learn through my mistakes and bad attitudes.
My biggest lesson (again) is to have faith and remember that God's love for us is immense, and bigger than any problem we face today or ever. I'm so thankful for His Holy Spirit that comforts in a moment's notice. I love that. I hope that whatever life is bringing you today, good or bad, happy or sad, that you have an abundance of love, support and peace through it all. As far as this laksa, I hope you try it and that it soothes your body and your soul. It is aromatic, rich and creamy – and quite satisfying. Make it to warm up these cold, winter days and nights!
Spicy Chicken and Shrimp Coconut Curry Noodle Soup (Laksa)
Prep time:
Cook time:
Total time:
Ingredients
6 dried red chiles (soaked for one hour), roughly chopped
2 inch piece of galangal, peeled and cut in small pieces
2 inch piece of ginger, peeled and cut in small pieces
4 cloves fresh garlic, peeled
1 inch piece of fresh turmeric, peeled
3-4 green onions, roughly chopped
handful of raw or roasted cashews
1 stalk lemon grass, peeled, cut in small pieces
2 teaspoons coriander
1 teaspoon course salt
1-2 chicken breasts, thinly sliced in strips
12 large prawns, peeled and deveined (don't discard skins and tails)
5 dried shitake mushrooms, soaked and sliced thinly
2 stalks baby bok choy, sliced vertically in thin strips
2-4 spring onions, or green onions, sliced thinly
1-2 cups fresh bean sprouts
Thai rice noodles (see photo above for the kind I used)
Thai basil or cilantro
several tablespoons olive oil (split)
course salt
1(8 ounce) can coconut milk
4 cups chicken broth
Instructions
For the laksa paste, place the chiles, galangal, ginger, garlic, turmeric, green onions, coriander, lemon grass, salt and one tablespoon of olive oil in a food processer; blend for a few minutes until smooth paste forms. Add a little water at a time (up to ¼ cup) to make sure all small chunks are blended. Set paste aside.
Fry prawn shells with a tablespoon of olive oil on medium heat for several minutes until crisp. To the same pan, add about 5 cups of water and bring to boil. Turn heat down and Simmer for 30 minutes; remove and discard peels. Set broth aside.
In heavy pan, lightly brown chicken breast on both sides and remove. Do the same with the prawns (and remove).
In the same pan you browned the shrimp and chicken, saute the laksa paste in 1-2 tablespoons of olive oil for several minutes until paste begins to dry. To the same pan, add the shrimp broth. Bring to a simmer, scraping bottom of pan to make sure all the flavors are incorporated.
To that same pan, add 3-4 cups of chicken broth and continue to simmer for about five minutes. Add the chicken and shrimp, and mushrooms; simmer for a few minutes to complete cooking.
Add coconut milk and simmer for another five minutes. Taste and add additional salt if needed.
Cook noodles according to package directions.
Prepare bowls by arranging bean sprouts, mushrooms, noodles, spring onions. Ladle soup on top. Garnish with cilantro or whatever you prefer.