Being single *all* the time is not always the most fun thing in the world. I'm not saying it's horrible to be single, I'm just saying that sometimes I feel like, you know, making pizza for two instead of one.
The topic of being single is a big one, I know. But I guess as a  single person for way more years than I feel like admitting, it may be  time to share a few thoughts. Hey, you never know, maybe I'll share something meaningful for someone other than myself.
I should start by saying I don't wake up in the morning, or get home from work,  feeling sad about  being single. In fact, on a regular basis I am pretty happy with my little situation, especially after just recently becoming a full-blown empty nester. Hey, it's pretty nice (even luxurious)  to have your own space, make your own messes, and dance around in underwear any time you feel the urge.
But there are certain times  I get these pangs and thoughts about how nice it would be to plan things, like even a weeknight dinner, with somebody else.  And not just anybody – a special somebody. Yuck, that sounds so trite I am cringing as I write this. But it's true.
The thing is, even in my fifties, I still attract nice, good-looking men – and could date a lot more than I do. But for some reason, I've never met the guy who would motivate me to make pizza for two on a regular basis. There's always the possiblity that I don't really put myself out there, and I always find a reason why it couldn't work. I probably need to take a deeper look into that.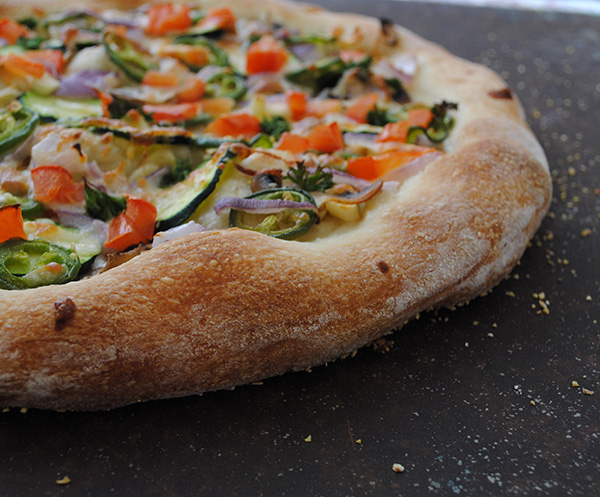 For years I reassured myself that that the right one would come along. I never doubted that. I totally believed it, until about four months ago. And I don't know why it hit me four months ago, but it finally occurred to me that it's very possible that I could be making pizza for one for the rest of life.
As a woman who believes with every ounce of her being, that God is who He says He is, and is comforted nearly every moment of my existence with that reality,  the idea of living single for the rest of my life is pretty much ok. But there's another side that feels I am way too sexy for that. (haha! I hope you don't mind a little Garlic Girl humor there).
But seriously, the fabric  of me is designed to care for people. I guess my love language is to do all those domestic things for others. It's interesting that those desires are even stronger as I get older. It's almost as though I don't matter if I'm not caring for someone in the real, everyday way. And of course, on the flip side of that, I also want to be cared for (and loved) in even the small ways. Like, it still feels funny when I return from a business trip and there's nobody who wants or needs to know what time my flight gets in.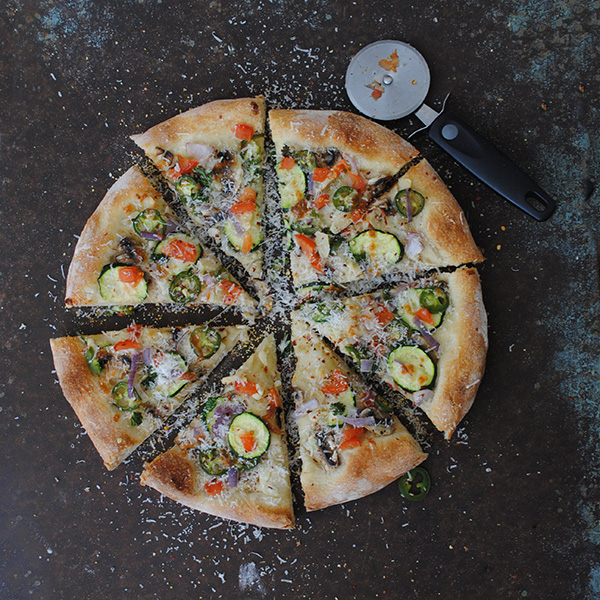 Despite these little surface feelings that come and go, the core of me understands the importance of appreciating every gift that God gives. On a daily basis I am deeply grateful and thankful for my three precious children, and their children. And nothing gets me laughing and feeling more loved and connected than hanging out my three brothers and their families. These things, and the list of beautiful friends and blessings in my life, are what truly matters to me every moment of every day.
Yes, I am ok with being single. But yeah, I sure wouldn't mind making pizza for two more than a few times a year.
A few pizza tips:
– Definitely use a pizza peel and pizza stone if you can get your hands on one.
– Use cornmeal on the pizza stone to help the pizza slide on to the stone. It also provides a nice crispiness to the crust.
– Bake in very hot oven, and make sure to heat the pizza stone at least twenty minutes prior to baking pizza.
– Let the dough sit in the fridge for at least overnight. This improves the crust flavor.
– Add rosemary to the flour before making the dough – it adds a nice flavor.
– Be sure to press and stretch the dough thin in the center.
– Try not using tomato sauce for an extra crispy crust. It's better than you think!

Garlic and Jalapeño Pizza with Thin Homemade Crust
Prep time:
Cook time:
Total time:
Ingredients
1¾ cups water
2 teaspoons olive oil
1 tablespoon sugar
1 teaspoon instant yeast (I used 1 packet Active Dry Yeast)
2 teaspoons vinegar
5-6 cups unbleached all-purpose flour
1 tablespoon crushed, dried rosemary (optional)
1 teaspoon salt
2 tablespoons cornmeal
For the topping
½ red onion, chopped
3 jalapeños, de-seeded, sliced
6 cloves garlic, minced or sliced
½ cup mushrooms, sliced
½ cup fresh zucchini, sliced
1 small tomato, chopped
¼ cup shredded pecorino romano
½ or more shredded mozzarella
1 tablespoon extra virgin olive oil
1 handful fresh parsley, finely chopped
Instructions
Add yeast to 1¾ cups luke warm water (make sure it's not hot); stir in sugar, vinegar and olive oil and let sit for about five minutes until foamy. Note: if it doesn't foam, start again - it means the yeast is not alive and your pizza won't rise.
In bowl of stand mixer, combine all ingredients (start with 5 cups of flour). Using dough hook, mix on medium speed for about 4 minutes, or until flour gathers to form a coarse ball. Let dough rest for a few minutes; mix again for an additional few minutes, or until the dough clears the sides of the bowl and sticks just a little to the bottom. If dough appears too sticky, add more flour by the tablespoon. To test, gently stretch a small piece of dough - it should be stretchy and translucent in center. If not, process a little more. Transfer dough to a floured counter, dust the top with flour to absorb the surface moisture, then fold dough into ball. Place in a bowl that has been brushed with olive oil, cover with plastic wrap, and cover the top of the bowl with a towel. Let sit at room temperature for 90 minutes. Dough should double in size. Transfer dough to floured counter, punch down, knead a couple times, and divide dough into 3-5 equal pieces; form into balls. Rub each ball with olive oil. Place in individual ziploc bags and refrigerate 2 – 12 hours. Remove from refrigerator 1-2 hours before using. Note: I cheated and made a pizza with one of the dough balls without that last rise in the refrigerator, and the taste and texture was very good. But it's *way* better the next day or two. Use within 3-4 days or freeze for up to 3 months.
To prepare pizza (see photos), place pizza stone in oven and heat oven to 500 degrees F, at least 20 minutes prior to baking pizza.
Dust dough (and fingers) with flour.
On pizza peel dusted with cornmeal, press and stretch dough to 10-inch round.
In small bowl, combine garlic with olive oil.
Spread or brush olive oil and garlic on top of pizza dough.
Layer half of both cheeses on center of dough, leaving one inch clear at the edge for the crust.
Layer veggies over the cheese, and then top with remaining cheese; top with parsley.
Slide pizza gently from pizza peel onto pizza stone and bake for about 10 minutes until crust is nearly charred in spots on the crust and cheese is sizzling in center of pizza.
Enjoy!