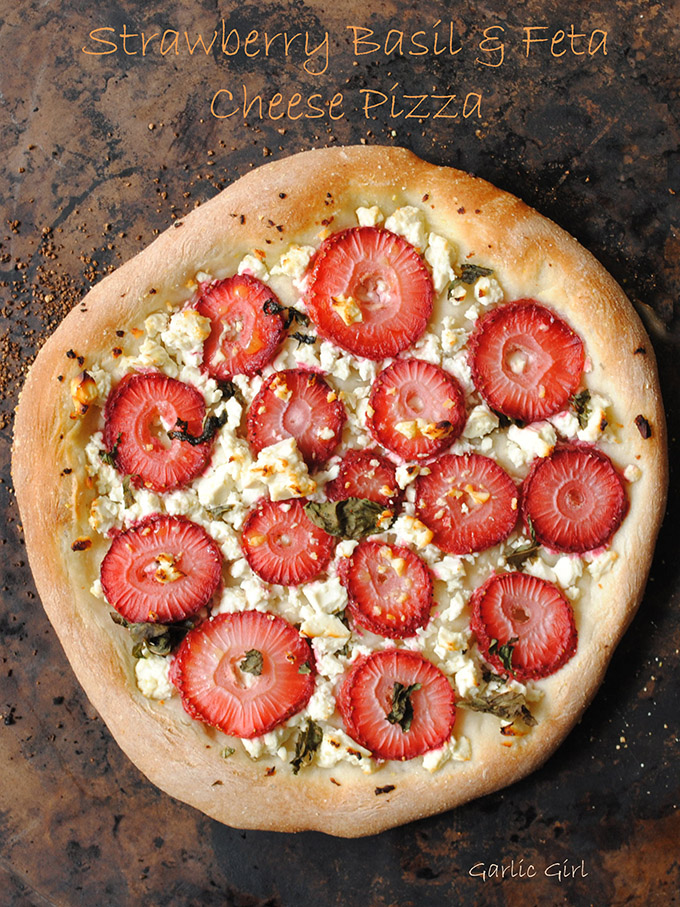 Some people want to laze around in bed on weekend mornings. Not me. And I'm not exaggerating when I say I pop out of bed excited to head straight to the kitchen to start cooking up some new recipe. This past Saturday it was all about  strawberries and feta cheese. That was the inspiration, and look what happened. This strawberry and feta cheese pizza was so good, I've been craving it ever since.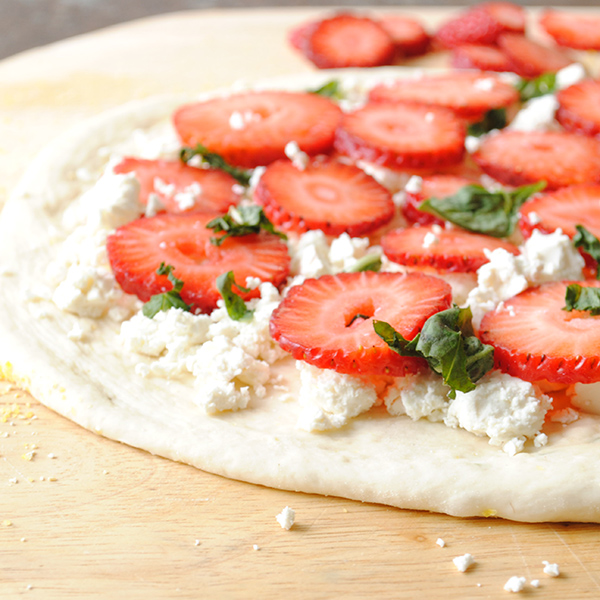 If you've never tried the combination, it really is a good one. In fact, while I was building the pizza, I couldn't stop nibbling on just the strawberries and feta together. Combine that with a crispy, fresh pizza crust, fresh basil and little drizzle of olive oil – and we're talking flavor!
I was telling my brother Darien about this pizza and he said I should have drizzled some balsamic over the top, and he may be right. Either way, I think you can't go wrong as long as you keep it simple, and be sure you make your own crust! The recipe below is easy and delicious if you love a thin, crispy pizza crust.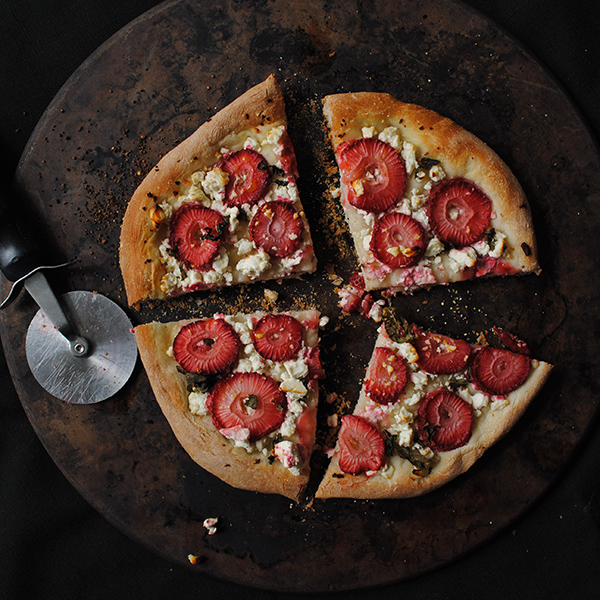 Strawberry Basil & Feta Cheese Pizza
Prep time:
Cook time:
Total time:
Ingredients
5-6 cups unbleached all-purpose flour
1¾ cups water
2 teaspoons olive oil
1 teaspoon salt
1 tablespoon sugar
1 teaspoon instant yeast (I used 1 packet Active Dry Yeast)
2 teaspoons vinegar
1 teaspoon dried rosemary
1 pound fresh strawberries
6 fresh basil leaves
1 (or more) cups feta cheese
drizzle of extra virgin olive oil
Instructions
Add yeast to 1¾ cups luke warm water (make sure it's not hot); stir in sugar, vinegar and olive oil and let sit for about five minutes until foamy. In bowl of stand mixer, combine all ingredients (start with 5 cups of flour).
Using dough hook, mix on medium speed for about 4 minutes, or until flour gathers to form a coarse ball.
Let dough rest for a few minutes; mix again for an additional few minutes, or until the dough clears the sides of the bowl and sticks just a little to the bottom. If dough appears too sticky, add more flour by the tablespoon. To test, gently stretch a small piece of dough - if should be stretchy and translucent in center. If not, process a little more.
Transfer dough to a floured counter, dust the top with flour to absorb the surface moisture, then fold dough into ball.
Place in a bowl that has been brushed with olive oil, cover with plastic wrap, and cover the top of the bowl with a towel. Let sit at room temperature for 90 minutes. Dough should double in size.
Transfer dough to floured counter, punch down, knead a couple times, and divide dough into 3-5 equal pieces; form into balls. Rub each ball with olive oil. Place in individual ziploc bags and refrigerate 2 – 12 hours. Remove from refrigerator 1-2 hours before using.
Note: I cheated and made a pizza with one of the dough balls without that last rise in the refrigerator, and the taste and texture was very good. But it's *way* better the next day or two.
Use within 3-4 days or freeze for up to 3 months.
To prepare pizza (see photos), place pizza stone in oven and heat oven to 500 degrees F, at least 20 minutes prior to baking pizza. Dust dough (and fingers) with flour.
On pizza peel dusted with cornmeal, press and stretch dough to 10-inch round. Lightly drizzle with olive oil. Layer cheese on top, then arrange strawberries and basil (see photos).
Slide pizza from peel onto stone (being careful not to let toppings slide off) and bake for about 9 minutes, or until crust and cheese begin to brown. Drizzle with a little balsamic and additional basil if preferred.