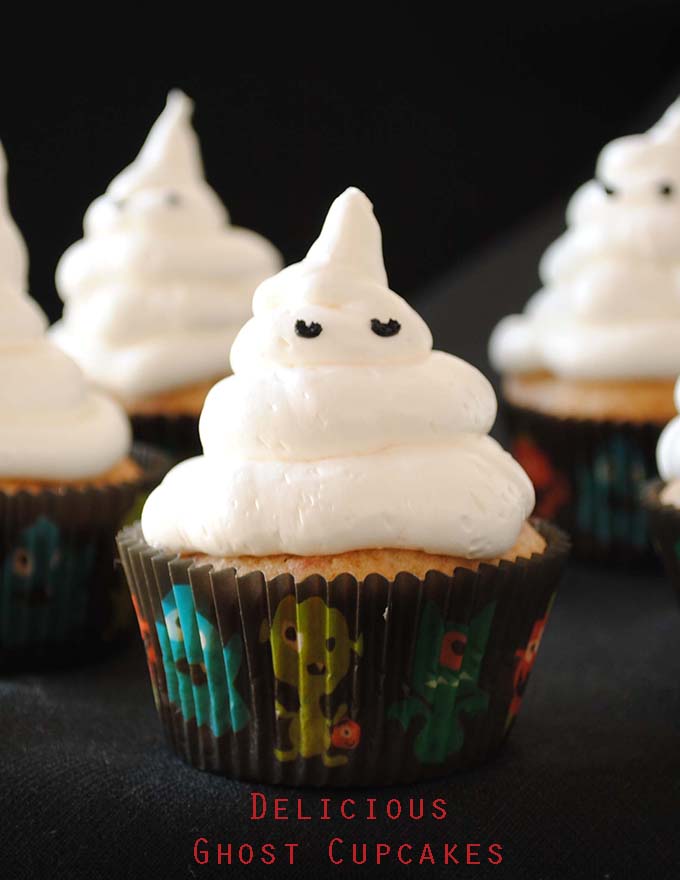 I do not like Halloween. I don't mind that others enjoy dressing up and all the tricks and treats that go with the day, but it's just not for me. Of course that doesn't mean I don't like to give sweet things to the little witches, ghosts and goblins.
This year I'm planning to make these little ghost cupcakes I created last year for the Strawberry Commission. These little treats are not only fun to look at, they are frighteningly delicious. The cupcakes are made with fresh strawberry compote, and the meringue frosting is like biting into a sweet fluffy cloud.
These are the perfect Halloween treats for any kid's classroom,  little (or big) mummy, batman, princess, and ordinary Halloween grouch like me.
Enjoy!

Delicious Ghost Cupcakes
Prep time:
Cook time:
Total time:
Ingredients
For Cupcakes
6 - 8 large strawberries, mashed
2 cups flour
1 cup sugar plus 2 tablespoons
1 teaspoon baking powder
pinch of salt
2 eggs, room temperature
3 tablespoons milk
1 stick butter, room temperature
1 teaspoon vanilla extract
For Buttercream Merinque Frosting
4 egg whites, room temperature
3 sticks butter
1 cup granulated sugar
1½ cups confectioner's sugar
Instructions
Heat oven to 350 degrees F.
Line cupcake pans with colorful cupcake liners.
In small sauce pan, on medium heat, cook strawberries with 2 tablespoons of sugar for about five minutes until mixture resembles jam. It should yield about ⅓ cup. Set aside to cool.
In large mixing bowl, sift together flour, baking powder and salt; set aside.
In small mixing bowl, stir together milk and strawberry mixture.
In bowl of stand mixer, using whisk attachment, beat butter til creamy and pale yellow (about 3 minutes); add 1 cup of sugar and continue to beat another few minutes until sugar is fully incorporated.
Using paddle attachment, beat in eggs, one at a time; then vanilla extract. Scrape down sides and beat another minute.
Add half the flour mixture until incorporated, followed by the strawberry mixture. Add remaining flour mixture and beat until just blended.
Fill cupcake liners, leaving about ½ inch at the top and bake for 20-25 minutes until an inserted toothpick comes out dry. Let cool.
For Merinque Icing:
Note: For the best results, thoroughly wash the mixing bowl, attachments, whisk, etc., with hot soapy water. Dry completely and wipe with wipe vinegar (rinse again and dry if needed).
Fill small pot with a few inches of water and bring to boil. In stand mixing bowl, add egg whites, granulated sugar and stir.
Place over pot (to heat bottom of bowl) and whisk until sugar is dissolved and mixture is hot to the touch, about 4 minutes.
Return bowl to mixer, making sure to not get any moisture from the water in the bowl or mixture. Beat with whisk attachment until stiff peaks form, about 3-6 minutes.
Add butter, one stick at a time, and continue to beat until smooth and fluffy, about 10 minutes.
Add confectioner's sugar and beat another 5 minutes.
For Ghosts:
Use piping bag and round tip (I used 1M round Wilton tip).
Hold decorating bag straight up and pipe icing in center of the cupcake. Squeeze and move tip in circular motions for about four turns; lift tip up and away to create the peak.
Dot eyes with dark icing (I used a little tube I picked up at the grocery store).