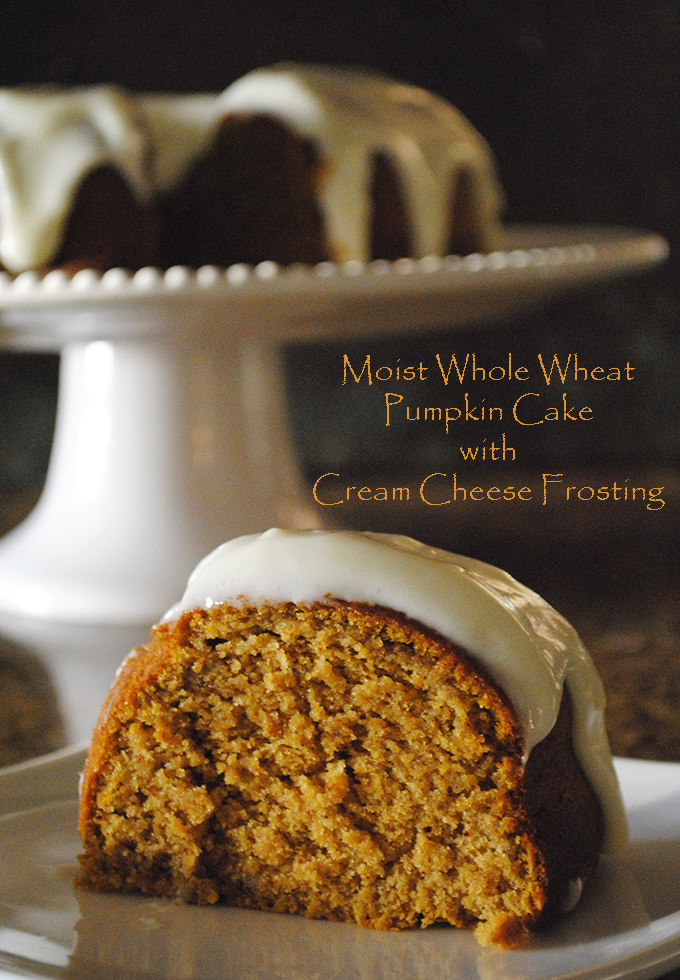 I didn't plan on sharing this quick pumpkin cake I made this morning, but I totally have to now because it's that good.
Since I'm a morning baker, it's usually a mad rush to bake something, jog five miles, run, clean the kitchen, and be at work by 8 a.m. Needless to say, I'm usually sneaking into the office late. My co-workers don't often mind since I usually share whatever I happened to make.
I don't typically post a recipe the same day I make it, but the truth is I wanted to make sure I didn't forget what I did. So now it's saved for me – and for you.
Moist, perfectly rich, and not too sweet – you too can whip this baby up, including the drizzle, all in about an hour.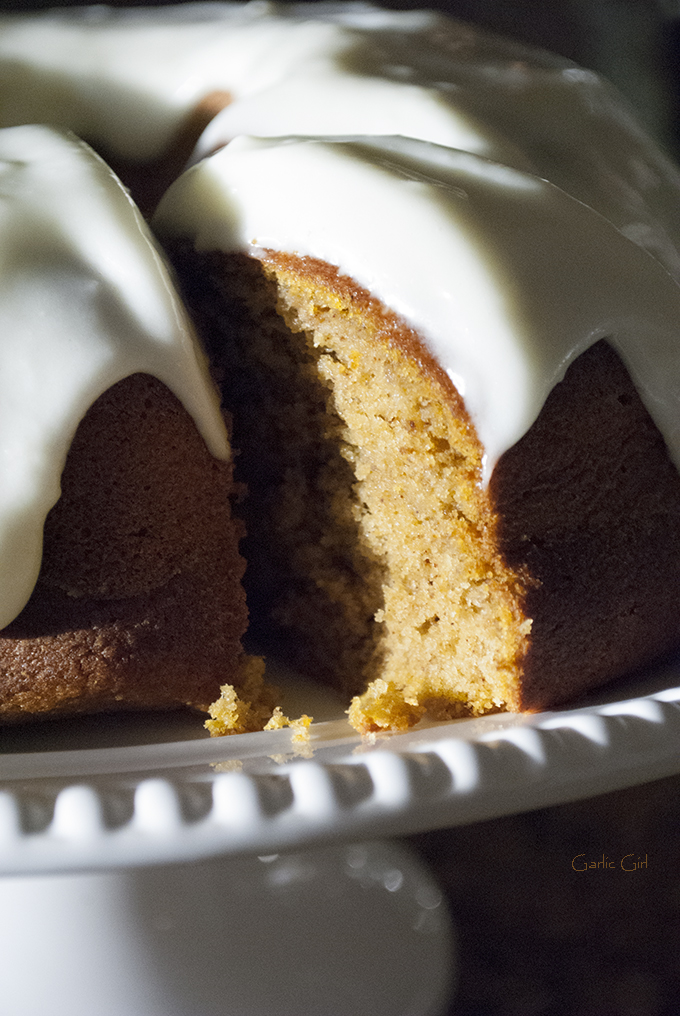 I know the photos are a little dark, but that's one of the downfalls of trying to fit a whole day's events before most folks are even out of bed.
Enjoy!

Moist Whole Wheat Pumpkin Cake with Cream Cheese Frosting
Prep time:
Cook time:
Total time:
Ingredients
1¼ cup whole wheat pastry flour (preferably Bob's Red Mill)
1 cup cake flour
2 teaspoons baking powder
1 teaspoon baking soda
1 teaspoon ground cinnamon
½ teaspoon ground cloves
½ teaspoon ground ginger
¼ teaspoon nutmeg
pinch of salt
1½ sticks butter, cubed
1 cup sugar
1½ cups pumpkin puree (canned pumpkin)
¾ buttermilk (or whole milk with splash of white vinegar)
1 teaspoon pure vanilla extract
2 eggs
For Icing
4 tablespoons cream cheese
4 tablespoons butter (1/2 stick)
1 teaspoon vanilla
1 cup powdered sugar
3 tablespoons milk
2 teaspoons corn syrup
Instructions
Heat over to 350 degrees F.
Grease and flour bundt cake pan.
In medium bowl, whisk together both flours, baking powder, baking soda, cinnamon, cloves, ginger, nutmeg, salt; set aside.
In bowl of stand mixer, beat butter and sugar until pale yellow (about 3 minutes).
In small bowl, stir together pumpkin, buttermilk and vanilla extract; set aside.
To butter mixture, add the flour mixture and beat until well-blended.
Add eggs, one at a time. Scrape down sides and beat another 10 seconds. Slowly beat in pumpkin mixture until smooth, about a minute.
Pour evenly into cake pan and bake for about 45 minutes, until toothpick comes out dry when inserted in the center; let cool.
For the icing, beat butter and cream cheese until smooth. Add sugar and continue to beat until creamy. Add milk, a little at a time until desired consistency (preferably thick, but still pourable). Add corn syrup and beat until incorporated.
Drizzle over cooled cake.
Enjoy!