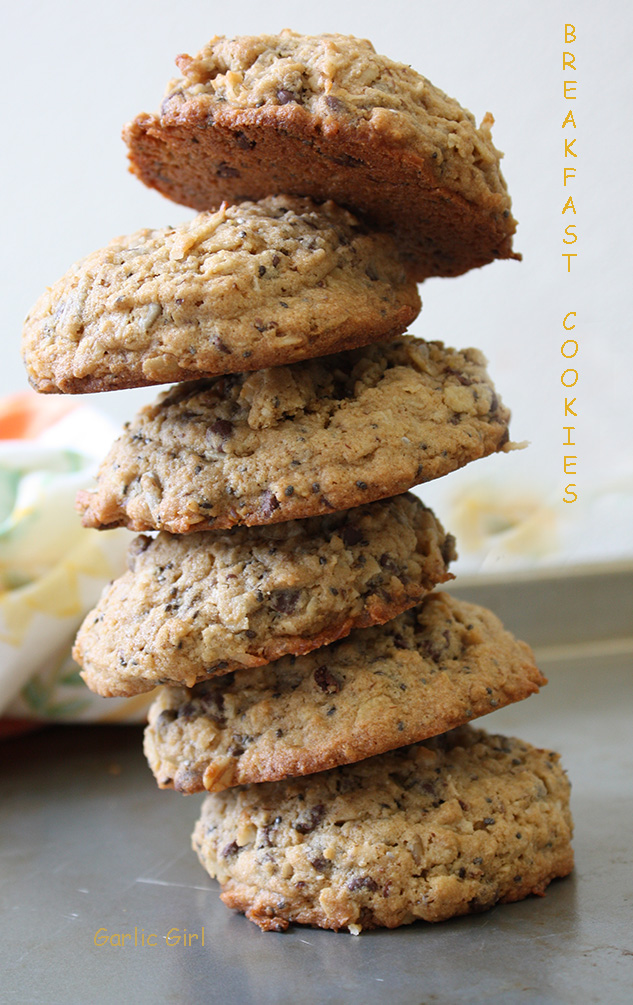 Breakfast time is dramatically different for me than it used to be. Selfish as this may sound, these days it's all about me. It's not that I want it to be that way, it's just where my life is now.
What seems like yesterday, I was jumping out of bed  every day, typically at the crack of dawn, to whip up pancakes or oatmeal before one of my kids complained of hunger. But since my kiddies are all grown up and on their own, I rarely need to make breakfast for anyone other than myself – and most of the time I kind of like it.
During the week I work in a traditional office setting with traditional office hours, which by the I'm not thrilled, but that's another blog post. Since I'm not hungry first thing in the morning, and tend to workout before work, a formal breakfast of any kind is out of the question.
Enter the breakfast cookie.
As a cookie lover from way back, my cookie have become more and more healthy for a couple reasons. For one, as I've gotten older I enjoy eating healthier, and two – the healthier my cookies are the more I can eat without those pesky extra pounds. I wouldn't mind so much if they just hung out in the right places, but they don't.
I've made many versions of breakfast cookies, and this one is definitely a favorite because they have all the stuff I like. While fairly healthy,  they still have the taste and texture of a delicious cookie. It's a good basic recipe that you can use, even if you want to swap out some of the extras.
 

Breakfast Cookies
Prep time:
Cook time:
Total time:
Serves:
Makes 18 large cookies
Ingredients
2 cups whole wheat flour (I prefer white whole wheat flour)
1 ½ teaspoons baking powder
½ teaspoon baking soda
Pinch of salt
¼ cup Bob's Red Mill ground flax seeds
¼ cup chia seeds
2 sticks butter, room temperature
1 cup brown sugar
2 eggs
2 teaspoons vanilla extract
½ cup rolled oats
¾ cup mini dark chocolate chips
½ cup shredded coconut
½ cup sunflower seeds (or less)
Instructions
Heat oven to 375 degrees F.
Mix flour, baking soda, baking powder, salt, chia and flax seeds together in bowl. Set aside.
With electric mixer, beat butter for 3 minutes until pale yellow. Scrape down sides. Add sugar, beat for another two minutes until creamy and blended.
Beat in eggs, one at a time. Add vanilla extract.
On low speed, slowly add flour mixture, followed by remaining ingredients until fully combined.
Fill ice cream scoop with batter and drop on cookie sheet. Repeat for remaining batter, arranging cookies about one inch apart.
Bake for about 12 minutes, until cookies are light golden brown around edges and top of cookie.
Enjoy!