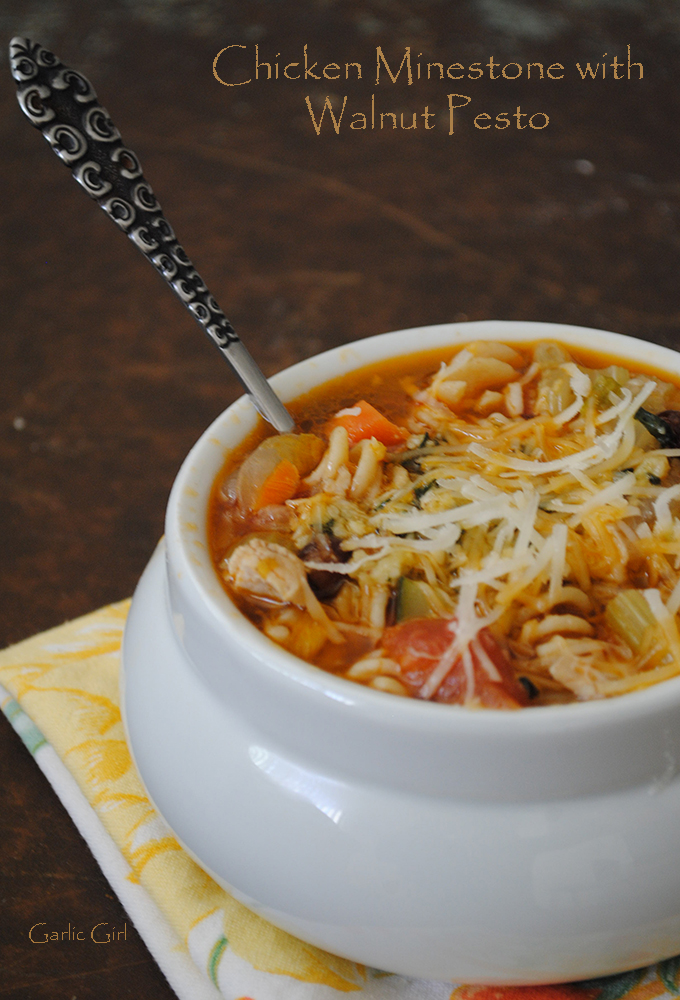 There's something about soup that touches a part of our soul like no other food. What is it? Not sure I have the answer, but whatever it is, I feel immediate comfort after that first little slurp of homemade soup.
A couple years ago I stumbled across a soup that had a spoonful of pesto floating on the top. It was love at first sight. Since then, I almost always crave a little fresh pesto when I'm preparing a bowl of homemade Italian soup. When I was a kid my mom always put a generous pile of freshly grated Parmigiano, crushed red pepper on top of just about anything with pasta, including soup. So it could be I'm just wired to love that extra little sharpness and flavor – and pesto just does it for me every time. But then again, I could eat the stuff everyday, even by the spoonful.
When I made this minestrone, I loved it so much I was compelled to share. It was about 7:30 a.m. on a weekday morning when it was ready. I filled a container and headed to work, and on the way made a pit stop at my son's house. When he came out in the driveway to get the soup, he muttered he wasn't feeling that great. I wasn't happy to hear he was a little under the weather, but the little mom heart in me felt a little joy that my timing may have been just right, and he would be able to enjoy a bowl of his mom's homemade soup that day.
Even though my son is in his thirties, and married with his own family, something about the look his eyes indicated he may have felt happy about it too, maybe even comforted. This tiny little moment reminded me of the hundreds of times I was blessed enough to be able to comfort my kids when they were sick. I hope they remember those little things. I know I do. I still remember the way my mom used to brush the hair off my forehead with her softer than average hands.
When I remember those times, I know it was love I felt at those moments, so I hope it's love my son felt in that very small, simple little gesture of handing him hot homemade soup.
This sounds a little gushy, I know, but it's honest. I know that because that morning I drove away with a smile and a couple little warm tears of joy rolling down my cheeks.
Enjoy!
Chicken Minestrone with Walnut Pesto
Prep time:
Cook time:
Total time:
Ingredients
½ pound pasta shells (or preferred pasta)
1 tablespoon butter
1 whole chicken, cut up
2 tablespoons extra virgin olive oil
2 cups freshly cooked garbanzo beans, or 2 cans garbanzo beans
2 zucchini, cubed
3 carrots, chopped
1 medium onion, peeled and diced (or sliced)
5 cloves garlic, crushed or finely chopped
3 medium fresh tomatoes, or 2 cups canned whole tomatoes
¼ - ½ cup white wine or beer
¼ cup fresh parsley, finely chopped
1 teaspoon dried oregano
Kosher salt, to taste
ground black pepper to taste
For Pesto
2 cups fresh basil leaves (probably about 30 large leaves, stems removed)
¼ cup olive oil
¼ cup walnuts (or pine nuts)
½ cup freshly grated Pecorino Romano cheese
6 cloves fresh garlic
For Garnish
⅛ - ¼ cup Parmigiano, shredded or grated
chopped parsley
Instructions
Cook pasta to al dente; drain, toss with tablespoon of butter and set aside.
To remove skins from tomatoes, blanch tomatoes. To do this, cut a shallow X on the bottom of each tomato. Add to pot of boiling water for one minute; peel skin off.
Chop tomatoes and set aside.
For stock, in heavy bottom, 8-quart pot, brown chicken in olive oil for several minutes. With slotted spoon, remove chicken from pot, and let cool in separate bowl; do not drain drippings from pot.
In pot with drippings, add a little olive oil and sauté onions, carrots, celery for about 5 minutes until slightly tender.
Add the garlic and continue to sauté for another minute or so. Add tomatoes, seasoning, wine and cook for another few minutes. Taste; add more salt and seasoning as desired.
Pour mixture into a heatproof bowl, and set aside.
Fill pot with about 6 quarts of water (or to ¾ full) and bring to a boil. Peel skin off chicken pieces and add to pot of water. Turn heat down, loosely cover and simmer for about 35 minutes until chicken is fully cooked, making sure to skim off any foam that forms at the top.
While chicken is cooking, make the pesto. To do this, add basil, olive oil, garlic, walnuts to food processor and process until preferred consistency. If too dry, add a little more olive oil.
Stir in grated Pecorino. Store unused pesto in airtight container in refrigerator, or freeze.
Remove chicken when cooked. Let cool to touch and remove meat from bone; discard bones.
If preferred, strain chicken stock to remove any unwanted bits.
Return meat and sautéed veggies to the pot with chicken stock. Season to taste. Once simmering again, add the garbanzo beans and the zucchini and simmer for about wo minutes.
Serve hot, with garnish of grated Parmigiano and chopped parsley.