It's amazing the difference even one day (or even one moment) can make in a person's life.
Four months ago (in a silly moment) I walked up to a guy at a local blues club to playfully put my hands in his waist-long dreads. And just like that I had a boyfriend after being boyfriendless for about 6 years. Yup, I'm in love.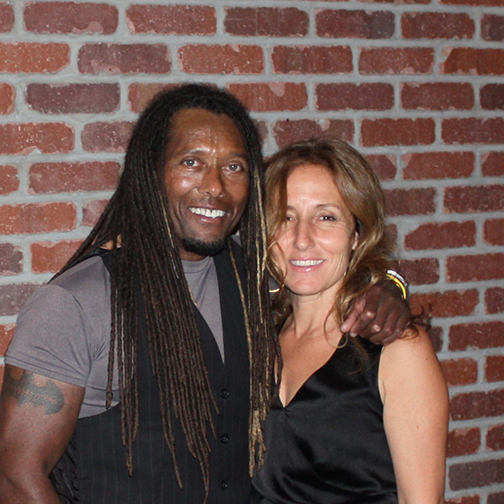 It's true I've been single for a long time. I don't love admitting it, but I've spent most of my adult life as a single mom and single person. If I were to summarize why, I'd have to say it's been hard to find someone who shares both my faith in God and fits into my family. But who knows, if I had a therapist following me around for the last few decades years, she/he might come to a completely different conclusion.
After all these years, I guess it doesn't really matter why it's been challenging – it mostly matters that I know it's possible to find love despite a person's history or background. I mean, I'm sure something went wrong along the line that requires a little more work on my part, but that's ok – I'm sure I'm not the only one. At least I can say I've learned to be ok on my own, and take care and responsibility for myself and my family.
I am forever grateful for God's grace and guidance, because it is there I find the capacity to grow and evolve – and also see that same potential in another person. I firmly believe all our wounds and imperfections can not only heal but even be useful in helping us find and build successful and loving relationships. And once we can get there, it's more likely we can help our kids or friends do the same. So it's all good.
My little love story is still very new, so we're still enjoying a bit of that honeymoon period people talk about. But we've also been seeing each other long enough to be plummeted out of that love bubble to face day-to-day realities. Ugh…can't we just gaze lovingly into each other's eyes, hold hands everyday, all day and believe the other person has no flaws?  🙂
You know, like when I cook dishes with Brussel's sprouts – like this simply fabulous frittata – why does he have to say he "can't stand" Brussels sprouts every single time? I guess I can deal with all that small stuff if he keeps making me feel like the only, and most beautiful, woman in the world. Well, that, and bowing his head humbly to the God of the universe and thanking Him for the gift of life, love and forgiveness. How sexy is that?
I don't know what tomorrow will bring, but I know whatever it is – it will be good if we keep our eyes fixed on Him.
"I can do all things through Him who strengthens me." Philipians 4:13
Enjoy!

Brussels Sprouts and Bacon Frittata
Prep time:
Cook time:
Total time:
Ingredients
6 slices thick -cut bacon, cut in 1-inch pieces
1½ cups shredded fresh Brussels sprouts
optional: whole leaves of 2-3 Brussels sprouts (to roast and top frittata)
½ white onion, sliced or chopped
2 cloves garlic, finely chopped
2 tablespoons butter
3 eggs
2 tablespoons Half & Half
½ cup sharp cheddar or Gruyere
5 cherry tomatoes, quartered
kosher salt to taste
black pepper to taste
Instructions
Heat broiler to high heat and position rack near top of oven.
In small heavy-bottom pan, cook bacon until slightly crispy but still a bit chewy; leaving fat in pan, remove bacon and drain on paper towel. Do not rinse pan.
In small bowl, whisk together eggs and half & half with a little salt and pepper.
In same pan, saute onion and Brussels sprouts until just tender, adding garlic in the last minute before done.
With pan still on heat, push veggie mixture to the side and pan roast the whole leaves on the other side until slightly charred. Remove whole leaves; set aside.
On low heat, add butter and pour egg mixture over sautéed Brussels and onions and let set for about a minute. With fork, gently push egg away from sides in a couple places and tilt pan to allow runny egg mixture to drain into those spaces and under the frittata.
After a few minutes, add bacon, tomatoes, roasted Brussels leaves and cheese to the frittata. Finish cooking under the broiler until egg is cooked and cheese is light golden brown, about two minutes.
Slice like a pie and serve as is, or with a dollop of sour cream.
Let cool for a couple minutes and garnish with