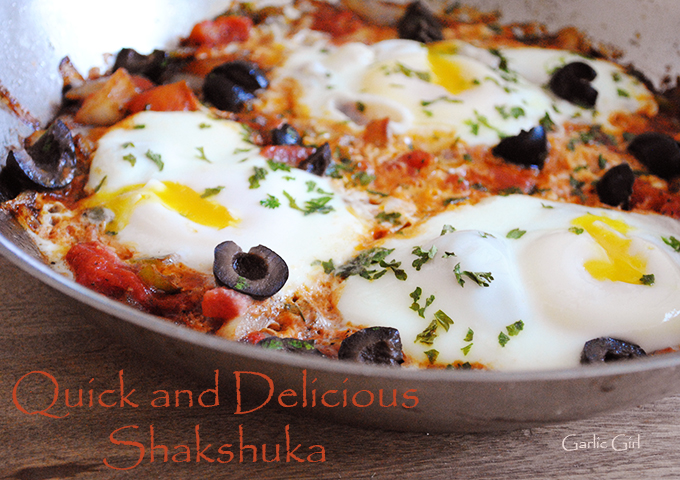 Have you had the pleasure of enjoying Shakshuka? I can't say I'm an expert at this Middle Eastern egg dish by any means, but I can say that over time I've learned to prepare it simply and just the way I like it: with an Italian spin.
If you haven't had the pleasure of whipping up Shakshuka, or something like it,  I definitely recommend giving it a go. It's quick, delicious, and can be prepared with many different combinations of ingredients you most likely have in the fridge. You can make it your own, just like I did.
As a half Jewish girl, this dish very well could have been in my life earlier. However, because I grew up around the Sicilian side only, I can't say it was. I wish my dad were still around so I can ask him if it was prepared for him as he was growing up. My guess is that he'd love it either way, especially because I know he loved tomato sauce – and he loved eggs. I only saw my dad cooking once in my life, and it happened to be eggs and onions with a side of fresh tomatoes. The more I think about this, the more confident I am it was a dish he knew, and one I wish he shared with us.
In any case it's in my life now – in an Italian sort of way – but either way I'm happy about it. I hope you try it, because I think you'll be happy about it too.

Quick and Delicious Shakshuka
Prep time:
Cook time:
Total time:
Ingredients
3 eggs
1 tablespoon olive oil
1 (14.5 ounce) can tomatoes, mashed
½ cup onions, chopped
½ cup bell peppers (any color), chopped
2 garlic cloves, crushed or minced
6 fresh basil leaves, roughly broken or chopped
¼ cup olives (any kind)
½ teaspoon paprika
¼ teaspoon oregano
¼ teaspoon cumin (optional)
Kosher salt, to taste
¼ teaspoon black pepper
1 tablespoon fresh parsley, finely chopped
1 tablespoon grated Parmigiano cheese
Instructions
Heat oven to 400 degrees F.
In heavy bottom (and oven safe) skillet, saute onion and bell pepper for several minutes until tender. Add garlic and saute for another minute.
To the same pan, add the crushed tomatoes and cook on medium low heat for about 10 minutes, adding in all the spices and stirring occasionally. If sauce needs moisture, add a little water, wine or beer.
Carefully crack and drop eggs on top of sauce.
Transfer to oven and bake for about 10 minutes until egg is cooked to desired doneness.
Garnish with fresh parsley and grated Parmigiano cheese.
Enjoy!