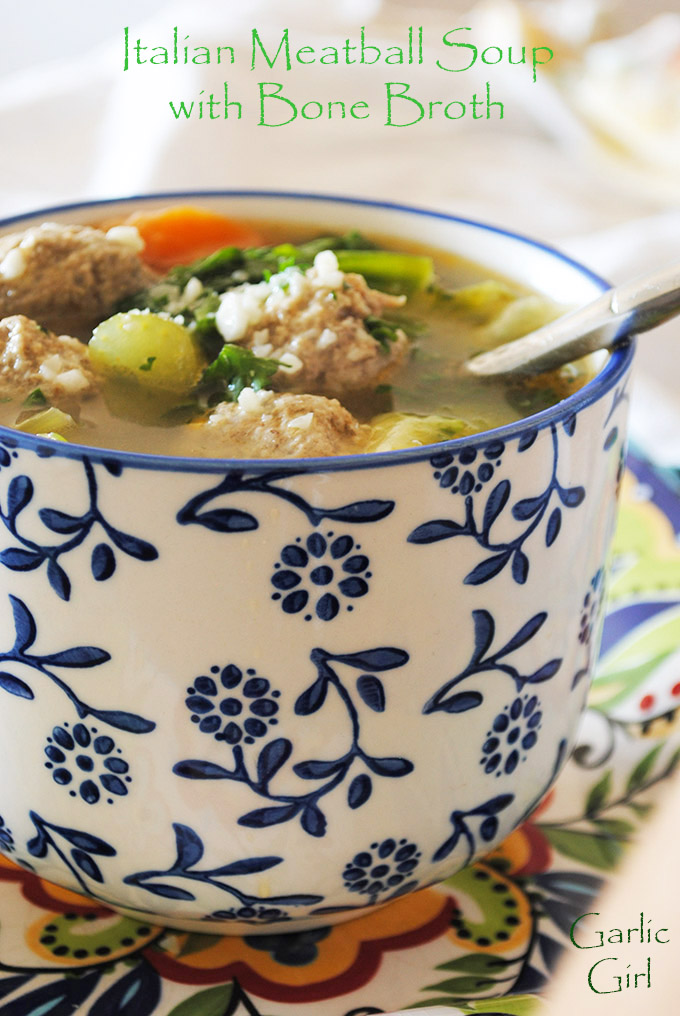 The East Coast, Italian and Jewish side of me wants to start off by saying, "This is the best freakin' thing you can eat – so just make it already!" There. I said it.
I can still remember sitting by the kitchen window of my Italian Aunty Vicky's kitchen in northern Massachusetts, slurping up her steaming-hot, meatball soup loaded with tiny meatballs, pastina, greens – and lots and lots of grated Parmigiano cheese. There I would sit, all warm and happy at Sunday family gatherings, listening to the clanking of pots and pans, and what seemed to be hundreds of cousins, aunts and uncles, laughing and enjoying one another from nearby rooms.
I didn't know then that those kinds of moments would vanish so quickly, and that I would remember them lovingly for the rest of my life.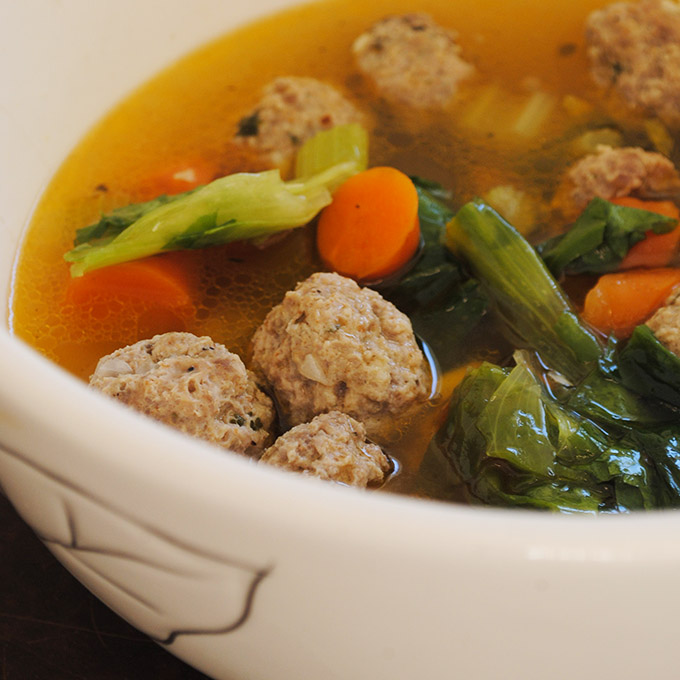 Thank God for food. In some ways we can bring those moments back by simply preparing the foods that warmed our hearts and souls during our lives. I just made this soup, and my soul felt happy not only eating the soup, but taking in those memorable aromas too. Now that I have this Italian Wedding Soup (as some call it),  all I want to do is share it with everyone who lives within 25 miles of me. Trust me, I've been texting all day, and ready at any given moment to pack up my soup and share this pot of love.
I wish I can give you a bowl of soup, but since I can't, I'll do the next best thing: give you the recipe. I hope you make it soon. You'll love it.
Don't get worried about the time it takes for the broth – just make it on a day or night that you plan to be home. It takes so little effort…the water and bones just mind their own business while they gently simmer away, creating a simple but delicious broth for your little meatballs. Once you have the broth, you are basically done!
Just a side note, like a lot of dishes, there are many versions, but this one is my favorite because of its simplicity. I vary it up sometimes – for example, I made this Italian Wedding Soup with Quinoa you might also like. Some people use veal for their meatballs, others add pasta or sauté veggies in the pot before simmering the broth. Heck, some use store-bought chicken broth, or use the meatballs to make the stock. For me, I like a rich, flavorful slow-simmered bone broth, with al dente vegetables.
However you make it, I'm sure someone will love and remember it.
Enjoy, enjoy, enjoy!

Italian Meatball Soup with Bone Broth
Prep time:
Cook time:
Total time:
Ingredients
For Bone Broth
1-2 beef femur bones (or preferred beef/pork bones), rinsed
1 onion, peeled and halved
2-3 celery ribs (sticks) with leaves
1-2 bay leaves
about 8-10 quarts of water
For Meatballs
1 pound ground beef
1 pound ground pork
1 cup bread crumbs
¾ cup milk
½ cup Pecorino Romano (or parmesan), grated
¼ cup fresh parsley, chopped
1 small onion, minced
4 cloves fresh garlic, crushed
1 teaspoon salt
1 teaspoon black pepper
1 egg
For Soup
1 head fresh escarole, roughly chopped or torn
½ cups fresh parsley, chopped
4-5 carrots, sliced
4-5 ribs celery, sliced
Kosher salt (to taste)
crushed black pepper
Garnish
additional Pecorino Romano
fresh parley, chopped
optional: pasta/pastina
Instructions
For the bone broth, fill a large stock pot (12 quarts if you have one) with water to ¾ full. Add bones and bring to boil. Turn heat down to low, cover, and simmer for a couple hours, skimming foam off the top as needed. Add onion, celery, bay leaves and continue simmering for at least another few hours, up to 12. Once cooled, remove and discard the bones and wilted vegetables. Strain the broth, and return liquid to pot.
For the meatballs, bring a separate large pot of water to a boil. While heating the water, add breadcrumbs and milk to a large mixing bowl; let soak for about five minutes. To the same bowl, add ground beef and pork, minced onion, garlic, ½ cup grated pecorino cheese, parsley, salt, pepper, and one egg. Combine with hands until well-combined.
With damp hands, form mini meatballs to the size of large gumballs. Once water is boiling, carefully drop meatballs in the pot. Once it reaches gentle boil, turn heat down to medium heat, and cook for several minutes until meatballs are no longer pink.
With slotted spoon, transfer only the meatballs (not the water), to the beef stock. Bring to a gentle boil and salt to taste (I add a few teaspoons of kosher salt to start). Make sure to taste for desired saltiness.
Add carrots, celery and parsley to the stock pot, and simmer on medium low heat for about 10 minutes until carrots are slightly tender. Turn heat off; add escarole and stir gently.
To serve, scoop several meatballs with vegetables into individual serving bowl. With ladle, add broth to the bowl(s). Garnish each with grated Pecorino cheese, fresh parsley, black pepper.
Note: If you add pasta, add to the bowl first.
Enjoy!