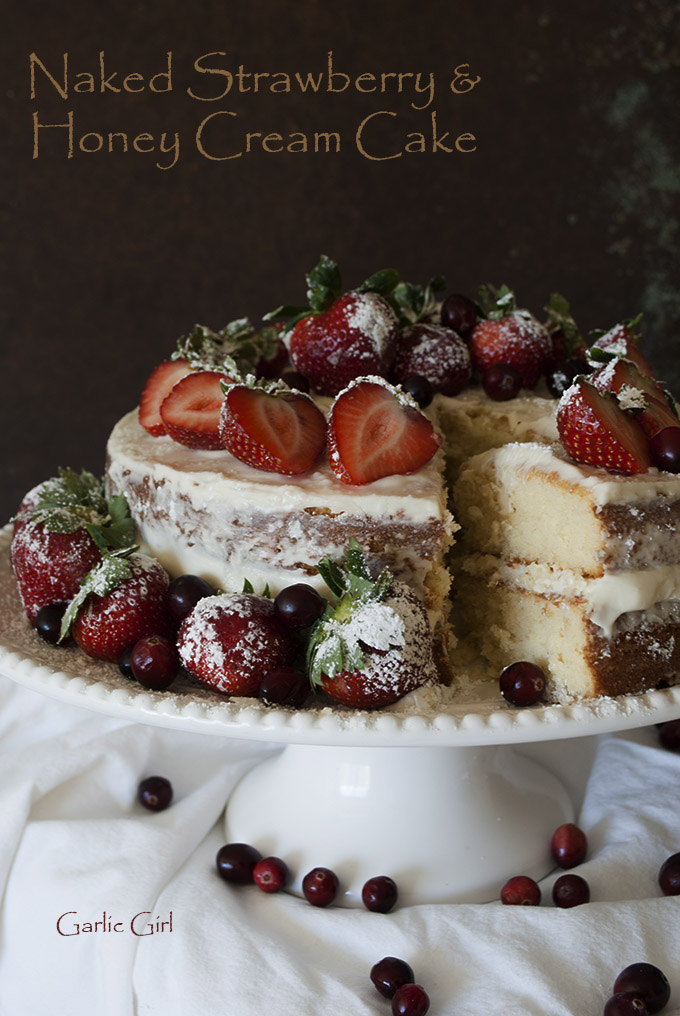 Naked is good. I never really thought about it that much, but I've always loved the simplicity and beauty of most things in their simplest form. I remember watching my mom carefully paint her face with makeup when I was growing up in  the 70s, and always thought she looked the most beautiful after she applied foundation, and before she started adding color. I love white pizzas more than red, naked legs with dresses as opposed to ones with tights, decorating my home with nudes and whites – and I could go on and on. I  basically have a love for things and people that are on the raw side or just not quite done or fixed up. It could be why this naked cake may be one of my favorites.
I love everything about this cake – especially that it's kind of naked and not slathered in tons of frosting, leaving the beauty of what's inside exposed. It's so beautifully undone. Again, sort of how I feel about what I find so beautiful in life. The idea of exposure is always positive to me, even when it comes to relating to family and friends. I've always been very open in my life and with my relationships, and have to admit that I'm sometimes shocked to learn how some can be so good at hiding aspects of their lives. But that's a topic for another post.
Who wants Naked Strawberry Cake? This gorgeous cake, because of its nakedness, might be one of least stressful cakes you could make.
This cake is easy to make, yet it is absolutely eye-catching, elegant and totally delicious.  I'm not overselling this naked cake by telling you that it is absolutely moist and delicious. Trust me, if you stick to the recipe and the steps, you'll go back to this cake over and over again.
With the holidays in mind, I added some fresh cranberries and extra powdered sugar for a snowy effect, but the cake can be topped with anything. It would be lovely to add additional berries like blackberries, blueberries, or even a little strawberry sauce.Enjoy!
Naked Fresh Strawberry Cake
Prep time:
Cook time:
Total time:
Ingredients
2 cups all purpose flour
2 teaspoons baking powder
pinch of salt
1½ cups granulated sugar
1 stick (1/2 cup) butter, room temperature
3 eggs
¾ cup milk (divided)
1 teaspoon vanilla
Icing
8 ounces cream cheese (preferably Philadelphia brand)
½ stick butter
2 cups powdered (confectioners) sugar
1 tablespoon honey
1 teaspoon vanilla extract
Topping
1 pound fresh strawberries, 6-8 halved
optional: cranberries and extra powdered sugar
Instructions
Heat oven to 350 degrees F.
With butter, grease two 8-inch cake pans and cover the bottoms with parchment paper. Grease the paper too, and lightly dust both pans with flour.
Sift flour, baking soda, sugar and salt in bowl of stand mixer. With paddle attachment, blend on slow for 10 seconds.
In small bowl lightly whisk eggs with ¼ cup of the milk and vanilla extract; set aside.
To the dry mixture add the butter and beat on low for about a minute until combined. Slowly add the remaining ½ cup milk until incorporated into dry ingredients.
Increase speed to medium and blend for about 1½ minutes until you have a thick, smooth batter.
Add egg/milk mixture in three parts on medium speed, scraping down sides and bottom at least once. Beat for another 30 seconds until batter looks a bit airy and smooth.
Pour equal amounts of batter into both pans.
Bake for about 25 minutes, until light golden brown and toothpicks come out dry when inserted in the top center. Remove pans, let cool in pan for 10 minutes, and then on wire rack until room temperature.
For batter, cream together cream cheese and butter; about 3 minutes. Add powdered sugar a little at a time until well-combined and fluffy. Add honey and vanilla extract and continue to beat until desired consistency.
Place first layer of cake on cake pan, spread desired amount of frosting in center, making sure to add more on the edges.
Add top layer of cake and frost the top. With a flat knife or frosting scraper, spread frosting around the top and sides to cover as much or as little as the cake as you like.
Decorate with strawberries. I like to slice only half the berries and add those to the edges. Pile whole berries in the center, and then dust with powdered sugar.