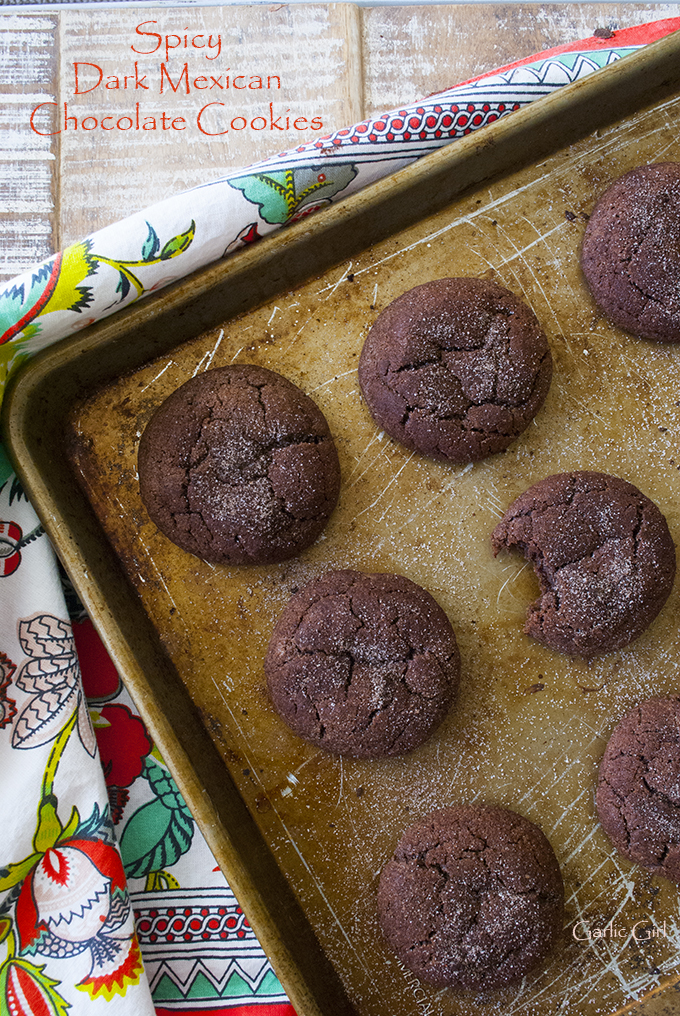 Cookies are among my favorite things to bake. As a cookie lover, I have a personal interest in always honing this skill. These spicy dark chocolate cookies are one of my favorite cookie recipes. It is right up there with my Peanuty Peanut Butter Cookies.
I used to bake these chocolate cookies and share them with my friends at work. My sweet friend, Joan, inspired me to make an even better and spicier version of the already addicting Mexican Chocolate Cookies. She suggested adding espresso powder, which of course I did!
So now we all get to enjoy these Dark and Spicy Mexican Chocolate Cookies.Enjoy!

Spicy Dark Mexican Chocolate Cookies
Prep time:
Cook time:
Total time:
Ingredients
2¼ cups all purpose flour
½ cup unsweetened cocoa powder (I used Hershey's Cocoa "Special Dark")
2 tablespoons ground cinnamon
1 teaspoon fine coffee grounds
1 tsp cream of tartar
1 tsp baking powder
¼ teaspoon kosher salt plus a pinch for the coating
1½ cups granulated sugar (split)
1 teaspoon cayenne pepper
2 large eggs
2 sticks butter, room temperature
1 teaspoon vanilla extract
Instructions
Heat oven to 375 degrees F.
Sift flour, cocoa powder, coffee grounds, cream of tartar, baking powder, salt, and 1 tablespoon of the cinnamon into mixing bowl; whisk a few times.
In a separate bowl, beat butter and 11/4 cups of the sugar until creamy, about 3 minutes. Add eggs, one at a time, beating between additions.
Scrape down sides with spatula; add vanilla extract.
With mixer on low speed, add flour mixture a little at a time until fully incorporated, making sure to scrape down sides.
In a small bowl mix together the remaining tablespoon of cinnamon, ¼ cup of sugar, cayenne pepper. Whisk well and spread out in shallow dish.
Roll dough in balls (one tablespoon at a time) and then roll each one in the cinnamon/sugar mixture.
Place on parchment paper lined baking sheet about a couple inches apart. Bake for 8 minutes; remove from oven.
Optional: When still warm, sprinkle remaining cinnamon/sugar mixture on tops.
Makes about 24 cookies.