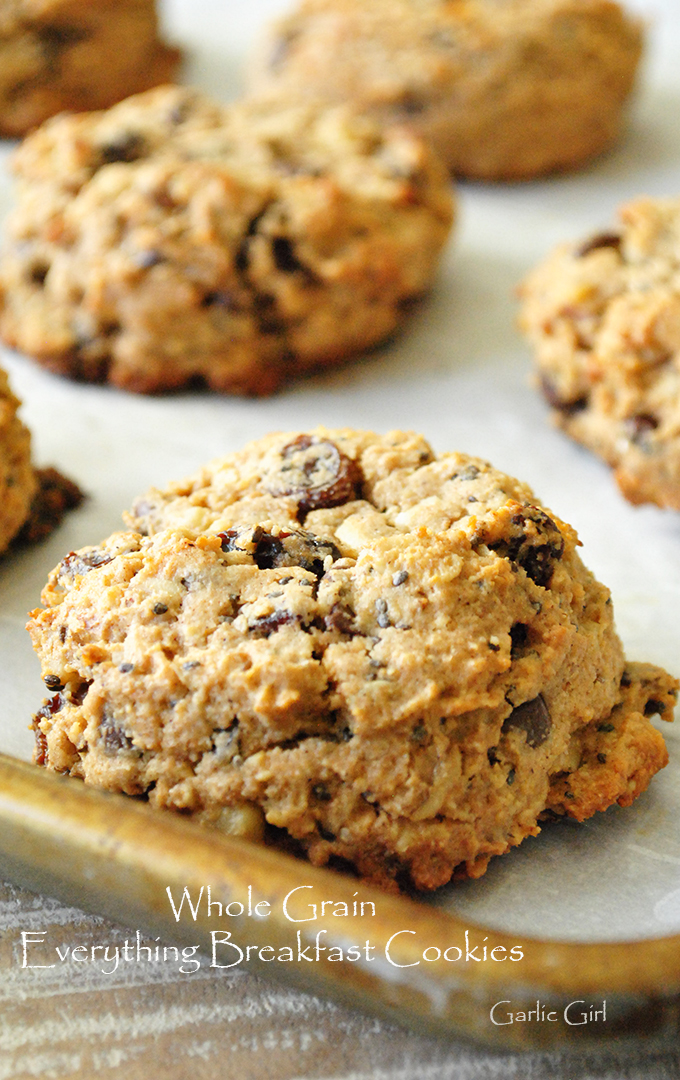 I can never stock up on enough breakfast cookie recipes, especially since they are my work-week breakfast 95 percent of the time. I always have a stash in the freezer at home and at work.
Sometimes they can even take the edge off a Monday morning. Seriously! I just grab one of out of the fridge, pop one in the office kitchen microwave, whip up my little latte, and I'm ready for the work day.
When I see the last couple lonely cookies in the freezer bag, it's time to start baking breakfast cookies again! Luckily, they only take about 35 minutes start to finish to replenish.
Take the edge off the week
They're perfect for  busy mornings, and for those who don't like making a big deal out of breakfast. Also, for those who love sweets with coffee but want to avoid white sugar and flour, this is the cookie for you.
That's me all the way! I love sitting down with a good cuppa and biting into something freshly baked that is actually pretty good for my body. And your kids and office mates will love these little treats during the week.
These little breakfast cookies can totally brighten up your work week – this is why I'm sharing the recipe with you. Have at it!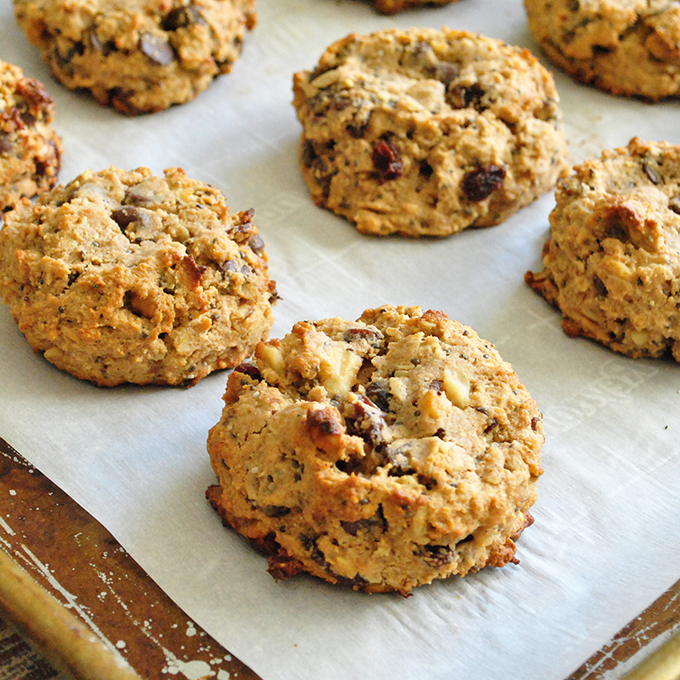 Whole Grain Everything Breakfast Cookies
Prep time:
Cook time:
Total time:
Ingredients
1½ cups whole wheat flour (preferably King Arthur's)
½ teaspoon baking soda
1 teaspoon baking powder
½ teaspoon salt
½ cup oats
¼ cup chia seeds
½ cup chopped walnuts
¼ cup shredded, toasted coconut
1 stick butter, room temperature
½ cup fresh peanut butter (or whatever you have on hand)
½ cup raw honey (regular is fine)
2 eggs, room temperature
1 teaspoon vanilla extract
½ cup dark chocolate chips
½ cup raisins
Instructions
Heat oven to 375 degrees F.
In a medium mixing bowl, whisk together flour, baking soda, baking powder, salt, oats, chia seeds, walnuts, coconut; set aside.
In a separate bowl, or bowl of stand mixer, beat butter and peanut butter until creamy; about 3 minutes. Add eggs, one at a time, beating in between. Scrape down bowl; add vanilla extract.
Slowly add flour mixture to butter mixture, and blend on low speed until just incorporated. Add raisins, chocolate chips and continue to blend for another 15 or seconds to combine.
With ice cream scooper, or large spoon, drop dough onto parchment paper lined baking sheet.
Bake for about 12-15 minutes until light golden brown.