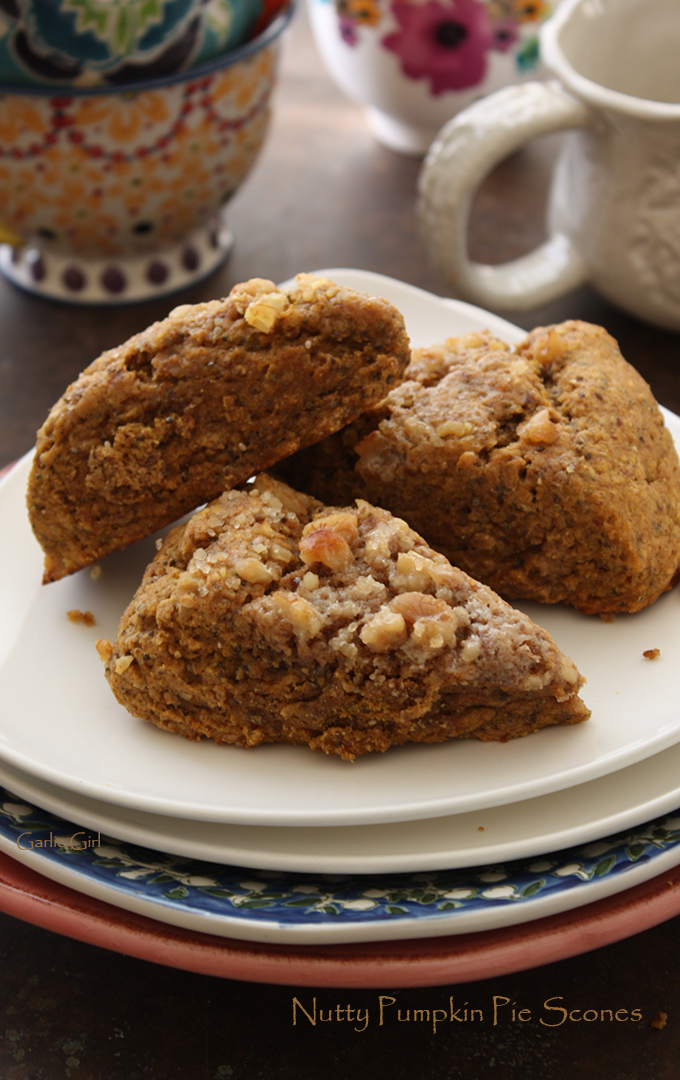 My friends and family swoon over these Nutty Pumpkin Pie Scones. I could pretend it's because I'm a great baker, but the truth is, anyone can make them. They're super easy!
Why wait for the baker in your life to make them for you? Hop in the kitchen, bake them up yourself and put a smile on someone's face.
If you're too busy right now, definitely put them on your list to make around the holidays. They are one of the moistest scone recipes I have created.
They seriously have that pumpkin pie taste, and they actually have some goodness baked into them with the whole grain flour, yummy seeds and nuts.
Try it and let me know what you think!
Cheers!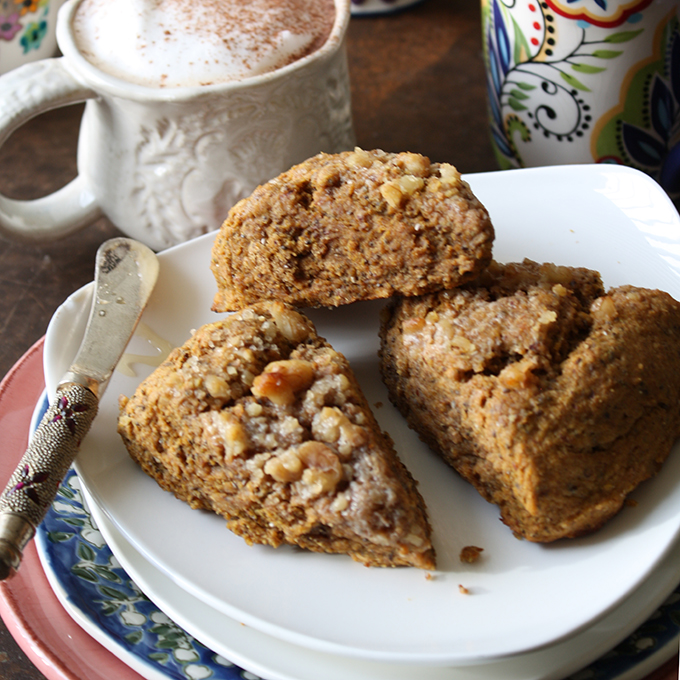 Prep time:
Cook time:
Total time:
Ingredients
2 cups whole wheat flour
½ cup brown sugar
2 tablespoons ground flax seeds
¼ cup chia seeds
1 heaping tablespoons cinnamon
½ teaspoon nutmeg, freshly ground
2 teaspoons baking powder
pinch of salt
1 stick butter, chilled and cut in ½ inch pieces
½ cup pumpkin puree
¾ cup buttermilk, shaken
1 teaspoon vanilla extract
½ cup walnuts, chopped
1 tablespoon Turbinado sugar
Instructions
Heat oven to 375 degrees F.
In bowl of stand mixer (or mixing bowl), whisk together all dry ingredients, with the exception of the walnuts and Turbinado sugar.
In separate, small mixing bowl, lightly whisk together pumpkin puree, buttermilk and vanilla extract.
Add chopped butter to the flour mixture and beat with paddle attachment until well-blended (there may be a few pea-sized bits of butter).
Add buttermilk mixture to flour mix and blend on slow speed until just moistened.
Turn mixture out onto floured surface. Shape dough into round disk (about a 6-inch diameter).
Transfer to a greased baking sheet, and press walnuts into top and sides. Brush with a little buttermilk and sprinkle with Turbinado sugar.
Cut like a pie into 8 pieces, and create about a ¼ inch space between slices.
Bake for about 20 minutes, until just starting to turn golden brown.