I definitely want to share a little about these chunky hazelnut cookies, but first I want to tell you about something I never thought I'd do.
I adopted a dog a few weeks ago and I'm still in shock. A little Chihuahua of all things. I thought I'd never own a dog as an adult, never mind a little dog – and a Chihuahua of all things. Not that I had didn't like Chihuahuas, I just thought they all had attitude problems. Boy was I wrong. The reason I have a dog today is because I never met a sweeter dog than this little girl. As I sat next to her cage, and then held her, I just didn't have the heart to put her back in the cage. After walking around the pet store for about an hour,  she decided that I was the one.
Her name is Gia. She loves the beach and every person she meets, accept this one guy we came across during this morning's walk (who happened to be carrying a chain, and looked like a serial killer).
Gia has actually come into my life at a pretty good time since I'm still feeling the effects of this whole empty nest thing, even though it's been a few years now. I've decided that having your last child move out is more difficult for us single mamas. I can't be certain because I never had the experience of being an empty nester with a husband, but I have to wonder if it's as shocking when at least you have another person there. So yeah,it's a good time to have a little, sweet dog who can't even come close to containing herself at the sight of you walking in the door.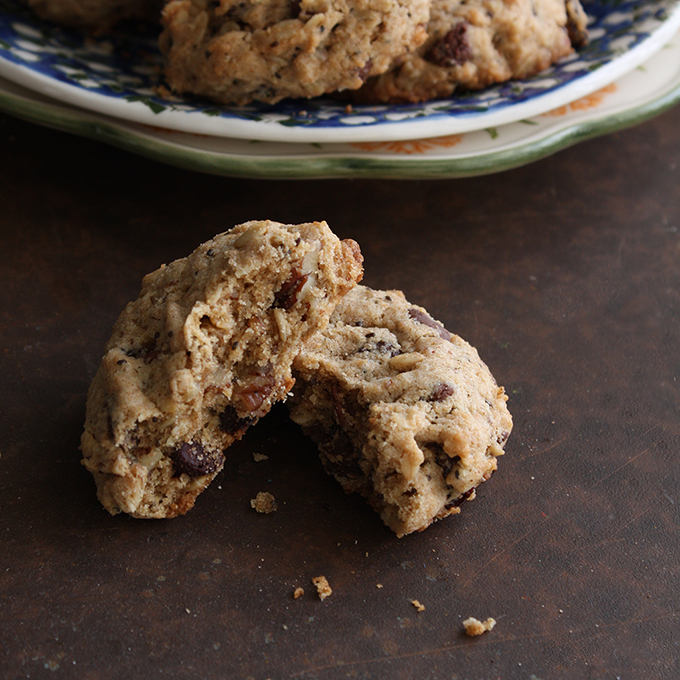 So these chunky hazelnut breakfast cookies come at a good time too, because I have less time in the morning since I have to walk this little thing before I go to work. Grabbing a breakfast cookie definitely saves time.
But they aren't just convenient, these nutty cookies are totally delicious and packed with both nutrition, sweetness and texture. I love all the ingredients packed into a few bites.
As of the last couple weeks, they are my go-to cookies for mornings when I just want something with coffee, or a late night snack. Because they are made with good quality whole grain flour, raisins, nuts and seeds, I feel like I'm getting the best of both worlds when it comes to sweetness and nutrition.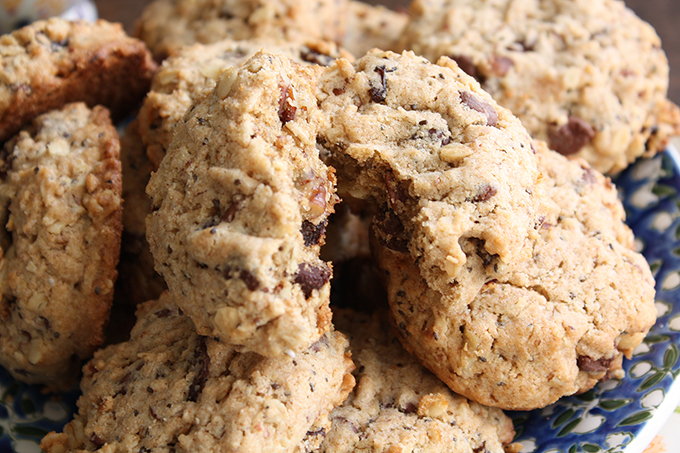 If you don't give a bunch away, just throw half  in a freezer bag so you can just grab and go.  You can even keep them at work (if there is a freezer) – such a convenient snack!
Enjoy!

Chunky Hazelnut Breakfast Cookies
Prep time:
Cook time:
Total time:
Ingredients
2 cups whole wheat flour (I used King Arthur's Pastry)
1 teaspoon baking powder
¾ teaspoon baking soda
¼ teaspoon kosher salt
2 sticks butter
2 eggs
1 teaspoon vanilla extract
¾ cup sugar
½ cup rolled oats
¼ cup chia seeds
½ cup raisins
½ cup chopped hazelnuts
¼ cup chopped almonds
1 cup semi-sweet chocolate chips
Instructions
Heat oven to 375 degrees F.
In mixing bowl, whisk together flour, oats, baking soda, baking powder and salt. In large mixing bowl, beat butter and sugar until creamy, about 3-4 minutes.
To butter mixture, beat in eggs (one at a time) until blended; scrape down bowl. Add vanilla extract.
On slow speed, add flour mixture and remaining ingredients and blend until well-combined.
With ice cream scoop or tablespoon, drop dough onto lined baking sheet (1-2 inches apart). Press tops down with palm of hand or spatula.
Bake for 15 minutes, or until bottom edges are light, golden brown.