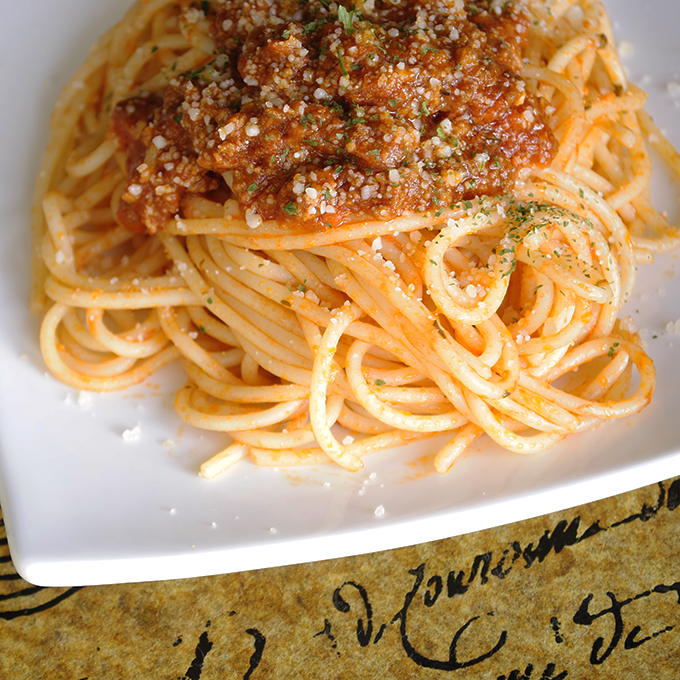 There are folks who add ground beef to tomato sauce and call it Bolognese. I don't mean to sound snobby, but I don't even call that a meat sauce. In my opinion, it takes more than adding  tomato sauce into a pan of ground beef to make a real Italian meat sauce.
I'm not an expert by any means, but I think there is a big difference between meat that's simply added to a tomato sauce, and sauce that is lovingly prepared by building layers of flavors. The most delicious tomato sauce is created by simmering together ingredients like pancetta, ground beef and or pork, and fresh ingredients like celery, carrots, onions and garlic.
Like with most classic sauces and dishes, there are countless varieties of Bolognese depending on where you're from or on how your family prepared (or prepares) this tasty, rich sauce. My mom didn't prepare Bolognese very often because my father preferred spaghetti sauce with no meat. But I'm a big fan of meat sauce, and over time I've learned to create a version that my family and friends love.  I hope you enjoy my version of Italian Bolognese.
If you prefer tomato sauce without meat, you may like my mom's easy spaghetti sauce recipe made with tomato paste. While there, you can find out a little more about my sassy little mama bear who died about five years ago.
Pasta Bolognese (Italian Meat Sauce)
Ingredients
2 pounds ground beef
1 pound ground pork
2 tablespoons pancetta, finely chopped
3 ribs celery, finely chopped
1 medium onion, finely chopped
5-10 garlic cloves (depending on taste)
¼ cup fresh flat leaf parsley, finely chopped
1 small can tomato paste
1 large can tomato puree
1 cup white wine
1 teaspoon dried oregano
2 teaspoons fresh or dried basil
2 teaspoons dried parsely
2 bay leaves
2 teaspoons kosher salt (divided)
1 teaspoon ground black pepper
3 tablespoons extra virgin olive oil
2 tablespoons half and half
about 2 cups water (or beef broth)
1 pound spaghetti
¼ cup Parmigiano Reggiano cheese
Instructions
Add pork, beef, 1 teaspoon kosher salt, ½ cup of wine to a large bowl and mix thoroughly with hands. Set aside.
In large pot, saute pancetta on medium low heat until it's a slightly crispy and has rendered fat. Add onions and celery to same pot with a little olive oil and saute until wilted and slightly browned.
Push mixture to the side of the pan, add crushed garlic to the center, and cook for about 45 seconds.
Turn heat up a bit and add fresh parsley and meat mixture. Cook for several minutes until fully cooked and beginning to carmelize.
Push mixture to side of pan and add the tomatoe paste to center of pan. Cook for a couple minutes.
Pour wine in pan and stir pan ingredients together, making sure to scrape bottom of pan.
Add all seasoning: parsley, oregano, basil, bay leaves, additional salt, pepper.
Add tomatoe puree, bring to a slight bubble and stir.
Add 1 tablespoon of half and half.
Turn heat down to low, cover loosely and continue to simmer for 3 hours, making sure to add water or beef broth, about ¼ cup at a time, as sauce thickens. Add the other tablespoon of half and half at the 2½ hour mark.
When ready to enjoy, cook spaghetti to al dente. Drain and toss with a little sauce in large bowl. Spoon additional sauce on individual servings.
Garnish with parmigiano reggiano cheese or pecorina romano.