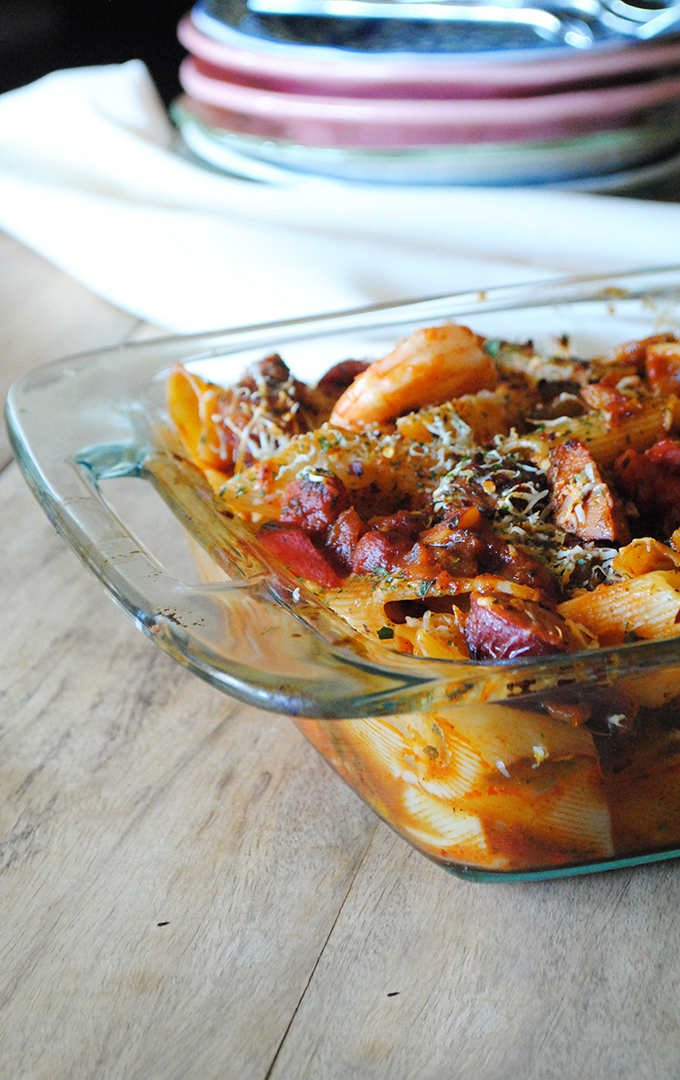 Update: This spicy sausage and shrimp pasta jambalaya recipe has been revised to make it even easier to follow.
– – –
My son Jaye mentioned that he had Pasta Jambalaya at a restaurant recently and that he really liked it. I immediately shifted into competitive mode, because I don't like when my kids like other people's food better than mine. I know, I know…I have Sicilian/Jewish mother issues.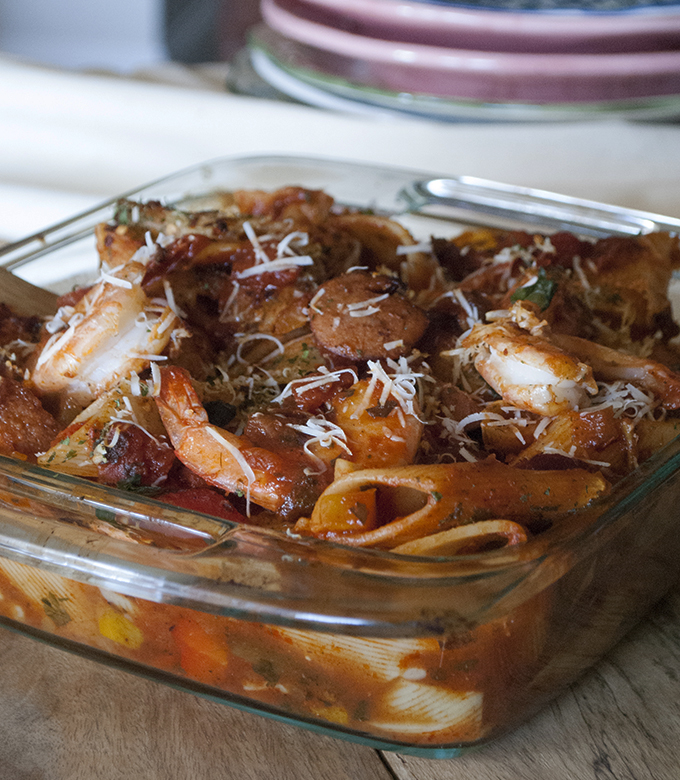 I make classic jambalaya (with rice) frequently, but have never made pasta jambalaya before. But I had a good idea of what I wanted to do with it. I purposely didn't go find a recipe because I wanted to make my own creation. Well, it was definitely a hit – so I want to share this with you. If you're having some people come to your house and you want to give them the gift of serving up some steamy, spicy, ethnic comfort food – this fits the bill!
Update: I have now made this dish several times and added a few revisions since it's  evolved over the past few years.

Spicy Sausage and Shrimp Pasta Jambalaya
Prep time:
Cook time:
Total time:
Ingredients
Ingredients:
1 1lb of raw shrimp
6 Louisiana style hot links, cut in 1-inchi pieces
2 chicken breasts, cut in small pieces
1 pound pasta (preferably penne)
1 28 ounce can diced tomatos
1 large white onion, chopped
2 medium bell peppers (red & green), chopped
6 fresh basil leaves, chopped
2-3 tbls minced garlic
3 tablespoons Tony Chacheres Creole Seasoning
1 cup red or white wine
1-2 cups chicken broth
¼ cup olive oil
¼ - ½ c freshly shredded Pecorino Romano or Parmigiano cheese
freshly ground black pepper for taste
Instructions
Add one tablespoon of olive oil to heavy-bottom pot.
On medium heat, sauté sprimp for a few minutes; remove shrimp from pot and set aside.
To that same pot, add the chicken, season with about a teaspoon of the creole seasoning and sear for a few minutes. Remove chicken and set aside.
Add a little more olive oil (if needed) to that same pan and then add the sausage. Lightly brown the sausage; remove from pan.
To the same pot, sauté onions and bell peppers, and 1 tablespoon of the creole spice.
Saute bell pepper mixture until tender (about 5 minutes). Make sure to scrape bottom of pan to loosen flavors.
Add the garlic and cook for another couple minutes.
Add the basil and chopped tomatoes a little at a time and simmer, allowing the flavors to integrate.
Add the wine and continue to simmer for several minutes.
Taste and adjust the seasoning if necessary. Let simmer for at least 30 minutes. Once the sauce is done, spread one cup of the sauce evenly across the bottom of a baking pan or casserole dish.
Cook the pasta according to package directions.
Toss the pasta in a large bowl with about 4 cups of the sauce and the shrimp, chicken and shrimp.
Add the pasta mixture to baking dish. By the tablespoon, add more sauce to the top if needed.
Sprinkle shredded Romano or Parmigiano cheese over the sauce.
Top with a little chopped parsley (fresh or dried).
Cover the pan and cook for about 40 minutes at 400. For the last 10 minutes, remove the cover to allow the top to brown and get a little crispy.
Serving suggestion: Serve piping hot!
Enjoy!