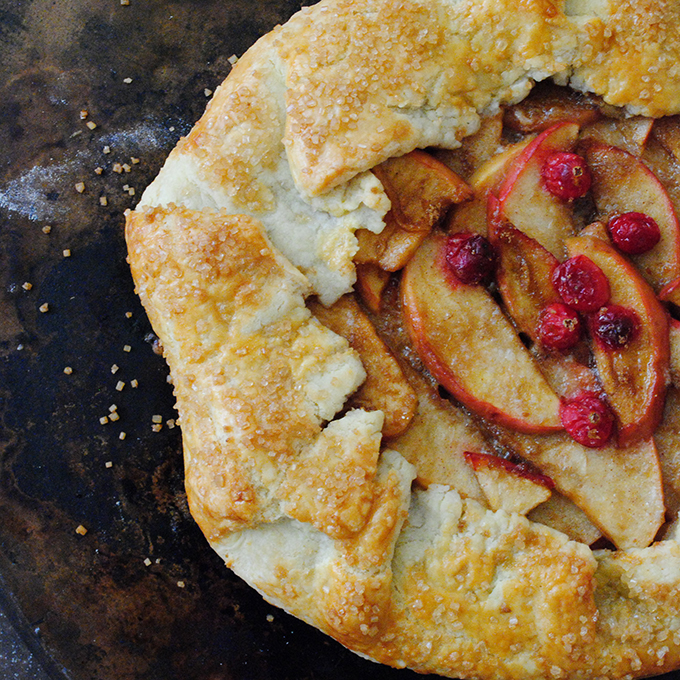 Seems like all I've been doing for the last couple weeks of this holiday season is cooking, baking and washing dishes. I would have loved to share with you even half the dishes I prepared, but I was caught up in all the little family moments. So this time around, all the recipes – except this apple cranberry galette – will have to wait.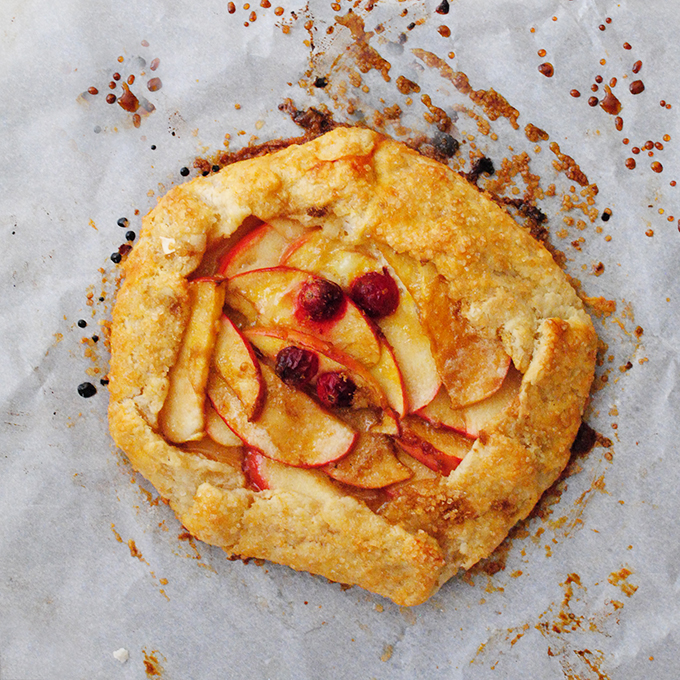 The funny thing is, I didn't even make this apple galette recently. I actually made it last year and have wanted to post it ever since. I'm not sure how some recipes get away, but they do. But the ones that are memorable and totally delicious will eventually find their way to Garlic Girl, and this galette made it – yaaaaay!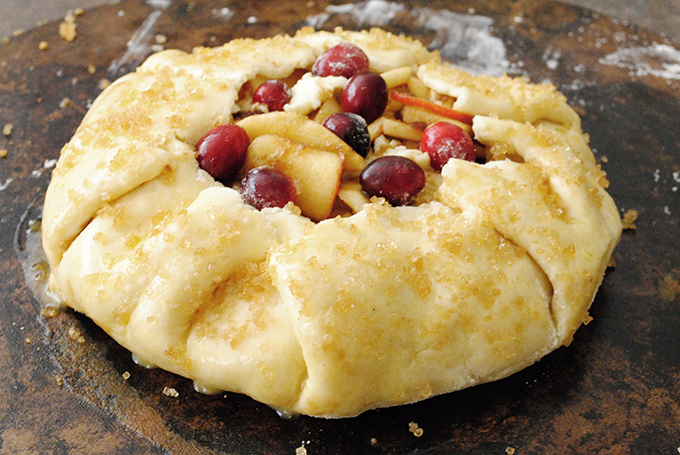 About this Apple Cranberry Galette
What makes this wonderful little pie so special is that it's perfect for those who are a little fearful of working with pie dough. And that's because you can be a little messy with the dough because this one happens to be pretty forgiving. I mean, check out these photos and see for yourself. The crust is not perfect, but it's perfectly wonderful! And the taste and texture is terrific.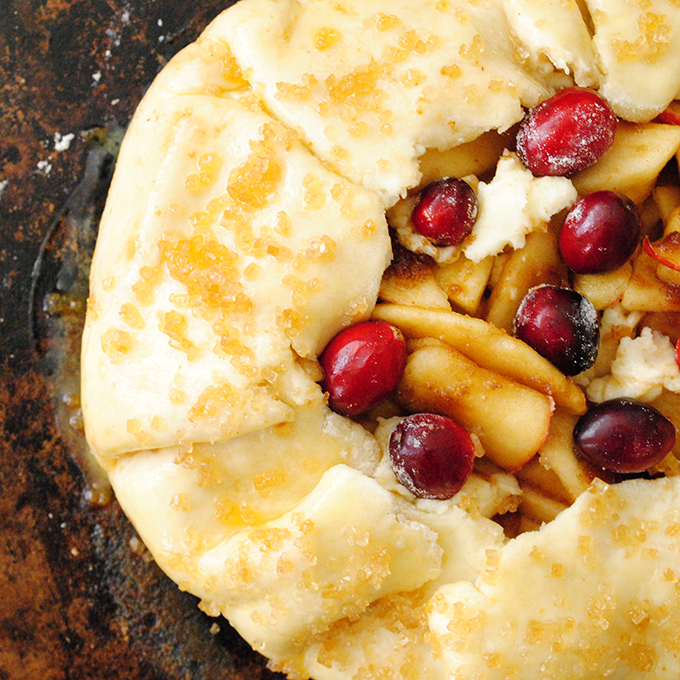 Apple Cranberry Galette
Prep time:
Cook time:
Total time:
Ingredients
4-5 apples, sliced
½ cup fresh cranberries
2 tablespoons sugar (adjust to taste)
2 teaspoons cinnamon
2 teaspoons fresh lemon juice
1 tablespoon butter
Turbinado sugar for dusting the crust before baking
1 beaten egg with 1 tablespoon water for egg wash before baking
For the crust:
2 cups all purpose flour, chilled
1 teaspoon kosher salt
3 tablespoons sugar
1 cup (2 sticks) unsalted butter – ¾ cup chilled, ¼ cup at room temperature (butter should be cubed)
3 tablespoons apple juice plus 2 tablespoons water, chilled (note: water will work too)
Instructions
in mixing bowl, gently toss together sliced apples, sugar, cinnamon, and the lemon juice; set aside.
For the dough
Add the flour, sugar and salt in the food processor and pulse a couple times.
Add the room temperature butter and pulse few seconds until incorporated.
Add the cold butter from the refrigerator to the flour mixture; pulse until you see pea-size chunks of butter.
Transfer mixture to a medium size bowl, sprinkle with a little apple juice mixture; mix with a spatula. Contine to do this until your mixture holds together when squeezed in your hand and then easily breaks apart. You may not need to use all the liquid.
Once you have the desired consistency, pour mixture onto parchment paper, form quickly into disk and use parchment paper to wrap in a little package. Refrigerate for at least 20 minutes.
Preheat oven to 400 degrees F.
Turn dough out onto lightly floured, clean surface. Tip: Have some dental floss handy to use it to slide between the surface and the dough if it gently sticks to the surface.
Roll out a round crust to ¼″ thickness. To keep it as even as possible, roll from center in an upward motion, turn the dough a couple inches and repeat until done. Use a pizza cutter to trim the ends. I actually like the edges a little less perfect, and more rustic looking, but everyone has their preferences.
Gently place crust on parchment paper and transfer to baking sheet. Don't remove parchment paper from bottom of pan. In center of pie crust, top with the apple mixture, so there are a few layers of apple slices. Top with small pieces of butter.
Fold edges toward center, dampening corners with a little water to make sure everything stays in place.
Arrange a handful of cranberries at the top.
Brush top of crust with egg wash and press Turbinado sugar into crust. (This makes the crust look really pretty).
Bake for about 30 or more minutes until the center is beginning bubble and the crust is nicely golden brown. Keep a close eye on it since oven temperatures vary. Let cool completely before serving.