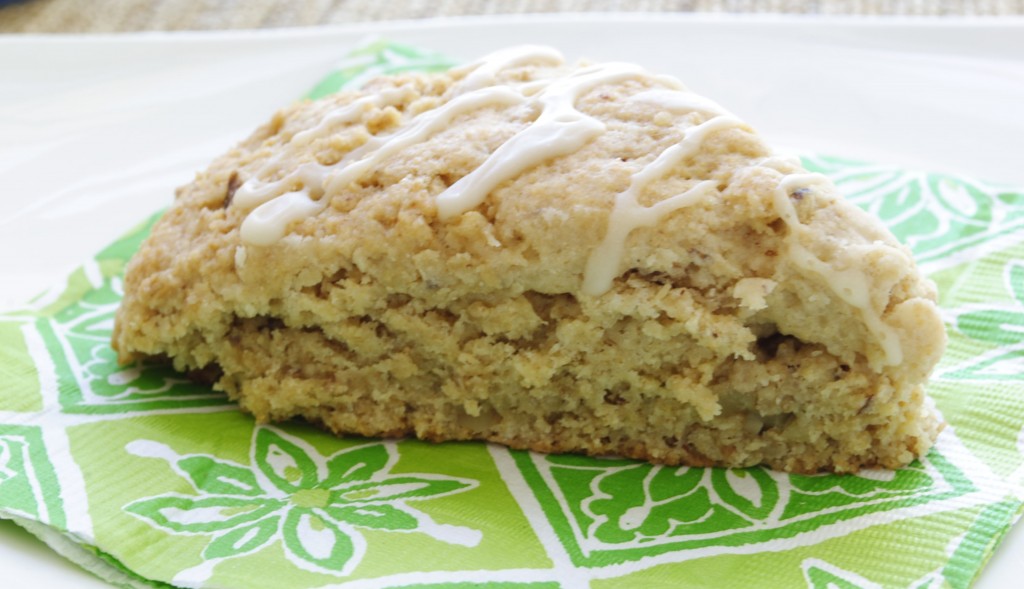 For years I've been ordering the maple oat scones from Peet's Coffee - and sometimes Starbucks - to go with my lattes and cappucinos. I've always enjoyed them, but on occasion I get annoyed  with paying $7 – $8 for coffee and a scone, especially when I know how easy (and delicious) it is to bake scones at home. Of course it's nice to treat yourself to espresso drinks and pastries from your favorite coffee shop , but  it really does add up when it becomes habitual, and something you do several times a week. Come on, $35  or more per week for a few cups of coffee and a couple bites of a scone? Um, that's about $140 a month!
This morning I made 16 maple scones, just the way I like them: with whole wheat flour, slightly sweet, and with only a drizzle of maple glaze (as opposed to a thick, overly sweet layer). If I were greedy and as frugal as I probably should be, I would have taken one and put the rest in the freezer to save myself…let's see…16 scones x $3 = $48 in the coming weeks. But instead, I gave 5 to the guys at B-Line Body Shop in San Jose who made my car look like new after my recent accident. I also handed them out at work, which left me a few for my mom and her friends.
So I guess in theory it could save me (or you) money, but if you're like me, you  at least enjoy one or two  – and then spread the love with the people around you. For me, baking wouldn't be half the fun if I just ate everything myself!
My whole point to making these scones and writing about it, was to say that these scones are almost just like the yummy scones you can buy at Peet's. So if you know the ones I'm talking about (and like them), now you have a way to create that experience at home. I haven't compared the nutrient content, but I bet this homemade version is healthier, lower in calories, and of course a lot fresher.

Peet's Coffee Maple Scones (Copycat Recipe)
Prep time:
Cook time:
Total time:
Makes 8 scones, but the recipe can be easily doubled to make 16.
Ingredients
1 cup white whole wheat (white whole wheat tastes way better than regular whole wheat - and it's just as healthy)
1 cup all purpose flour
½ cup brown sugar (packed)
¼ almond flour (or ground almonds)
2 teaspoons baking powder
½ teaspoon cream of tartar
½ teaspoon salt
2 sticks (1 cup) butter, chilled and cut in cubes
1 egg, slightly beaten
1 cup walnuts, finely chopped
1 cup half n half
1 tablespoon maple syrup
For Drizzle
2 cups powdered sugar
½ tablespoon maple syrup
a little milk
Instructions
Heat oven to 375 degrees F.
In mixing bowl, briefly whisk together both flours, baking powder, cream of tartar, sugar and salt.
Pour dry mixture into food process and add butter. Pulse several times until butter is incorporated. Small pea-sized pieces of butter should be visible.
Pour mixture back into mixing bowl, add egg, half n half (start with ½ cup as amounts vary depending on what type of flour used). Mix until just blended. Add walnuts and mix until blended. If dough is too crumbly, add additional half n half, and if too wet add a bit more flour.
Do not over work the dough.
Knead a few times in bowl and turn out onto baking sheet lined with parchment paper. Shape into about an 8 inch disk or a log about 8x3 inches.
For disk, cut like pie into 8 pieces with large knife dipped in flour to avoid stickiness.
For log, cut in diagonal pieces, alternating direction.
You do not need to separate the pieces. This will help the scones keep shape and moisture.
Bake for about 25 minutes, or until light golden brown.
Remove from oven and separate.
While cooling, make drizzle by beating powdered sugar with the milk and maple syrup. Add more or less of all ingredients, depending on your preferencees.
Pour into plastic baggie, clip off tiny hole at corner and drizzle lightly on top of scones. You can also use a pastry bag.