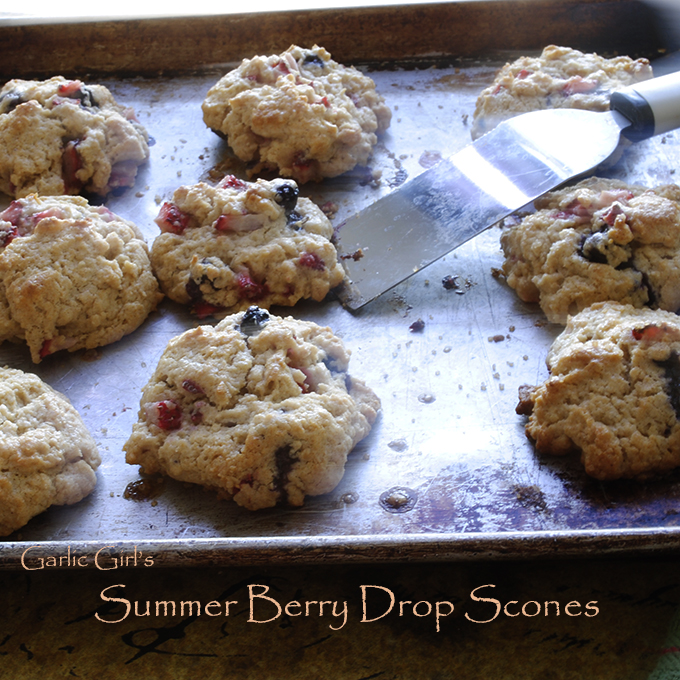 I love this time of year when you can walk in any store and get bombarded with colorful, ripe, sweet berries everywhere you look. I love to grab a few pounds and just add them to muffins, scones or parfaits, or just eat them by the handful just as they are!
Blueberries are delicious, but I love them just a little more when they are baked because the heat just seems to bring out the best in them. They plump up a little more, and get a little darker and sweeter.
On weekend mornings I love to hop out of bed to bake. It's a great way to take advantage of the extra energy I feel in the morning and love the scents of vanilla and butter wafting through my home.
These scones are so easy, and can really be whipped up in minutes – especially by just dropping the dough onto the pan, as opposed to forming and cutting the dough. Trust me, the shape doesn't take away from the flavor of the scones one bit!
As if I haven't raved enough about these scones, I wanted to add that while they may be a little on the rich side – they are packed with nutrients from the whole grain flour – and the berries. Oh, did I mention they are absolutely delicious mildly sweet, filled with luscious summer berries, and definitely melt in your mouth.
So what are you waiting for? Get those berries from the fridge and make yourselves some summer berry scones!
Enjoy!

Summer Berry Drop Scones
Prep time:
Cook time:
Total time:
Ingredients
2 cups white whole wheat flour (or all purpose flour)
1 tablespoon baking powder
½ cup sugar
pinch of salt
1 stick butter, chilled and cut in small pieces
½ cup heavy cream or half and half (or more for whole wheat flour)
1 egg
1 teaspoon vanilla extract
1 cup fresh strawberries, diced
½ cup fresh blueberries
Instructions
Heat oven to 375 degrees F.
In mixing bowl, whisk together flour, sugar, baking powder and salt.
Add flour mixture to food processor with butter and pulse about 20 times until butter is incorporated. Alternatively, grate or cut butter into flour mixture until well incorporated.
In small mixing bowl, gently whisk together the cream and egg. Pour half of the mixture into the flour mixture and gently stir. Add the vanilla extract and remaining cream; continue to stir until just blended.
Add berries to the dough mixture and gently stir until the berries are evenly distributed. Doug should be shaggy, but still resemble dough. If too shaggy, add a little more flour up to 2 tablespoons.
With spoon, drop onto baking sheet, spaced about two inches apart.
Bake for 20 - 25 minutes, until tops are light, golden brown.