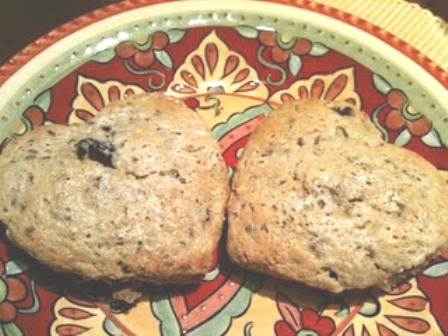 I think my search for the healthiest, homemade, not-sweet, breakfast scone has finally come to an end (I know, I'm weird). This morning I stopped at Peet's Coffee on my way to work, and for the second time I bought a Fruit and Nut Scone with my latte. I really like that Peet's scone, but it's not homemade and it's a little cardboardy. But I do like that it's oaty, nutty and fruity. So that's what got me motivated to try yet another whole grain, nutty scone recipe that could be my favorite morning scone. The not very sweet, tasty, healthy, enjoyable breakfasty, good with coffee SCONE. I made this one up, and I'm sort of proud of it, especially because it's shaped like a heart, and it has lots of flax seeds and cardamom as an ingredient.
If  you're bored of whole wheat toast, or Oatmeal and you like little treats in the morning with your coffee, you just might love this too!
Whole Grain, Nutty and Fruity Scones with Cardamom
Ingredients
11/2 c white whole wheat flour (yes, white whole wheat, it's wonderful and healthy)
1/2 c rolled oats
1/4 c finely chopped nuts (I used walnuts and almonds)
1/4 flax seeds
1/4 brown sugar
1/4 c chopped, dried cherries
1/4 c chopped, dried ginger, pineapple, papaya (or your favorites)
1 stick butter
1 c buttermilk (shaken well)
1 tsp vanilla
pinch of ginger
4-5 green cardamom pods (crack, discard shell and crush the tiny seeds with mortar and pestle)
pinch of salt
1 tbls baking powder
3/4 tsp baking soda
a little sugar for dusting
Preparation
Add all dried ingredients, including flax seeds (except nuts and fruit) into a food processor and pulse about 15 times. Cut butter into little pieces and add to the flour mixture in the processor. Pulse about 20 times until the mixture looks a little like cornmeal and then transer to a large bowl.
Work the mixture with your fingers with a sort of rubbing motion to make sure that all of the butter is mixed into the flour. Add the fruit and nuts.
Mix the vanilla extract with the buttermilk and add to the bowl with the flour mixture. Stir until incorporated and then turn out onto clean, floured surface.
Knead about 5 times until a nice doughy consistency, adding a little extra flour if necessary. It shouldn't be wet or too dry. Flatten out so that it's about an inch thick.
With a floured,heart-shaped cooking cutter, cut several scones out. Press the scraps together and make a couple more. If you want traditional, triangular scones, create a round flat surface and cut into pie-like pieces. Place on lightly buttered or parchment paper lined baking sheet. Brush the top of each scone with buttermilk and lightly sprinkle with sugar. Bake at 425 for about 15 minutes until a little golden brown. Remove and place scones on cooling rack.
Serving Suggestion
Serve warm with a little butter and lots of good coffee while you're lingering over a lazy Sunday morning talk with a good friend (or sweetie pie)! They're great cooled and eaten in the car while you're rushing to work!! I'm sure that's how I'll enjoy mine tomorrow!