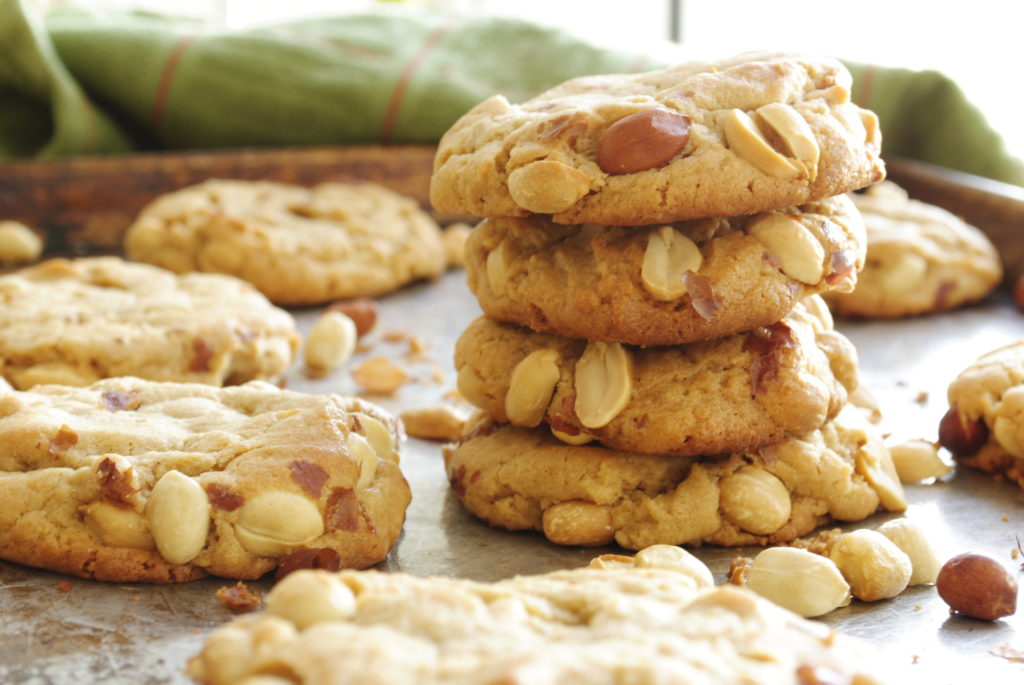 I'm afraid to write too much about these peanut butter cookies because I don't want the biggest point to get lost – which is that these cookies are ah-mazing. If you are a fan of peanut butter cookies, I would seriously recommend you stop what you're doing right now and make these cookies!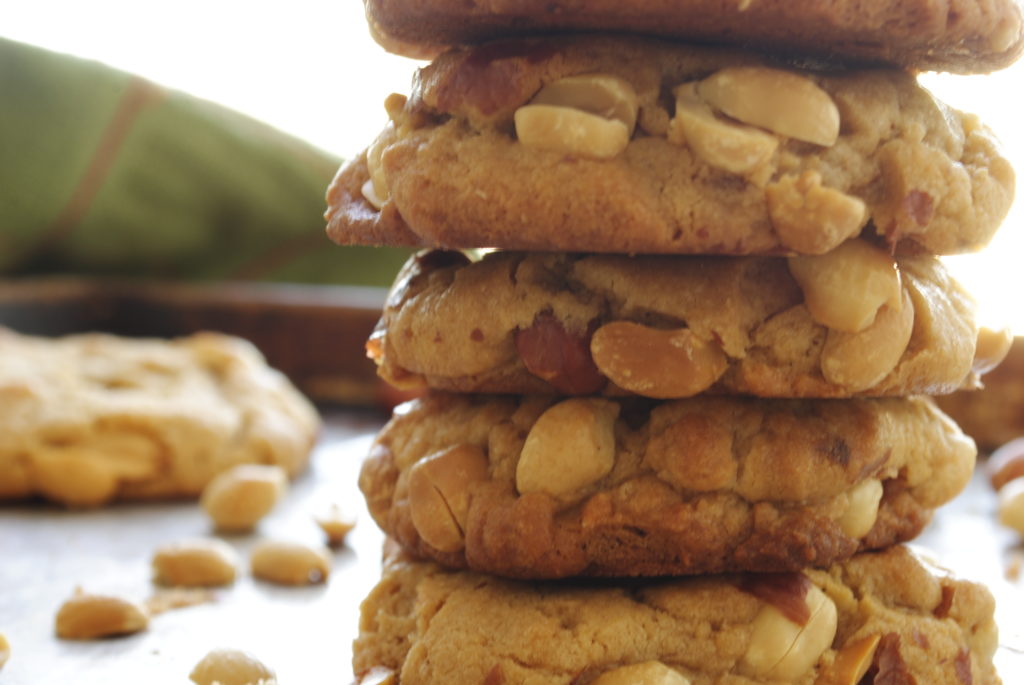 Here is how I can describe them: peanuty with a combination of crunchy and melt in your mouth textures; sweet and subtly savory, and just simply addicitive.
The best part is that the cookie part is really good, so if you don't love the chunky roasted peanuts, you will still have the best peanut butter cookie (ever!) even if you leave them out.
This is my recipe that has evolved over time. I just tweaked it yesterday after getting inspired (once again) after eating the peanut butter cookies from my favorite little funky place, Charlie Hong Kong in Santa Cruz (but made at the wonderful Buttery Bakery).
Enjoy!
Roasted Peanut Peanut Butter Cookies
Prep time:
Cook time:
Total time:
Makes about 18 cookies, depending on size of cookies.
Ingredients
1¼ cups all purpose flour
1 cup white whole wheat flour (you can replace with all purpose, I just prefer including whole wheat)
¾ cup brown sugar, packed
¾ cup granulated sugar
2 sticks butter
2 eggs
1 cup peanut butter
¾ teaspoon baking soda
¾ teaspoon cream of tartar
½ teaspoon salt
1 teaspoon vanilla extract
1 cup raw peanuts, skins removed if preferred (I like leaving some skins on the peanuts)
Instructions
Heat oven to 375 degrees F.
Roast peanuts on baking sheet for about 15 minutes until light golden brown. Place in shallow bowl, and set aside.
With electric mixture, cream butter with both sugars for about 3 minutes, until very creamy. Add peanut butter and beat for another minute.
Beat in eggs, one at a time, and then vanilla extract.
Sift all dry ingredients together in a bowl (except nuts). Slowly add to peanut butter mixture, bea on low until just blended.
Roll about a ping-pong size ball and flatten slightly. Roll sides in peanuts, making sure to push them in a bit so they don't fall out. It's ok if it's a little messy.
Place flat side down and 2 inches apart on baking sheet (you don't need to line with parchment paper, but it won't hurt).
Optional: Gently flatten top of cookie with spatula or fork.
Bake for 12 minutes or until light golden brown.
Here's how they look before baking. No need to be so precise, just roll those peanuts and shove them in the sides if they roll back off!