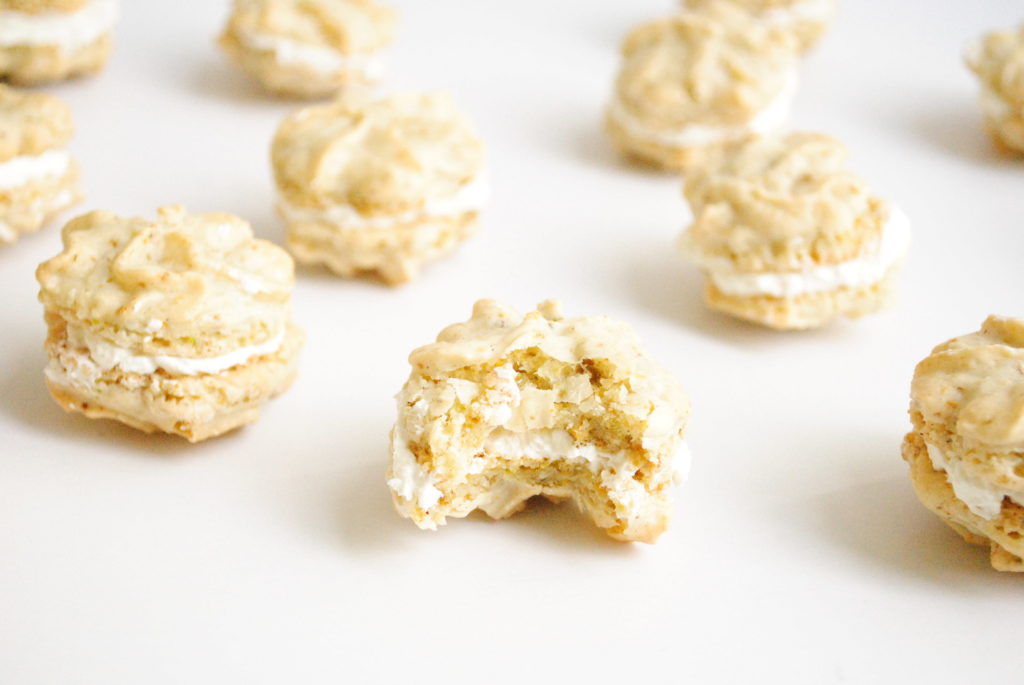 I'm so in love with French macarons that I wish I could quit doing every other thing in my life so I could stay home every day and just bake these things in every imaginable size, color and flavor. Well, sort of.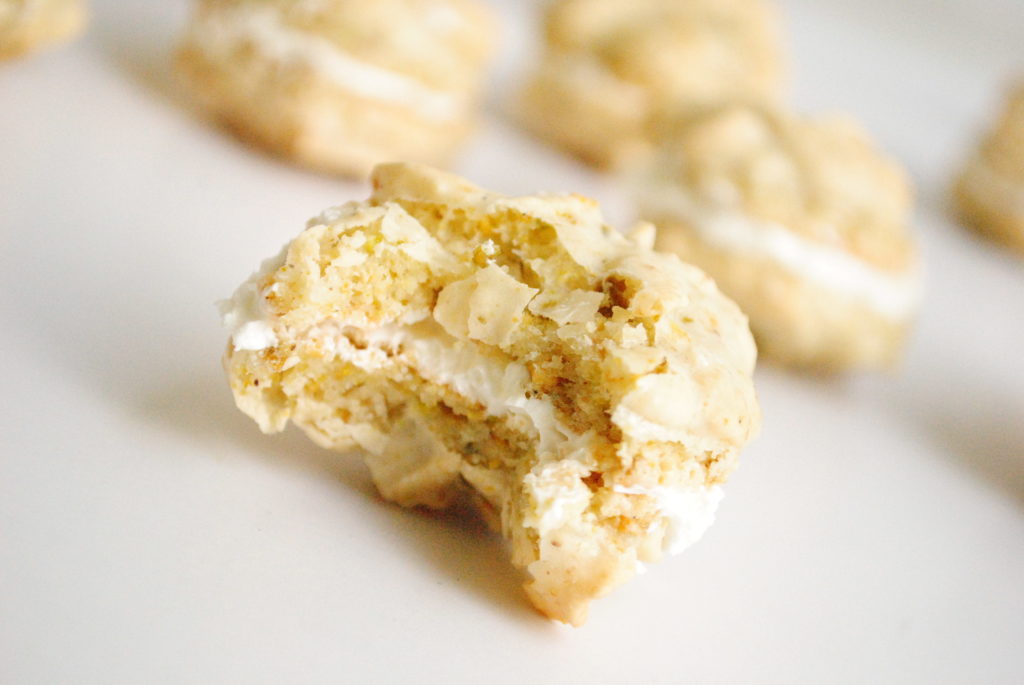 I've been obsessed with these beautiful little pastries for the last couple years and have wanted to make them for quite some time but always thought they were beyond my capabilities. Well, that changed after seeing a French macaron demo by the lovely pastry chef, Clemence Gosset, at The Gourmandise School of Sweets in Santa Monica during the International Food Blogger Conference I recently attended. I was amazed at how easy she made it look! 
Guess what? It actually is kind of easy to make them! If you get anything out of this post, it's this: Don't be afraid to make macarons – they're not hard and they are such a delightful treat! Everyone I shared these with said they were delicious and wanted more. I can't wait to make more!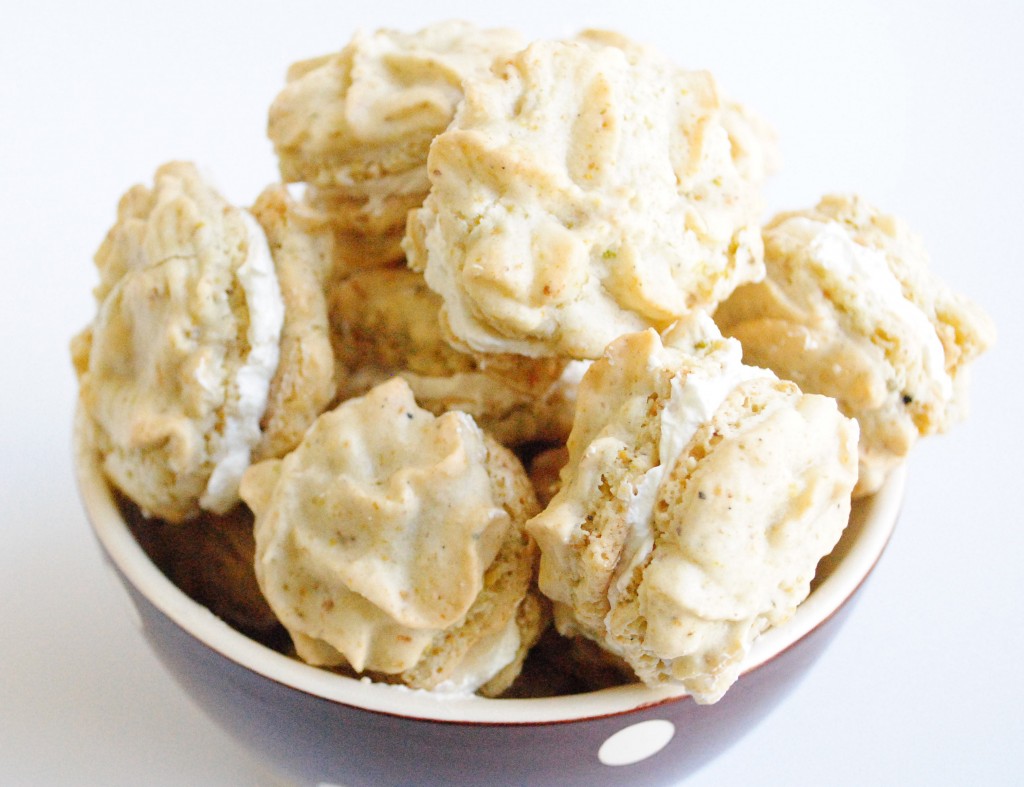 I've shared the recipe below the way it was given to us. Just a couple personal notes since you didn't get to see the demo:
The recipe calls for 2 cups of almond flour (also called meal) but you can replace up to one cup with pistachio meal (ground pistachios). I used about one half cup which created a nice subtle pistachio flavor and color.
I recommend watching a brief video just to get the idea of how the batter should look before you fold in the dry ingredients when you're making the shells.

Here's one that might be helpful.

Take your time with folding the batter – it could take about 40 or 50 strokes before it's about right (but don't over do it).
Make sure you let the shells rest at least 30 minutes until they are not tacky to the touch. This prevents them from cracking.
It's really helpful to use a stand mixer because it takes several minutes to get firm peaks when you whip the egg whites for both the batter and the buttercream filling.
Make sure you have the simple, round tips for piping. I used Wilton 1M. Although you can use the star tips like I did, they look even more beautiful with a smooth surface.
Take a few minutes to do a bit of research to find other tips, like "aging" the egg whites and how to peel the shells off the parchment paper, or vice versa. I didn't age my egg whites, but I'll probably try that next to compare the difference.
I hope this helps – and let me know if you try them!
Updated Note: I tried them again using a little food coloring, a plain piping tip and they looked lovely – check them out!
Total time:
1 hour 15 mins
Ingredients
140 grams egg whites (about 4)
80 grams vanilla sugar (1/3 cup)
240 grams powdered sugar (2 cups)
3 grams egg white or meringue powder (1/2 teaspoon) – I replaced this with cream of tarter and it was fine.
1 1/2 cups almond flour
1/2 cup pistachio meal (ground pistachios)
2 grams salt (a pinch)
For the Egg White Meringue Buttercream filling
5 egg whites
pinch of salt
1 pound butter, cut into pieces
1 cup sugar
1 teaspoon vanilla (or 1/2 vanilla bean)
Instructions
For the macaron shells, place the almond flour, salt and powdered sugar in the food processor. Pulse a couple times.
In the bowl of a stand mixer, beat the egg whites and powder until soft peak stage. Slowly add the vanilla sugar and continue beating until just before stiff peak stage.
Fold the dry ingredients into the egg whites in three stages, continuing to fold until a ribbon forms (about 40-50 strokes).
Pipe onto parchment paper and let set for a half hour or until they are not tacky to the touch.
Preheat oven to 350 degrees F. Place cookies in oven and lower the temperature to 300. Bake for 15 minutes.
Optional: Sprinkle with finely chopped candied violets and allow to set. Remove cookies after 10 minutes of cooling.
Variations: Up to 50 percent of the almond flour can be replaced with pistachios, hazelnuts or pecans by weight. Grind them in food processor with the powdered sugar.
For the Egg White Meringue Buttercream, place a medium saucepot filled a third of the way with water and bring to a simmer.
Place sugar, salt and egg whites in bowl of stand mixer. Holding the bowl over the saucepot, whisk the mixture until it feels hot to the touch.
Place bowl on stand mixer and beat with the whisk attachment until stiff peaks form.
Once the bowl is cool to the touch, add butter, small pieces at a time.
Add vanilla. Switch to paddle attachement to smooth out buttercream.
Variation: Make fruit buttercream by adding in a half cup of freeze dried fruit or 1/4 to 1/2 cup frozen fruit puree.