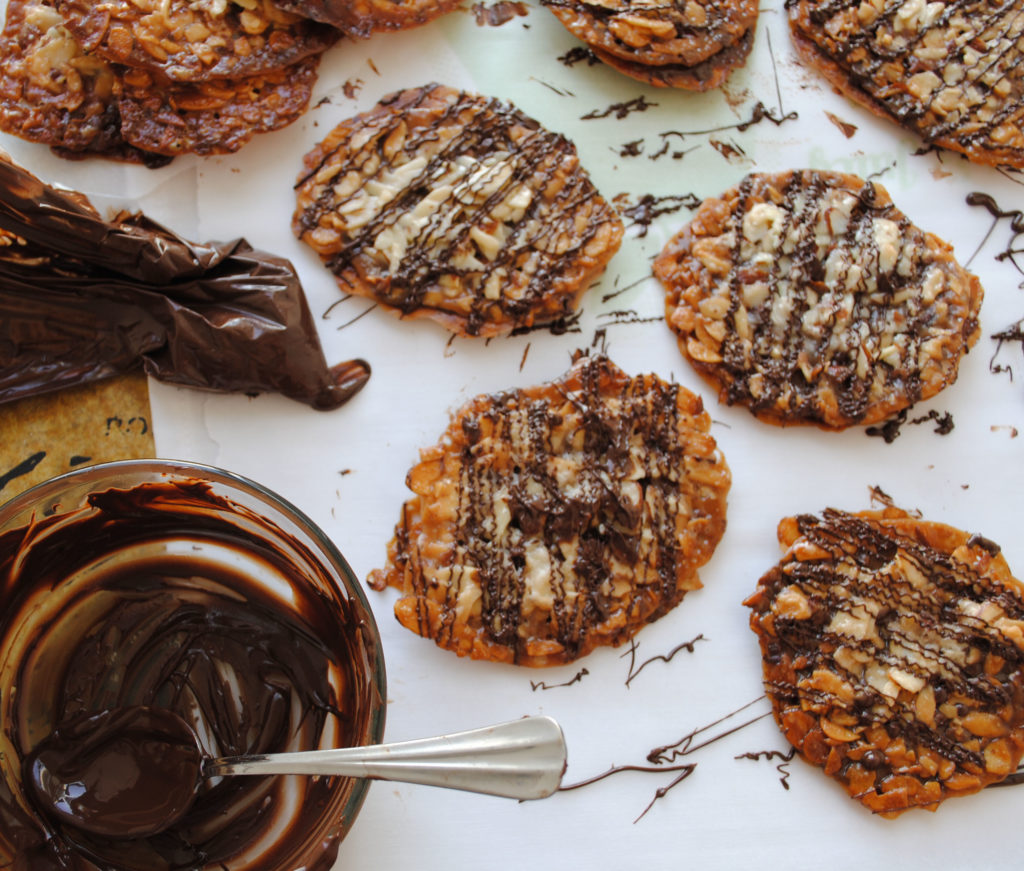 Please don't look at these cookies and think they are too complicated for you to make. They aren't! If you haven't tryed Florentine cookies, they are sort of a mixture between a candy and a cookie with their chocolaty, toffee-ish, nutty taste and texture.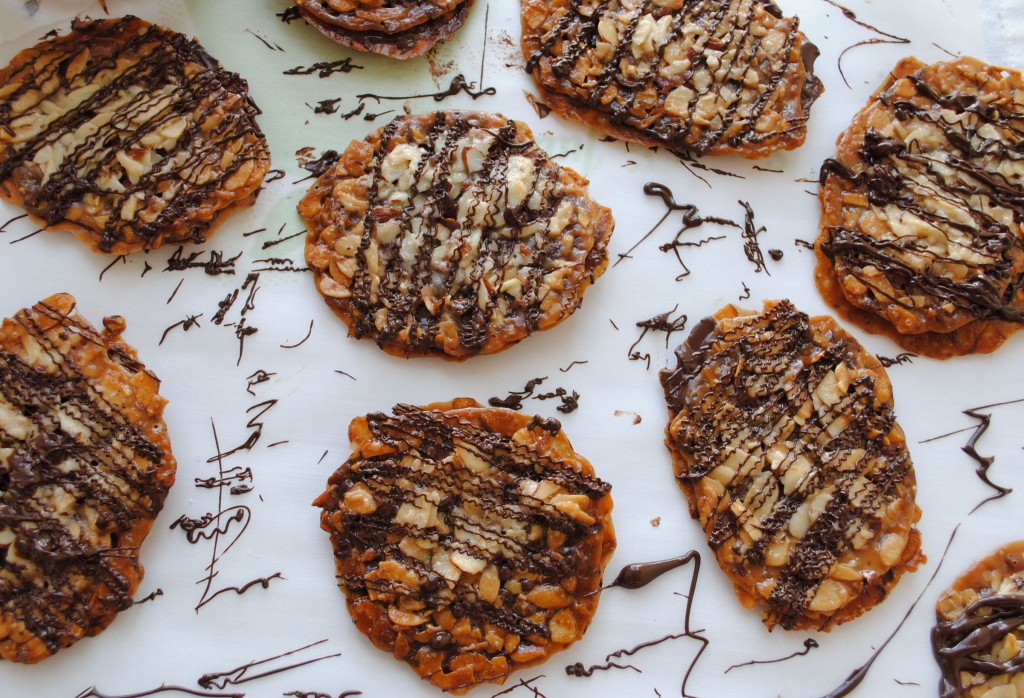 Some people think of these little delectable treats as a Christmas cookie, but I don't really believe in holiday cookies. If you love a cookie, I say eat it year-round! As far as these Florentines, I actually was reminded how much I love them after enjoying them this summer at Peet's Coffee, and  after buying a package of them at Trader Joe's for myself…I mean…my mom and her friends  at the senior community. ; )
The ladies went crazy over these cookies, so of course I had to get in my kitchen and whip up a batch for them the following week. They liked the homemade version even better. Of course they did. Isn't everything always better with the addition of love?
Happy cooking making!
By the way, I slightly adapted this recipe that I believe is a Food Network recipe.
Florentine Cookies (Laceys)
Prep time:
Cook time:
Total time:
Ingredients
13/4 cups slivered almonds, lightly toasted
3 tablespoons all purpose flour
¼ cup teaspoon salt
¾ cup sugar
2 tablespoons heavy cream
2 tablespoons light corn syrup
5 tablespoons butter
½ teaspoon vanilla extract
2-4 ounces semi-sweet chocolate (I used chocolate chips)
Instructions
Heat oven to 350 degrees F.
Line baking sheet with parchment paper or silicone baking mat.
If almonds need a little toasting, just roast in a dry pan for a few minutes until lightly toasted on edges.
In mixing bowl, stir together nuts, flour and salt (and orange zest if you prefer).
In a small fry pan, on medium heat, whisk together sugar, cream, corn syrup and butter until mixture simmers and sugar is completely dissolved. Continue to simmer for another minute.
Remove from heat, stir in the vanilla, and pour into almond mixture. Stir to combine; set aside to cool for about 10 minutes. Don't let cool too long; it will become to hard to work with.
Carefully form rounded teaspoons of mixture into ball and place on baking sheet, leaving a few inches between cookies.
Bake for about 18-20 minutes until cookies are thin and have a carmel color (be sure to check to ensure they don't burn). Cool on baking sheet for 5 minutes, then transfer to racks to cool. Repeat with remaining batter.
For drizzle, melt chocolate in heat-proof bowl over boiling water, or in microwave.
Spread thin layer on flat side of half the cookies and make "sandwich" with the other half.
Spoon remaining chocolate into small plastic sandwich bag and cut tiny hole at corner. Drizzle over tops and let cool.
To store, place parchment paper between cookies to prevent from sticking together.
Makes about a dozen "sandwich" cookies.
Enjoy!