If you know a little bit about me, you might be familiar with our little family tradition of holiday recipe competitions. Well, this year for Christmas, it was no different. My brothers and I, along with the rest of our family,  gathered together to celebrate the holiday, many of us wielding our secret recipe weapons: me with my Carrot Cake, Ross with his Coconut Cake, Darien with his Lemon Bars, Asunta's Almond Cookies, and last but not least, Barbara with her Casada Cake.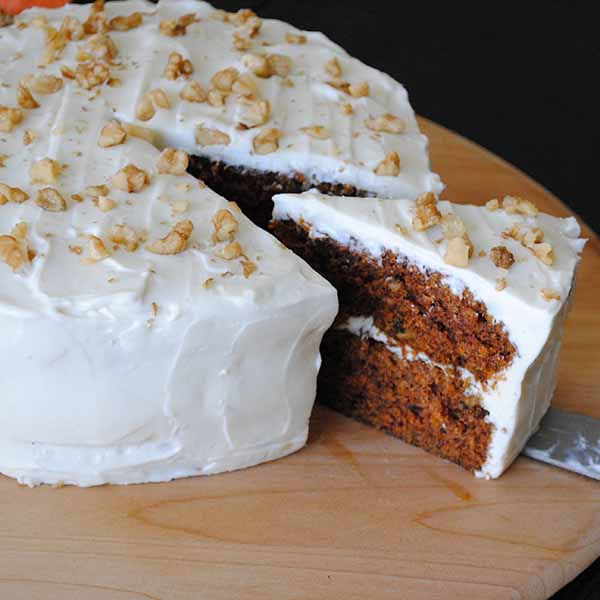 The competition was definitely tough this year, and having never won before, I was still hoping to take the win! I researched for quite some time in search of the perfect recipe that would finally bring my sister-in-law Asunta down (she's won twice already) and beat Darien who won last year. So I decided I would create something simple but delicious, and found this great recipe at Smitten Kitchen for Carrot Cake. I knew I couldn't go wrong with this one, despite the fact that some people don't love Carrot Cake.
Drum roll please…Well, all the hard work finally paid off with a tie for the championship with Ross and his Coconut Cake! Woohoooo! And all the thanks goes to the wonderful recipe that I'm sure you will love (and a last minute vote change by my devoted, Carrot Cake loving son, Jaye! If you're looking for the perfect Carrot Cake recipe, look no further – this one is a sure winner, trust me!
Note: I doubled this recipe so that it could be a slightly deeper cake and also make some muffins in a addition to the cake and added more spices, including fresh ginger with the carrots. Also note that I tweak the wording of the preparation.

The Best Carrot Cake
Prep time:
Cook time:
Total time:
Ingredients
2 cups all purpose flour
2 teaspoons baking soda
1 teaspoon salt
2 teaspoons ground cinnamon
½ teaspoon ground nutmeg
1 teaspoon ground ginger (or grated fresh ginger)
2 cups sugar
1¼ cups canola oil
4 large eggs
3 cups grated peeled carrots (note: use a hand grater to get a finer grate)
1 cup coarsely chopped walnuts (optional)
½ cup raisins (optional)
Note: I added a teaspoon of vanilla extract
Frosting:
Note: the original recipe calls for maple syrup, but I did not use it. I replaced it with milk. It's up to you. If you want to add it, just add ¼ cup. Also, I prefer Philadelphia brand cream cheese. It's creamier and tastier.
Two (8-ounce) packages cream cheese, softened
2 cups confectioners' sugar
about ¼ cup heavy cream
Note: If you want to add a crumb layer of frosting, you will want to have additional ingredients to make a pre-frosting with about half the frosting ingredients above. This is not necessary, but some people like to do this to make sure you don't have crumbs in the final layer. See notes about that below.
Instructions
Preheat oven to 350 F
Prepare two 9 inch pans by greasing with butter and flouring. Then, line the bottoms with parchment paper and butter and flour the tops of those too.
Sift together all dry ingredients *except* the nuts and raisins.
In separate bowl, beat the oil and sugar until creamy, about 4 minutes.
Add ¼ of the flour mixture and then add eggs, one at a time, beating the mixture after each addition.
On low speed add remaining flour mixture and vanilla extract and beat until combined.
Add the carrots, nuts and raisins and stir until blended.
Pour into pans and bake for about 40 minutes. Begin checking at 30 minutes and remove from oven when a tester (e.g. toothpick) comes out clean. Let cool for about 15 minutesm remove from pans, and let cool completely before frosting.
Frosting:
Beat cream cheese until smooth. Add the powdered sugar and continue beating. Add the heavy cream a little at a time until the consistency is creamy and spreadable. Make sure it's thick enough to hold up when frosting and not slide down the sides.
Preparing the cake:
Once cooled completely. Slice off the tops to remove the tougher baked layer. I also trimmed the crispier edges so that the cake was softer for every bite.
Add frosting to the top of the first layer. Put the second layer on top. Make sure you "tuck in" all the crumbs. You do this by adding a thin layer of frosting and then refrigerating the cake for 30 minutes to an hour.
Remove from the fridge and frost completely. It's easiest to place most of the batter at the top of the cake, spread to the sides, letting the frosting slip down the sides and start smoothing from there.
To decorate, sprinkle walnuts over the top of the cake. Beautiful!
Serving suggestion:
Invite your favorite people over and enjoy some carrot cake, coffee or tea, and good conversation!
Enjoy!