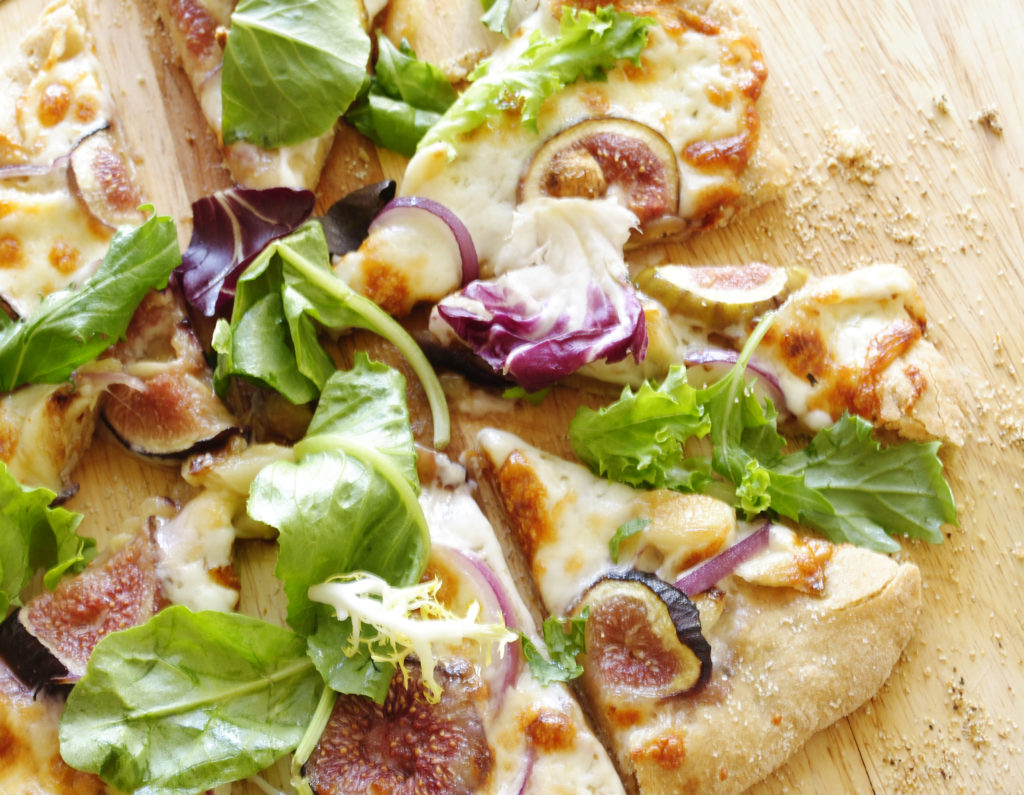 I know, fig and roasted garlic doesn't sound that enticing, does it? And trust me, I was wondering how this last-minute pizza would turn out since it didn't sound all that good to me either. But you know what? It was really tasty. By the way, the reason I used fresh figs, was because I figured out too late that I had no tomatoes for my little pizza.
It must have been meant to be, because I feel like I discovered something good: that figs could sometimes serve as tomatoes in a pinch. Well, that is if you're open to those kinds of ideas. And I of course, being very weird in a creative sort of way, am open.
The pizza crust was made with white whole wheat flour so this veggie pizza is very healthy. I'm still very happy with this crust recipe (that I use regularly), since I think a lot of whole wheat pizza crusts taste like cardboard.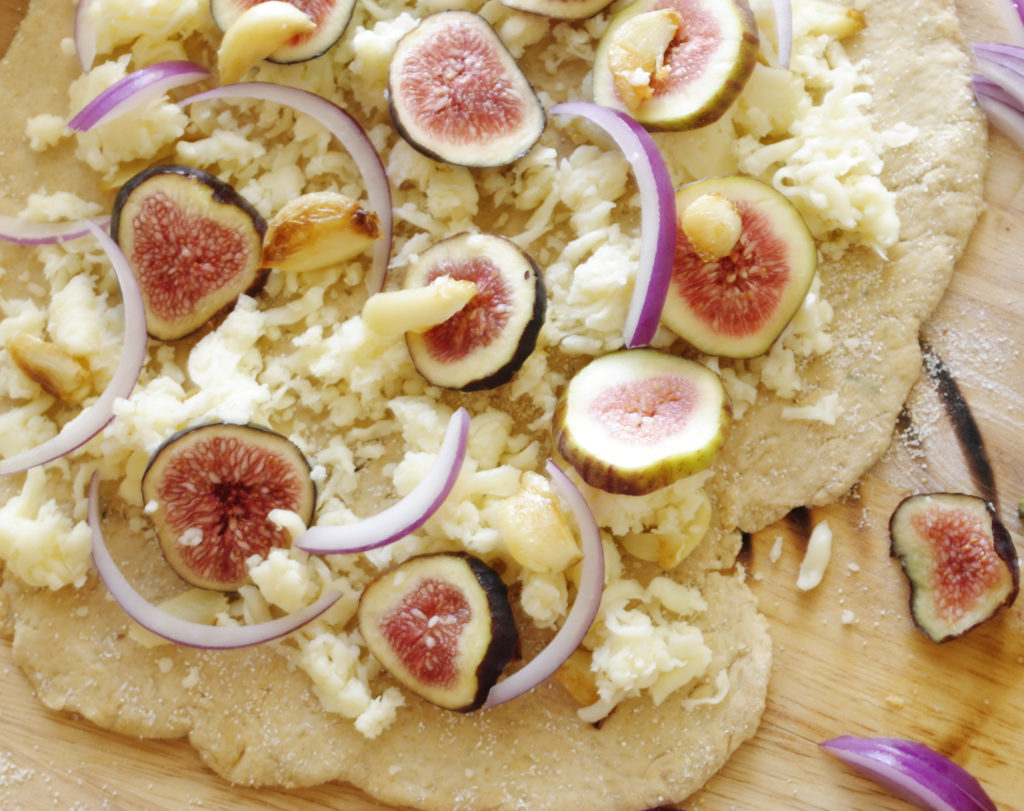 Tips for best results:
- Use pizza stone and pizza peel.
- Bake in hot oven and heat pizza stone in oven for 30 minutes before baking.
- Use cornmeal on pizza peel for great taste and ease of getting pizza in the oven.
Roasted Garlic Pizza with Whole Wheat Crust
Prep time:
Cook time:
Total time:
Ingredients
For the dough
4½ cups all white whole wheat *I prefer King Arthur's)
2 cups luke warm water
1 tablespoon yeast
1 tablespoon sugar
2 tablespoons olive oil (plus additional for rubbing on dough balls)
2 tablespoons red wine vinegar
1 teaspoon kosher salt
a little rosemary (optional)
For the topping, use more or less of ingredients to taste
4-5 fresh figs, sliced
8 garlic cloves, peeled
4 cups fresh mozzarella cheese
1 medium red onion, sliced
1 -2 cups fresh baby greens
1 tablespoon fresh Italian parsely, roughly chopped
parmigiana cheese if desired
a little cornmeal to dust on pizza
1 teaspoon olive oil
1 teaspoon lemon juice
Instructions
For the dough, add yeast to two cups of water and let sit for several minutes until foamy. If it doesn't foam, the yeast is not active, so try again with another packet.
While yeast is dissolving in the water, add flour, rosemary and salt to mixing bowl of Kitchen Aid or food processor. Process a few seconds to blend.
To yeast mixture, stir in sugar, olive oil and vinegar and then add mixture gradually to the flour mixture and process until the dough begins to form a ball and comes away from the sides of the container. Place dough hook on processor and knead for about 15 mintues.
Turn out onto floured surface. Sprinkle with flour and knead for another minute and form into ball.
Place in bowl rubbed with olive oil, cover bowl with towel and let sit for two hours until it doubles in size.
While dough is rising, heat a little olive oil on low in small fry pan. Pan roast garlic for about 20 minutes, or until slightly carmelized. Set aside.
After two hours, turn dough out onto lightly floured surface, knead a couple times and cut in ½ or in three equal pieces. Form into round balls and use as needed. To use the next day, rub lightly with olive oil, cover with plastic and refrigerate overnight (I prefer using the next day for better flavor).
For the pizza, place rack in the center of the oven and heat to 500 degrees F with pizza stone inside (if you have one) .
Stretch out dough and push downward in center with fingers to desired shape and size.
Dust pizza peel with a little cornmeal and lay your dough on top of it, reshaping it and leaving a little more thickness on the edges.
Evenly arrange cheese and toppings on center of dough.
Lightly rub a tiny bit of olive oil on the edges.
Slide pizza onto baking stone in oven and bake 7-10 minutes until crust edges are golden brown.
While pizza is baking, toss together baby greens with a teaspoon of olive oil and a squeeze of lemon juice. Set aside.
Remove pizza from the oven when done and garnish with fresh grated hard, Italian cheese, and greens mixture.