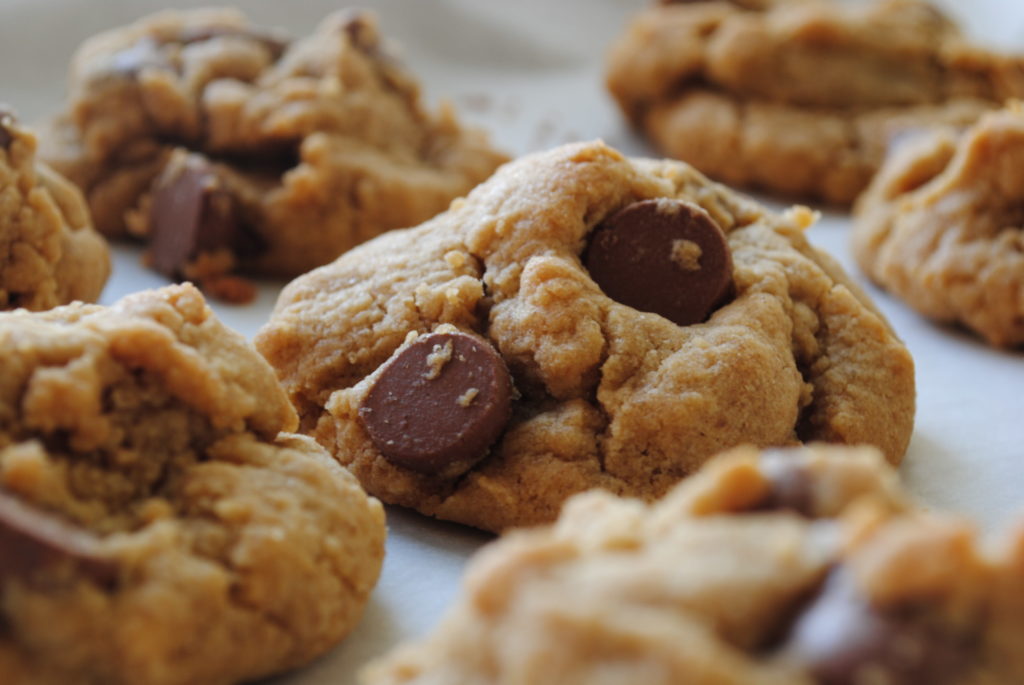 With chocolate chip cookies on my top ten list of favorite sweets to eat, I'm always experimenting with different combinations of ingredients so that I have a handful of favorite go-to recipes at any given time. I like to play with different types of flour, chocolate chips and sugar, but as purist, I don't stray very far with additions. Most recently, like with most sweets I've been baking, I've been using more and more whole wheat flour. In addition to enjoying the healthier aspect of whole grain flour,  I'm actually starting to prefer the grainier texture too.
In this recipe, I only used brown sugar for sweetness and I used Guittard milk chocolate chips which made a big difference in the creaminess department. The combination was so good that I didn't do the typical sharing with others (shame on me). This time I stuck a bunch  in the freezer so we can relive the yumminess again and again. Every time we feel like a fresh chocolate cookie, we just send one or two on a 15 second trip in the microwave!
Whole Wheat and Brown Sugar Chocolate Chip Cookies
Ingredients
¾ cup butter, room temp
1 cup white whole wheat flour
1 cup all purpose flour
1½ cups packed brown sugar
1 egg
1 teaspoon vanilla extract
2 teaspoons corn starch
1 teaspoon baking soda
pinch of salt
8 ounces Guittard Real Milk Chocolate Chips
Instructions
Preheat oven to 375 F.
In mixing bowl, beat the sugar and butter.Add the egg and the vanilla extract and beat until blended.
In separate bowl, sift flours, cornstarch, baking soda, salt amd add slowly to the butter mixture. Mix until blended. Stir in the chocolate chips until blended.
The dough will be on the dryer side, so you may have to form a ball with your hands. Place cookes a couple inches apart on baking sheet and bake at 375 F for about 10 minutes.