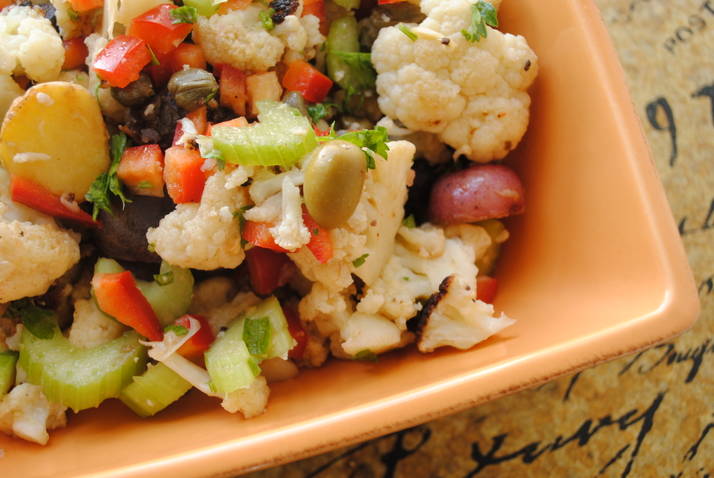 I've had a mad love affair with olive oil and vinegar since I was a kid. It all started when, for whatever reason, I would drink the leftover dressing that lingered at the bottom of the oversized salad bowl after everyone had left the table. For me it was better than dessert!  Not sure why I couldn't resist the urge to pick up the bowl, big as it was, and slurp up every last drop!
My Sicilian mom added oil and vinegar to most vegetables she served, including brocolli, spinach, green beans – you name it. To this day, vinegar and oil is the only thing I use for dipping artichoke leaves. 
I guess that brings me to this cauliflower salad which s tossed in, well, vinegar and oil (and a bit of anchovy). It's so easy, and so crunchy with the celery and red bell peppers, so satisfying with those little baby potatoes, and so healthy with all that good stuff that I could literally eat this every day. It's perfect to make mid-week and then take to work the next day because it's better the longer it sits!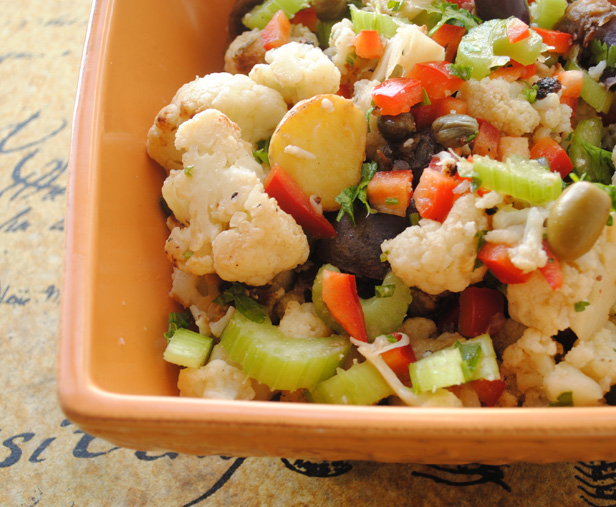 Sicilian Cauliflower Salad
Ingredients
1 head Cauliflower, cut in chunky pieces
1 red bell pepper, chopped
3 ribs celery, chopped
8 baby potatoes (preferably red, purple and yellow), halved
2-3 anchovies, finely chopped to paste
about ¼ cup extra virgin olive oil
5 tablespoons red wine vinegar
pinch of oregano
salt to taste
Instructions
Briefly cook cauliflower in boiling water for only about 2 minutes. Drain.
In medium pan, saute cauliflower with a little olive oil on medium high until slightly charred. Remove cauliflower (and do not rinse pan).
In same pan, add a little more olive oil and saute potatoes about 25 minutes until tender and golden brown on cut sides. Set aside.
In large mixing bowl, whisk together vinegar, 3 tablespoons olive oil, anchovy paste and then add all ingredients. Toss gently to coat evenly with dressing. Taste and adjust seasoning to taste.
Cover and refrigerate for at least one hour.