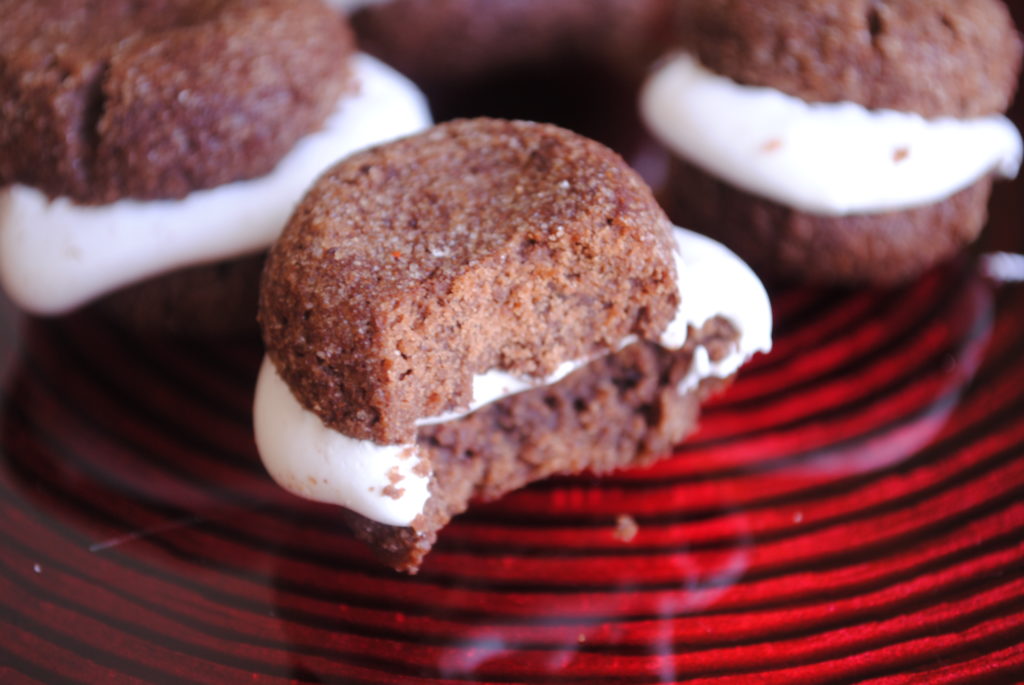 Ever wonder what it would be like to eat a cup of hot chocolate with melted marshmallows? I have. So I did a little experiment and baked up cookies that combine all the things I love about hot chocolate.
Here's a peek inside my cookie brainstorming session: 1. I love chocolate, 2. I love hot chocolate with whipped cream, 3. I love chocolate and cinnamon, 4. I love marshmallows, and 5, I love hot Mexican chocolate with whipped cream around the holidays!
I've never been big on the whole Christmas cookie thing, but after being invited to a cookie swap by one of my favorite food blogger buddies over at My Kids Eat Squid, I immediately got excited about it and before you know it, I was daydreaming about what cookie to bake.
I love these cookies. Seriously, I closed my eyes when I was eating one and it really tasted like I was taking a bite out of hot chocolate. When will I ever grow up?!
One last note, they are a little tricky to transport with all their sticky goodness.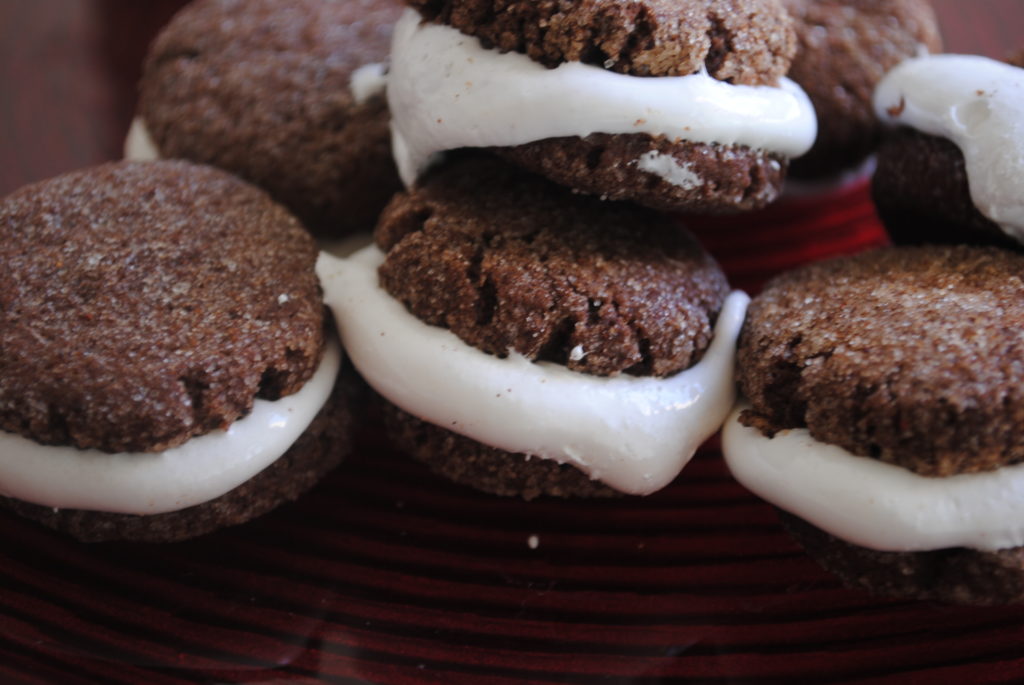 These cookies have the texture of a snickerdoodle, rich chocolate flavor with a bite, and the whipped center is perfectly creamy and marshmallowy!

Hot Chocolate Cookie Bites with Marshmallow Whipped Cream
Prep time:
Cook time:
Total time:
Makes about 18 sandwich cookies
Ingredients
2¼ cups all purpose flour
½ cup unsweetened cocoa powder
2 teaspoons cream of tartar
1 teaspoon baking soda
4 teaspoons cinnamon (split)
1 teaspoon chili powder - (split) optional
pinch of cayenne powder - optional
pinch of salt
1 cup granulated sugar (split)
1 cup (2 sticks) butter, room temperature
2 eggs, room temperature
1 teaspoon vanilla extract
For the filling
½ cup marshmallow cream (I used Kraft Jet-Puffed Marshmallow Creme)
4 tablespoons butter, room temperature
1 cup confectioners' sugar
¼ teaspoon vanilla extract
Instructions
Heat oven to 400 degrees F.
For cookie dough, in large bowl, sift flour, cocoa powder, cream of tarter, baking soda, salt and ½ teaspoon of the chili powder.
In mixing bowl, cream butter with ¾ cup of the sugar (note that you need to reserve ¼ cup for later).
Add the eggs, one at a time, mixing after each addition. Add the vanilla extract and mix.
Slowly add flour mixture until fully combined.
Line cooke sheet with parchment paper.
For cookie coating, in shallow bowl, combine remaining ¼ cup granulated sugar, 2 teaspoons ground cinnamon, ¼ teaspoon chil powder, cayenne (if using); set aside.
With clean hands, shape a small teaspoonful of the dough into a ball, roll in cinnamon and sugar mixture to coat surface, place on cookie sheet and gently press with bottom of glass to flatten.
Repeat until mixture is used up.
Bake for 8 minutes, cool completely.
For the filling, in mixing bowl, cream 1 cup of confectioners' sugar with 4 tablespoons of butter. Add ½ cup of marshmallow cream, vanilla extract and beat until creamy and smooth.
Spoon small amounts of filling on center of flat side of cookie. Place flat side of anohter cookie over the filling and gently turn from left to right to spread filling evenly, until it reaches the edges.
Makes about 2 dozen.