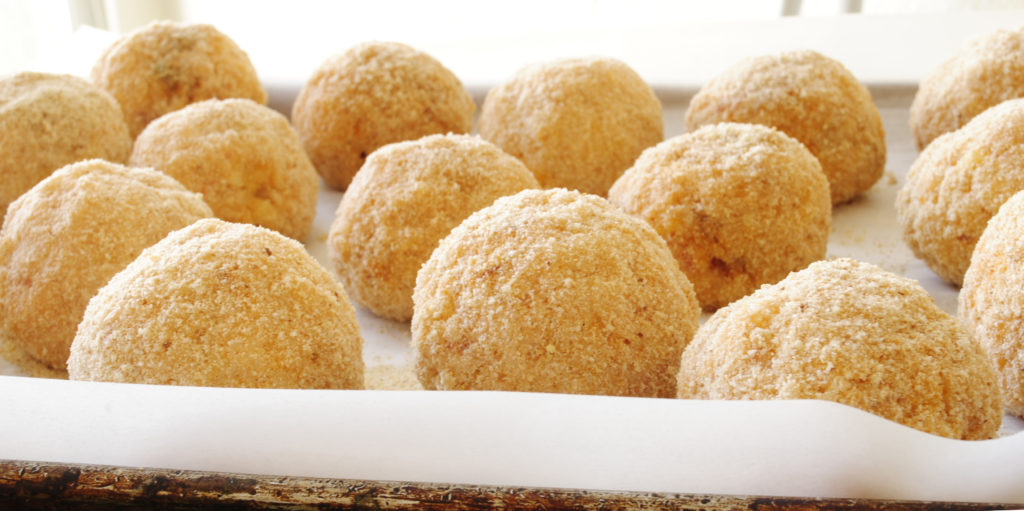 Sicilian Rice Balls, or Arancini, are typically deep-fried rice balls (or risotto) stuffed with mozzarella cheese, peas, and a scrumptious meat or bolognese sauce. As with favorite foods from different regions around the world, this Italian favorite can be prepared in a variety of ways. As kids we enjoyed picking them up like baseballs and just digging right in! We may have dropped a few peas on the floor, but my crazy Sicilian aunts cared more about us enjoying the food then using proper table manners! I wish I could say the same, but sadly I'm a little more uptight than that. Anyway, while some like to eat them by hand, with no sauce, others like them served on a plate with a lot of sauce and cheese. They are a fantastic dish for celebrations because they look so inviting when all lined up, looking all golden brown and warm.
This dish is one of many that bring back feelings of total warmth from childhood. My parents would pack up my three brothers and me and head to my grandma's house on most Sundays. I knew back then it was a good thing, smelling and eating all that great home-cooked Italian food, with lots of wonderful and loving aunts and uncles. But today I understand that it was way better than a good thing – it was an awesome thing. The simple hugs, laughter and good food layed that foundation of who I was to become, and what things are most important in life. Every now and then, a simple taste of food reminds me of those joyful feelings, and of course, one of those dishes was my Auntie Connie's Rice Balls. This dish wasn't any ordinary dish, consisting of a list of ingredients, it was more like Auntie's Connie's love rolled up in a ball, given to us to not only fill our tummies, but to also fill our souls.
Here's the "recipe."
Ingredients
2 cups uncooked sticky rice, cooked according to package instructions (Japanese rice works, but Arborio rice is widely used for this dish)
2 lbs ground beef
1 cup frozen peas
2 cups bread crumbs
½ cup fresh parsley, chopped
6-8 cloves of fresh garlic, minced, grated or finely chopped
1 medium onion, chopped
½ bell pepper chopped
½ cup grated Pecorino Romano grated cheese
½ cu[ shredded Reggiano Parmiagiano
a little kosher salt and black pepper
dried basil, oregano and parsley
a few tablespoons olive oil
several cups vegetable oil for frying the rice balls (deep-frying, so you need plenty)
about 6 cups tomato sauce - make your favorite italian sauce, or you can use the recipe for my Marinara Sauce.
Instructions
Notes: You will need to roll the rice balls when the rice is freshly cooked and hot, so make sure not to make it to far in advance. Also, you will need to wear clean, plastic gloves - so make sure you have those on hand.
Make sure your sauce is prepared before you start the rice ball process.
Heat a couple tbls of olive oil in medium to large fry pan and saute onions and green peppers for about five minutes.
Add the garlic and saute for an additional 30 seconds or so (don't let it brown).
Now add the ground beef and while it's browning, add some oregano, dried basil, dried and fresh parsley, salt and pepper to taste (takes several minutes). Reserve some of the fresh parley for topping the finished dish.
After the ground beef is cooked, you can stir in the peas.
Set aside
Cook the rice. Note: add salt to the water before cooking the rice - and let the rice sit for about five minutes after it's done steaming.
While the rice is cooking, you should start heating your oil to deep fry rice balls. It's probably best to use a deep fryer, but I used a medium pot.
In a large mixing bowl, add the rice and stir in about a cup of the sauce. You want the rice to pick up some of the color of the sauce, but don't add too much because your rice balls won't hold a shape. The color should be deeper than a pink and should have the flavor of the sauce.
Add the ground beef mixture to the rice and sauce blend, enough so that you'd get a couple pieces of ground beef with every spoonful. The ratio should be that there's more rice than beef and peas.
To the rice mixture, add a lot of grated cheese - enough that when you take a bite, you can definitely taste the cheese.
In a shallow bowl, spread the bread crumbs.
Now you're ready to roll (get it???) Note - before you start this, make sure the oil is ready.
While the rice and beef mixture is still on the hot side, and with gloves on, pick up a handful of the hot rice mixture and form a small ball, about the size of a tennis ball.
Roll the ball in the breadcrumbs so that the entire ball is covered evenly.
Once you have rolled three or four, add them to your fryer, being very gentle.
I simply use a slotted metal spoon a gently lower them in the oil one at a time, but I'm sure a fryer is much easier and safer.
After about four minutes, the balls should be a nice golden brown - you may need to gently turn them to make sure they brown evenly. Remove them and place on paper towel to drain.
Repeat this until all are cooked.
Heat your sauce and add some to a nice shallow serving dish. Place the rice balls on the sauce, drizzle more sauce on the top of the rice balls and top with shredded parmigiano cheese and some fresh parley.
Serving suggestion: This dish is very filling even though it can be served as an appetizer. It's wonderful with some crusty bread, and can be a side dish to any main course. I like them just as they are, and can't wait to share them at my family's next cook-off.